THE KINTYRE
ANTIQUARIAN and
NATURAL HISTORY SOCIETY
MAGAZINE
Taken from-
Issue Number 4
December 1978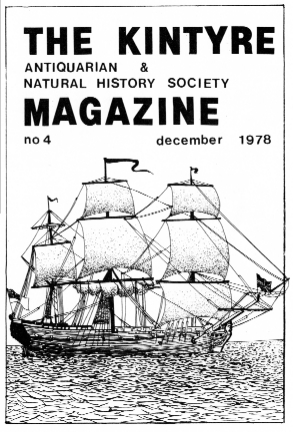 CONTENTS
Editorial & Lecture Programme; M.G.Hunter, N.A., B.Sc.
Boswell, Johnson & The Rector; Hector L. MacKenzie
Dunaverty Additional facts
The Wreck of the "Charlemagne"; From a paper of Col C. Mactaggart
Highland Distillery Licence; Peter S. Armour
The Witch of Gigha; William Jardine Dobie
Act of Parliament of King James VI; December 1597
Sparks & Flashes; Efric Wotherspoon
Society Excursions
---
Fifty years after Union, Campbeltown began to develop a trade with the American colonies and the West Indies. England's Navigation Laws had always reserved trading rights with her Colonies for English merchants only; after 1707 Scottish merchants, too, could import colonial tobacco, coffee, tea, rum, muscavado sugar, and cotton wool, and sell these items to Dutch, French, Irish and other European merchants. However, Scottish traders only gradually developed the means and facilities to take advantage of these trading rights. By the mid-eighteenth century Bristol and Whitehaven tobacco houses were complaining that Glasgow merchants had usurped their trade. The Glasgow tobacco lords did successfully establish their trade with the colonies by the 1760's and families like the Cunningham's and the Spiers built fortunes on the tobacco trade.1
Campbeltown never competed in selling tobacco, but the merchants did establish a moderate exchange with the West Indies and North America as the records of the port show. Campbeltown customs letters from 1743, custom debentures from 1745, and the customs accounts from 1749 are in the Register House, Edinburgh, and are the source of this study.2
The first recorded transatlantic cargo from Campbeltown went to Kingston, Jamaica, in 1745 in the Prince Charles of Belfast. William McKinlay, Campbeltown merchant and one-time provost, exported the twenty-five hundredweight soap, candles, tallow and shoes for Johnson Legg and Company of Belfast. A similar cargo followed the next year, but Francis Farquharson, another local merchant with extensive shares in herring busses, handled the exporting transactions. An interesting cargo of linen and five copper stills was sent to Cape Fear, North Carolina, in 1752. Cape Fear was the location of Campbeltown and later to gain fame through Flora MacDonald.3 The next year linen, tartans, handkerchiefs, threads, and aprons were exported to Pennsylvania, and in 1754 two cargoes with passengers and their stores sailed for Pennsylvania and North Carolina. The Pennsylvania ship returned with flax seed and oak.
The trade continued in this sporadic fashion with one or two ships a year carrying out passengers or manufactured items to North America and returning with timber or flax. Only one ship in 1758 brought back tobacco from Virginia. Ships to the West Indies took herring, linen manufactures, and tallow products and returned with sugar from St. Christophers or St. Kitts. Almost all of these ventures were handled solely by Campbeltown men.
Beginning in 1756, a different pattern to the trade emerges. That year two cargoes with colonial rum were landed in Campbeltown and re-exported to Ireland. Charles McNeill imported for Messrs. Gallon and Thomson of Belfast and Robert Orr for Thomas Gregg also of Belfast. The next year there were three such cargoes, all bound ultimately for Ireland. By 1767 the re-export trade was well-established with eight cargoes. Campbeltown agents were Robert Orr and William Finlay. The vessels used were all Irish and eventually landed their cargoes which were rum in every case in Londonderry, Newry, and Belfast. Cargoes of staves, potash and wood still arrived in Campbeltown from Boston, Philadelphia, the Carolinas or New York. In 1767 the Monfield and the Endeavour even brought oil, blubber and fish from Newfoundland. But the centre of the trade after 1765 was in the West Indies and the desired cargo rum. Campbeltown merchants appear to have made a place for themselves as agents in the rum trade to Ireland. Glasgow merchants handled colonial tobacco and later re-exported the high-duty item to trading companies in Europe; in a similar way but on a smaller scale, Campbeltown men imported rum or sometimes sugar or cotton wool for the Irish trading houses. The relatively sudden inception of the re-exports in 1765 coincides with the British Government's purchase of the Isle of Man from the Duke of Atholl for £70,000 This island previously had its own laws and low duties and was a centre of an illicit trade, particularly with Ireland. When it came under the jurisdiction of the British Parliament in 1765, Ireland lost a valuable link in transatlantic trade.4 It would appear that Campbeltown merchants as agents filled the gap to some extent.
A 1769 debenture provides a sample of the activity. Colin McNeill and Robert Orr, Campbeltown merchants, landed 164 puncheons of rum or 17,846 gallons rum from British Plantations on 19 August, 1768. The rum was landed in the ship Sally of Newry. Duties were paid by McNeill and he took oath that:
the goods mentioned in this debenture are really and truly exported on the account and risque of Arthur Hughes of Newry merchant for whom the deponent acted by commission and had the direction of the voyage and not landed, nor intended to be relanded in any part of Great Britain, Isle of Man or the Island of Faro.5
The quantity was re-shipped on 24 August, 1768, to Newry. Included with the debenture is a certificate to say that Arthur Hughes landed the rum in Newry on 8 October, 1768. Thereafter there is no way of knowing what happened to the goods. A considerable quantity would probably be smuggled back into Britain to satisfy the demands of a population suffering under the high duties of a revenue seeking government.
It is difficult to ascertain how much of the responsibility and risk was borne by the local merchants. In most cases the customs debentures state that the responsibility fell upon the Irish trading houses and they appear to have sponsored the ventures. There is evidence, however, that the Campbeltown merchants shouldered an increasing amount of the trade. In 1769 the Campbeltown ship the Neptune imported rum and re-shipped it under the risk of the local merchant Charles McNeill. John Montgomery landed it for him in Larne. Later that year another Campbeltown ship Rubie was employed. In a peak year of the trade 1770, sixteen cargoes were re-exported to Ireland. Charles McNeill handled two for himself and Ronald Campbell, one; two Campbeltown ships, Neptune and Bell were used. It is also interesting to note that the names of several merchants landing rum in Ireland - John Campbell, John Montgomery, William Stewart, and James McVicar - are the names of Campbeltown men trading at approximately the same time. Perhaps these were local men who went to Ireland to carry on that end of the business. The scarcity of eighteenth-century records as well as the illicit and secretive nature of much of the trade make such problems speculative.
The year 1772 showed a sharp reduction of the re-export cargoes. That year customs laws were changed forbidding rum to be re-imported into Britain after having been landed in Ireland. Even in that roundabout way, rum had still been cheaper in Britain than by direct purchase owing to a loophole in the customs laws. Enforcement was also tightened. These changes, however, increased the risks in illicit trade and lessened the rewards. In 1772 there was only one re-export cargo - a sharp contrast to the previous years. Thereafter ships still sailed, but less frequently and they carried only sugar and cotton wool. The West Indian trade really ceased in 1772 as a result of legal changes; the outbreak of the American rebellion in 1775 and the dangerous war-time seas that were a consequence finished the transatlantic trade for Campbeltown. In 1778 Irish merchants risked the import of three cargoes of sugar. That was the last of the colonial-Irish re-export trade that passed through Campbeltown. By 1785 the American colonies had free trade.
Campbeltown was in its heyday from 1765 to 1771, the busiest years the quay had known. Campbeltown merchants were in the right place at the right time and took advantage of the economic opportunity. Although the transatlantic trade ended in the 1770's, a spirit of enterprise remained and the merchants eventually found an outlet in distilling as well as in continuing the herring buss fishing.
Footnotes:
T. M. Devine, The Tobacco Lords, John Donald Publications 1975.
Campbeltown Customs Letters (CE 82/1): Campbeltown Quarterly Accounts (E504/8); Campbeltown Customs Debentures (E512). These manuscripts are not paginated and reference is made by date only. Before the Campbeltown customs letters were removed to Edinburgh, the late Father James A. Webb made a comprehensive transcript of the letters. His work was invaluable to me in this study.
Andrew McKerral says in a letter to Father Webb included with the Customs letters transcript: "It was in this locality that the Kintyre emigrants founded the town of Campbeltown, later Fayetteville, about 1740, to which Flora MacDonald and her husband went, sailing in the ship Baliol from Campbeltown in 1774." Letter of 29 November 1954.
L. M. Cullen, Anglo-Irish Trade, 1660-1800, Manchester University Press, 1968, pp. 148-151.
Campbeltown Customs Debentures, E512/141, 19Aug. 1768.
---
23.2.1774. The Collector reports on the emigration to the Americas. He says "…with regard to the motives, one cause assigned is Heritors having raised the rents of their lands still higher…than they could well pay…tho we do not find that many tenants who were in possession of lands have gone and believe that by much the greater part of the numbers who did go were people in low and desperate circumstances who expected their condition would be better there than here…" "…some emigrants write enticing letters to their friends at home to follow them, representing the great plenty of provisions, cheapness of living, low rents, goodness of soil and other flattering notices, perhaps exaggerated as arguments to induce them to go…"

2.9.1775. The Board of Customs writes to the Collector: "We are informed from the Western Isles that there are two vessels lying at Gigha ready to take in emigrants for Cape Fare from Kantyre, Knapdale and the circumjacent islands. They are to set sail as soon as beds can be fitted which amount to 150 to each vessel. The people engaged to go over in these ships are in high spirits and seem in no way intimidated on account of the many informations they receive concerning the Commotions in the British Colonies and the danger of emigrating at this time. The Lord Advocate has thereupon represented to the Board that though Government has not taken any coercive measures to prevent such emigration it may be highly proper from the present situation in America to discourage or even to prevent the same as much as possible. You are therefore to postpone the clearing out (i.e. giving Customs clearance to sail) of such ships and to use your best endeavours to prevent their sailing, conducting yourself in this important business in as private a manner as may be."

4.9.1775. Again from the Board to the Collector: "The Lord Advocate having acquainted us that he has been informed of many embarkations of His Majesty's subjects of this country for America and some of them with money, arms and ammunition and signified that if a check is not given thereto it may afford aid and support to His Majesty's rebellious subjects in the several colonies in America, that he is therefore determined as far as lies in his power to prevent the same and has desired that no vessel may be cleared from the Ports in Scotland for the Continent of America with more persons on board than their proper complement of men, and from the present state of the Colonies it appears to us highly necessary to prevent as much as possible emigration from this country. We direct you till further notice not to clear out any ship or vessel from your Port for the Colonies of America with more persons on board then their proper crews."

19.9.1775. In reporting the sailing from Gigha of the vessel "Jeanie" for North Carolina the Collector gives details as "88 men, 78 women and 79 children aboard." He also reports that the "Lord Dunluce" had lately sailed with 93 men, 94 women and 113 children.
---
Allan McLean, at one time tenant of the farm of Faochaig, played a prominent part in connection with the most famous wreck which ever occurred on the Kintyre coast, the wreck of the "Charlemagne" in 1858. The "Charlemagne" was a magnificent full-rigged ship, the last word in the marine architecture of her time, and she struck the rocks below Faochaig farmhouse during a fog, within 24 hours of leaving Greenock on her maiden voyage. The Faochaig people, headed by Allan McLean, managed to get a rope out to the ship, and by its means the crew got safely ashore, but the Captain had been injured by a falling spar, or in some other way, and Allan McLean went on board the ship and carried him ashore on his back. The ship soon became a total wreck. Her figurehead stood for many years in McNair's wood yard in the Longrow, and her bible and telescope are still treasured in households in this vicinity.
A ballad was written about the wreck, which used to be sung in Campbeltown in my young days to the tune of "Hey Johnnie Cope," and in it Allan McLean was immortalized in the couplet:
"Allan McLean he wasna slack
He carried the Captain on his back."
Much larger ships have been lost on the Kintyre shore, and maritime disasters accompanied by great loss of life have occurred in our neighbourhood, but these have all been forgotten, while the wreck of the "Charlemagne" is still remembered in local song and story. "Why?" The answer is easy, and it lies in two words - "Her cargo." She was full to the hatchways with a fine general cargo, consisting largely of provisions in cases and whisky in barrels, and, as she broke up, the Cases and barrels were washed out of her hold, an4 were eventually stranded along the Southend shore from Faochaig to Largiebaan. Not many of them, we may be sure, reached the hands of the "Receiver of Wrecks," and they brought plenty and prosperity and, we may well imagine also, hilarity and good cheer to many a Kintyre household for many a day.
I remember when out shooting with my eldest brother a good many years ago, we one day sat down on a Southend hillside to have lunch beside a spring, and there we were soon joined by Old Johnnie, the shepherd of the beat, who was a frequent and a welcome guest at lunch time. Johnnie was a firm believer in the old Scottish doctrine that there is no such thing as bad whisky, but he always stoutly maintained that no whisky had ever been drunk in Kintyre, which for flavour and potency - especially potency - could touch that which came out of the "Charlemagne." It was a beautiful day on our hillside, but a thick bank of fog lay on the sea, and the fog guns on Rathlin were banging, and the foghorns on Sanda and the Mull were hooting merrily. As we rose to go our separate ways, Johnnie waved his hand dramatically towards the Mull and gave vent to his feelings in these words: "Listen to them (adjective) foghorns; I wish they were all bursted; there's no chance for a body to live on this coast noo," and after a rueful pause he added, "I doot I'll never see another "Charlemagne." Poor old Johnnie has long been "gathered to his fathers," and perhaps it is as well so, for he certainly would not have been happy in a world where whisky - just common "Campbeltown", thirty under proof and not his favourite "Charlemagne" blend - costs twelve and sixpence a bottle!
---
THE BALLAD OF THE CHARLEMAGNE
Our grateful thanks are due to Captain Hugh McShannon, and Mr. Joe Morrans, for giving us this ballad.

The Charley Man o' Aberdeen 
As fine a ship as e'er was seen, 
She left the Clyde in the afternoon 
And arrived at Feochaig in the morning. 

Allan McLean he wasna slack, 
He carried the Captain on his back, 
And a gless o' brandy he did tak', 
When he got home in the mornin'. 

CHORUS: 
On Feochaig rocks in Feochaig Bay, 
There she lies and there She'll stay, 
For the Captain swore he would lose his life 
For the sake of Charley Man! 

---
The district of Largieside is situated on the west coast of Kintyre, the northern part in the parish of Kilcalmonell and the south in the parish of Killean and Kilchenzie. Most of the land belongs to the MacDonald family of Largie from which the district gets its name. According to tradition these lands have been owned by the family since 1431 apart from a short period from 1647 to 1661, when they were forfeited after the defeat of the forces of Sir Alexander MacDonald by General Leslie at Rhunahaorine Moss in May 1647. The family are direct descendants of the Lords of the Isles and today are the only members still owning an island. Cara, with its old chapel and one farmhouse, now restored, is still in their ownership. The legendary Brownie's chair and well can still be seen.
Tayinloan is the main village in the northern area and had two annual fairs for the buying and selling of goods and stock, together with engaging of servants for the summer and harvest work. The fairs were held on the Friday in May following Kilmichael Fair, and one on the Wednesday in July after Tarbert Fair. Tayinloan was post village for Saddell and the Isle of Gigha and the mail coach horses were changed there. It had its own meal mill, bakery and a blacksmith's shop which still stands. The bakery and mill were demolished when a new road bypassed the village a few years ago.
Early records of events in the locality are very scarce but like other parts of the Western Highlands emigration to the New World began as early as 1739, mainly to the Carolinas and later to Canada, Australia and New Zealand. The main ports of arrival appear to have been in Newfoundland and Nova Scotia. Pictou was the port where many families landed and subsequently made their way down the St. Lawrence and into Quebec and Ontario. The main reasons for emigration were probably the inability of many large families to make a living on the small amount of land allocated to them under the tack system, the suppression of distilling of illicit whisky, and later on the failure of the potato and other crops. A cottar who could distill two pints of whisky per week could sell this at five shillings per pint. This enabled him to keep a servant and an extra cow annually.
A table compiled by John Campbell schoolmaster at Glenbarr, shows the dramatic decrease between 1821 and 1831, when emigration was at its height from Killean and Kilchenzie parishes.
| | | |
| --- | --- | --- |
| | June 1821 | June 1831 |
| Inhabited houses | 564 | 452 |
| Number of families | 569 | 466 |
| Families in Agriculture | 127 | 111 |
| Families in Trades | 88 | 70 |
| Other families | 355 | 285 |
| Population: Male | 1639 | 1414 |
| Population; Female | 1667 | 1452 |
Prominent names amongst the families who held land under the tack (i.e. lease) from Largie were Stewart, MacPherson, McAllister, MacKinlay and McEachern, and as the system disappeared the tenant farmer status came into being. The names McGill, McKinnon, McLean, MacKinlay, Gillies, Taylor, MacPherson, McCarmaig, Sillars, Bell, Blue, McMurchy, McKay, McLarty, McBride and McCaog appear as local farmers who made purchases from the store owned by Robert McNiven near the village of Muasdale. Almost all of the above family names have disappeared from the area but descendants are to be found in America, Canada, Australia and New Zealand.
The following anecdotes may be of interest. The two circular stone pillars to the north of Balure farm on the main road mark the parish boundary of Killean and Kilcalmonell. The pillars and the old farm buildings now hidden by trees mark Refluich the traditional home of the Stewart family. Members of this family were pioneers in agriculture in Ontario and were outstanding horse breeders. One member of this family who left for Canada in 1852 when nearly all the families in the neighbourhood of Refluich emigrated was Duncan Stewart. His wife, Catherine McEachern, had died in 1841, and with his family he set out to lose one son, Neil (8), drowned on landing from the ship while he, himself, died eight days later. Despite these setbacks the young family made good in their new country and today many descendants are spread over North America and also Australia and New Zealand.
The MacPherson family had Drumavon and the adjacent lands round Rhunahaorine on tack from Largie. There were two rows of houses comprising this small township and at one period the names, McKinlay, Jameson, McMillan, McLean, McCallum and McKinven are to be seen as living there in the recording of the births of children from 1786 onwards. Flora McGill, widow of John MacPherson, the last tenant, emigrated with her young family in 1859. Descendants held high office in insurance and banking in Canada.
The MacEachern family farmed at Old Achanadriane which commands a panoramic view of the western seaboard and the adjacent islands of Islay, Jura and Mull, with the Knapdale coastline to the north. The old record of John McEachern's account for his purchases at McNiven's store makes interesting reading. Sold John McEachern, farmer in Achadkindrain: Muasdill.
11th December 1806 1½Yds printed calico @ 1/10 per yd 7/16 yd 6/4 cotton check @ ½ £0:3:11
12th March 1807 1 english testament with psalms 1:7
3rd June 1807 31bs 9oz 9drs soap @ l0d per lb. 3:0
9th July 1807 1 yd 6/4 cambric muslin 2:11
1st Feb 1808 1 3/16 9/8 red and white strip 3:7
26th May 1808 2 1bs raw sugar per Ed. McGeachy's maid 1:6
30th July 1808 2 1bs sugar 1/6 2 oz tea 1/-2 oz indigo 1/11 1 oz pepper 2½d 4:7½
Payments were made as follows:
9th June 1807 By cash 3:11
30th Oct 1807 " 7: 6
8th June 1808 " 1: 6
8th Oct 1808 " 8: 2½
The MacKinlay family are known to have emigrated from Ballochroy in Kilcalmonell parish early in the eighteenth century and, although historians differ on this, it would appear that the family were the forebears of President William McKinley. Relatives living here have letters from the President written from the White House thanking them for the information on tracing his Scots ancestry and inviting members to visit America. They have too the intimation of his death and an official invitation to his funeral.
Many of the families mentioned earlier as farming in Largieside had new occupations in their new country. The MacKinnons built some thirty-eight ships and traded down the eastern seaboard from Pictou to Boston, as well as making voyages to Australia and New Zealand. In one of these voyages Captain James McKinnon discovered, charted and claimed Pictou Island off the South American coast.
John Gillies from Ballochroy was a prominent member of early local government in Ontario. Gillies Hill in Elderslie Township is named after him and a plaque erected there commemorates the first site. It reads:
Gillies Hill. Site of the Municipal Government, 1856-1963.
In memory of the pioneers of Elderslie Township.
Peter McGill was a prominent member of local government and early education in Erin County, Ontario. The traditional home of the McGill family was Correchrevie, and a stone marking the burial place of Donald McGill, tenant, Carnmore, in the old burial ground in Clachan, has a team of horses pulling a plough with furrows inscribed on the back.
John McCarmaig who, with his family, emigrated to Carolina about 1768 and who married Barbara McEachern, had a very interesting link with Largie. Their son, Neil, married Catherine MacDonald whose mother was a sister of Flora MacDonald, so well known in Scots history for her efforts to help Bonnie Prince Charlie after the defeat at Culloden. The McCarmaigs were farmers at Dunashery (Doonaserie) near Rhunaharine and were also tenants of the old meal mill at Kilmichael at the entrance to Ballochroy Glen.
Many stories of the hardships encountered on the voyages have been recorded. Live stock and food for use on the voyage were carried on deck and were in some cases swept away by stormy seas. The cramped conditions under which the journey was undertaken are almost unbelievable. On one occasion in 1836 a ship carrying Kintyre emigrants was dismasted when far across the Atlantic and was eventually blown back to Cork in Southern Ireland. Undeterred the Captain had the mast replaced and the ship which had left in March finally reached Canada in September.
The village of Tayinloan is still a thriving community with a large number of new houses, a hotel appropriately named the MacDonald Arms and a fine community hall with adjacent sports grounds. Today Largieside is a blend of agriculture and forestry. The well farmed lower lands have dairy and beef herds of cattle with the upper slopes grazed by flocks of Blackface and Cheviot sheep. Many of the ruins which they graze around will soon be forgotten. Names like Rudugh, Ulladale, Torchaonachan, Achacoira, Balenceille, Corteanfaul, Moniemore, Brantian, Crockanriochy and Glacintarie are now virtually unknown, having been amalgamated into other farms. Although many years have passed, round some of these ruins, the daffodils still bloom each spring.
---
Travellers by the old Campbeltown steamers may remember the pilot boat which lay at Gourock Pier to take Clyde pilots out to vessels proceeding up river. The "Sir Nathaniel Dunlop" was called after a Campbeltown lad O'pairts. Leaving the town as a young man he got a job as a clerk in the offices of the Allan Line. Somehow or other he met Miss Smith, daughter of the Chairman of the City Line. He went to Mr. Smith and asked for his daughter's hand. Mr. Smith pooh-poohed the idea that a mere clerk should aspire so high.
"Would it make any difference if you knew I was to become a director of the Allan Line?" "Oh, yes. That would alter the picture." Back to his office went young Dunlop. "Please give me a directorship." "Don't be daft!" "Would it make any difference if you knew I was to marry Miss Smith of the City Line?" He ended up with the Chairmanship, a Bride and a Knighthood!
---
Looking out at a view of Sanda Sound and the Firth of Clyde, the Editor sees pass occasionally ungraceful container ships and menacing submarines, and looks forward to the summer when small sailing yachts flit to and fro, and "Britannia" passes on her yearly tour north when the Queen goes on holiday. But where are the ships of yesteryear, where are they?