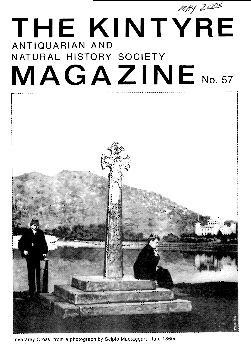 Inveraray Cross, from a photograph by Scipio Mactaggart - late 1860s..
CONTENTS
Scipio Alexander Mactaggart was born in Campbeltown in 1812. He was the eldest of the four sons of Daniel Mactaggart, who founded the law firm in Campbeltown about 1810. His mother, Christian Hamilton Campbell, was the daughter of Archibald Campbell, Chamberlain of Kintyre, and granddaughter of Captain Scipio Duroure Campbell (1742-94). The unusual name can be traced to a military connection. The Captain's father James had fought at the Battle of Dettingen, the last occasion when a British King, George II, led his army into battle.
Scipio studied Law at the University of Edinburgh. In 1834 he was adjudged first of the Senior Class of Students of the Law of Scotland (' By the voice of his fellow students and confirmed by my earlier approbation,' to quote the words of the great professor of the day, George Joseph Bell.) It is perhaps surprising that after displaying this promise, Scipio returned to the family firm in Campbeltown. Through his mother he had a strong allegiance to the Duke of Argyll and Clan Campbell, and he soon left Campbeltown for Inveraray. He was appointed Sheriff Clerk of Argyll, was active in local affairs, and was Provost of the Burgh for some years (1848-54 and 1866-68).
From 1848 until his death, he lived in Newton Row, in a Regency house by Loch Fyne, which afterwards became the Rectory of All Saints' Episcopal Church. We know that the children of the town knew him as 'Sheepy', a nice play on his name.
Scipio is remembered in Inveraray partly because of the role he played in the history of the local schools, but chiefly because of his hobby. He was a notable photographer and latterly it was to this fast-growing Victorian art that he directed his considerable talent. He took and developed many pictures of Inveraray, and also some interesting studies of the people of the castle and the town. His correspondence with the Duke's family about these photographs survives, as do some of his other memorabilia. His library of antiquarian books is in Edinburgh and his clock now stands on a chimney-piece in a Campbeltown house. In his old age he gave the glass negatives to his neighbour, the Inveraray minister, the Rev. Gilbert Meikle, mentor of the young Neil Munro, the writer, who was eleven years old at the time of Scipio's death and may have known him.
For more than a century, the whereabouts of Scipio's photographs were unknown. The late Donald MacKechnie, the Argyll antiquarian, wanted to trace them. In 1981, he gave me a scrap of paper on which were scribbled just a few words. We now suppose that these must have been written by the Minister's grandson. The message was this: 'Scipio's plates are in the possession of Mr Willie Mitchell, Selkirk. He and his father were professional photographers and have a vast collection of old plates and prints.'
Ignorant then of the connection between the Mitchells and the well-known R. Clapperton, I could only store away the clue and hope that one day there might be another lead.
When Donald MacKechnie died in November 1992, and there was talk of a local history book in his honour, I decided to try to follow the trail. As it turned out, very little detective work was required. The Selkirk clue led me directly to Willie Mitchell's son, Ian, and I was soon to discover that he had been the best possible custodian. He told me that he had a mahogany box labelled 'Inveraray' safely in his studio. Such is his professional and artistic integrity that, though he and his father had succeeded to the Clapperton business, they had not felt free to develop the glass negatives contained therein because they were not R. Clapperton originals.
At our first meeting, in January 1993, we looked at the plates together with growing excitement. Since then, Mr Mitchell has presented us with 33 striking photographic studies of Inveraray in the 1870s. They are historic because they show the church before it lost its spire; the Castle just before the great fire of 1877, after which the pepper-pot turrets were added, completely changing its appearance; and Dunderave Castle before the Lorimer restoration in the twentieth century. Perhaps the finest of all the photographs are those showing the avenue of lovely old beeches running behind the town of Inveraray from the arch beside the Argyll Arms Hotel.
Scipio has left us a marvellous legacy of historic pictures of nineteenth century Inveraray, and we owe the rediscovery of this inheritance' entirely to the Mitchell family. They have made a unique contribution to the recording of nearly a century and a half of Scottish life.
Lady Davidson is a great-great-grand-niece of Scipio Mactaggart. The cover illustration of Inveraray Cross is based on a photograph courtesy of the Robert D. Clapperton Photographic Trust - by Scipio, and is dateable to the late 1860s. It is believed that the two boys shown beside the cross were sons of the 8th Duke of Argyll. Ed.

---
Virginia Gracci is an Italian teacher of English and published author.
I happened to find the manuscript poem I am about to discuss at an antique market held in the first days of December in a small town in the neighbourhood of Venice. It was among other old sheets of paper, yellowed with age, mixed up on a stall with various pieces of junk. It had drawn my attention because it was the only one written in English.
The poem is on a single sheet torn out of a notebook. It consists of 23 lines, 14 written on the front page and nine on the reverse. Also on the reverse side appear the following: the signature, John MacTaggart, the place where the poem was written, S. John's, and the date of its composition, June 1st 1878. On the left-hand side of the same page, a picture has been stuck, with the initials of the illustrator in clear handwriting: AMT. Next to the picture, at the bottom of the page on the right side, two more words, Uncle Willie, have been added, in blue copying-pencil, in a hand different from both the one that copied the poem and the one that initialled the picture. Besides, an arrow marked with the same blue pencil intersects part of the background of the picture, starting from the level where the two words are set.
I am of the opinion that the poem may have belonged to a collection that remained unpublished. Perhaps its sheets were then removed because of their fine illustrations and sold separately, as quite often happens when old illustrated books (or manuscripts) are dealt in. Or simply, for some reason, the poem was excluded from publication with others and went astray. But what of the author? In the course of research I carried out at the National Library of Scotland in Edinburgh, and elsewhere in the country, I ran into a John MacTaggart (1845-1923) who might have written the poem, he being the only so-named individual engaged in writing poetry around the date indicated in the manuscript.
This poet is remembered mainly for a single work titled Our Land, Sketches in Verse (Religious Tract & Book Society, Edinburgh & London, 1890). It contains a series of songs and poems, sometimes accompanied by fine illustrations, worth seeing for their artistic quality and chromatic effectiveness. A copy of the book was sent to Queen Victoria, as we learn from a note, dated October 161892 at Balmoral, from H.F. Ponsonby (1825-95), her private secretary at the time, and published in another of MacTaggart's books, of lesser literary value, Mackinnon and the Bards (Oliphant & Co, Edinburgh & London, 1899). With regard to the manuscript, till now I have only had the chance to compare it with a hand-written document which came from the office in which MacTaggart had worked as a clerk, but written more than 20 years after the poem. The handwriting in each seems to contain affinities. A copy of that document was kindly sent to me by Mrs Maureen Bell (nee Keith), who has MacTaggart ancestors. She also provided me with three letters of esteem - one from Dollar Church Session and two from the Parish Council there - which the family had received after the poet's death, and other information on his life, including the MacTaggart family tree, which shows John's ties to the painter William McTaggart (1835-1910), who worked as an artist more or less in the same period as John. In fact, John was a full cousin of William's (both were Archibald MacTaggart's grandsons).
Maureen Bell's information agrees with what James L. Caw reports in the painter's biography (William McTaggart, Glasgow, 1917, pi) where we read that the MacTaggarts 'had long been settled in the southern part of Kintyre ... ' But while we can acquaint ourselves with the life and works of the painter through the detailed biography by Caw, who was his son-in-law, not much is known about the poet.
John MacTaggart was born in Campbeltown and attended the local Grammar School. For some time he was in business, mainly in Glasgow. On his father's death, in 1875, John was described as a draper in Rothesay (Calendar of Confirmations & Inventories, 4 November 1876, Argyll & Bute Council Archive). But there is no evidence that he began to write seriously earlier than 1878, the year he wrote the poem here discussed. We know this from the few notes on him included in the collection Modem Scottish Poets, Vol 13 (Editor D. H. Edwards, Brechin, 1890). Therefore, if he is the author of the manuscript poem, we may deduce that it was among his earliest compositions.
When he died in 1923, John MacTaggart, in the above-mentioned Calendar ... , was referred to as 'Inspector of Poor, Parish of Dollar'. References to him and his family also appear in the inscriptions on the gravestone erected to his father, Edward, in Kilkerran Cemetery, Campbeltown (Monumental 111 script ions of Kilkerran Cemetery).
Some more information on the poet also appears in his obituary' published in the Alloa Advertiser, 9 June 1923, p 3: 'THE LATE JOHN MACTAGGART. The death occurred on Sunday evening of Mr John MacTaggart, who recently retired from the offices of Registrar Inspector of Poor, and Collector of Parish Rates, owing to failing health. Deceased had the gift of expressing his thought in verse, and some years ago published a book. A student of nature, he took a warm interest in the Dollar Field Naturalists' Club. Mr MacTaggart was a member of the Kirk Session of the U.F. Church, and as long as health permitted was a regular and faithful worshipper in that congregation. He has passed away, in his 79th year, universally esteemed for gentlemanly manner and sterling worth.'
I think that some of MacTaggart's poems in Our Land deserve a little more attention. Also, the fine illustrations demand accurate analysis, in particular the one on the inside title cover. Its theme is the sea, with children playing on the shore under a sunny sky, a recurring theme in the paintings by John's cousin, William. The painter is distinguished by his original way of treating light and by his manner of sketching figures, giving the impression of something unfinished. John Tongue (The Arts of Scotland, London, 1938, p 85) says that' McTaggart was an original romantic artist, striving always to utter the unutterable and succeeding in evoking more splendidly than any other Scottish artist the beauty of dancing light and wind and ocean'. These features are also to be found in the aforementioned illustration, which, curiously enough, is signed in a monogram that looks quite like the ones used by William McTaggart in some of his paintings, such as Spring, in the Scottish National Gallery.
We find in most of John MacTaggart's poems the values and limits common to the poetry of the period: the description of rural views in surreal settings; the use of slow rhythmical lines, quite often evoking the melancholy of the Romantics or even a nostalgia for late Medieval poetry; religious matters sung as duty, but hardly ever deeply voiced. As with most Victorians, it seems that what interests the poet more is incisiveness of form and aesthetic pleasure rather than content.
Quite often his poems are introduced by quotations from Robert Burns, William Wordsworth, Alfred Tennyson and others. For example, his long praise-poem Mackinnon and the Bards also includes a song in praise of Tennyson, followed by a note of thanks from the same: 'Farringford, Freshwater, Isle of Wight. Lord Tennyson begs to thank Mr John MacTaggart cordially for his greeting, which gave him pleasure. Feb 11/91.' Incidentally, William McTaggart was also keen on Tennyson's poetry. In fact, he based two of his numerous paintings known under the same names, Enoch Arden and Dora, on the narrative poems by Tennyson. Even though the five stanzas of the above song contain mainly sugary or ingratiating words, I think that at least one stanza, the fourth, deserves to be quoted for the bare style of its lines and the firmness of their tone, all elements that somehow recall the manuscript poem: 'The III Memoriam should lead/ Our mourners into spirit calm./ And Enoch Arden furnish balm/ For wounded lovers as they read;/ While "here and He has passed his kindly and there a lusty trout,"/ Of stanza, sonnet, and of song! Your Poems' praises should prolong/ Till limpid verse is dried by drought.'
To come back to the manuscript itself, starting with the illustration. At present I remain unable to suggest to whom precisely the initials' AMT' and the words 'Uncle Willie' might refer. What appears, however, to be unambiguous is the figure portrayed: Thomas Dekker (1571-1641) as 'Candlelight'. Its association with the Elizabethan author is confirmed by the inscription at the top of the picture: 'Lanthorne & a whole Candel Light hange out your lights.' In fact, 'Lanthorne and Candlelight' is both the title of one of Dekker's pamphlets and of a collection of 'English Villanies' (English Villanies Discovered by Lantern and Candlelight, Pendry, London, 1632). The manuscript illustration seems to have been inspired by woodcuts printed in seventeenth century editions of Thomas Dekker's books, e.g. the woodcut on the frontispiece of Dekker his Dreame (Okes, London, 1620). It is beyond doubt that John MacTaggart read Dekker's poems, echoes of which influence may be traced in the manuscript poem under discussion. On the whole, it is reminiscent of the figure of Dekker's 'Cavaliero Candlelight', when he loomed out of the dark in the London of the seventeenth century.
In the poem itself, John MacTaggart seems to go a bit beyond the norm of Victorian poetry in form and content, with lines which appear to be a little too outspoken in terms of love, passion and sexual allusion for the second half of the nineteenth century. In my opinion, the value of this poem lies in the evocatory power of its pared-down lines, comprising words which are sometimes obscure but always meaningful, describing or explaining very little but alluding to much and leaving much to the reader's intuition. In this sense I consider it to be a piece of modern poetry, attempting to transcend Victorian poetic conventions.
Transcription of the text '
I have loved you, oh, how madly!/ I have wooed you softly, sadly,/ As the changeful years went by;/ Yet you kept your haughty distance,/ Yet you scorned my brave persistence,/ While the long long years went by.
'Now that colder lovers leave you,/ Now that Fate and Time bereave you, (For the cruel years will fly),/ In your beauty's pale declension!/You would grace with condescension,/ That love that touched you never/ When your bloom and hopes were high.
'Ah! but what if I discover/ That too long in antique fashion/ I have nursed a fruitful passion/ Whose rage and reign (thank Heaven!)/ Are passed at length and over -/ That fate hath locked for ever Love's golden Eden gate?/ There's a wrong beyond redressing,/ There's a prize not worth possessing,! And a lady's condescension/ May come an hour too late!'
Virginia Gracci's appeal, in issue number 55, for information on John MacTaggart, threw up a namesake and cousin, courtesy of Mrs Mary Lavery, nee McPhee, whose mother was Marion McTaggart. Mrs Lavery understands that the other John McTaggart left Campbeltown to 'follow a career in journalism in Glasgow', but returned to his father's croft at Longisle when afflicted by blindness~ which condition also caused his fiancé to 'break off the engagement '. John, who was cared for by his sister Maggie, became a tea-seller, walking the roads of south Kintyre in pursuit of a livelihood. Mrs Lavery was told that the tea was shipped into Campbeltown, collected in boxes from the Quay, and taken home to be weighed and bagged. 'He seemed to be a much loved family member and also a much sought after companion of many local professional men, e.g. Sheriff MacMaster Campbell. The artist, William McTaggart, his cousin, was a frequent visitor.' John died at Longisle in 1927, at the age of 82, leaving an estate worth £67 2s.

The parents of John McT, above, were John McT (d 1859, aged 58), tailor, Longisle, and Jean McCallum (d 1895, aged 86); of John MacT, poet, Edward McT (c 1793-1875) and Isabella McAllister (1807-87). The artist William McT's parents, as is generally known, were Dugald McT (1797-1861) and Barbara Brolachan or Brodie (d 1884). The parents of Edward, Dugald and John were Archibald McT (b c 1762) and Isabella McLean, and the brothers' paternal grandparents - buried in Kilkenzie - were Edward McIntaggart (c 1715-94) and Margaret Stewart, beyond whom the line so far has not been extended.

The other distinguished local family of the name is, of course, the family of lawyers, who have practised in Campbeltown for five unbroken generations, beginning with Dan Mactaggart, who founded the firm around ]8]0. He married Christian Hamilton Campbell, grand-daughter of Scipio Duroure Campbell, a member of a cadet branch of the Campbells of Inverawe, and Gilles Campbell, of the Bragleenmore family. These Mactaggarts descend from Malcolm McIntaggart - described on his headstone in Kilkerran Old Cemetery as 'farmer Craigag' - who died in ] 738 at (Ill unknown age. If the two families are connected, the connection has not yet been established.

The late George Campbell Hay told me that the MacTaggarts in Kintyre and Arran originated in ]slay, whence they dispersed after the battle of Traigh Ghruineart in ]598, but from what original source that information came I cannot say. Thanks to Mary Lavery, Maureen Bell, Margaret McKiernan and Alastair Campbell of Airds for assistance. Ed
In primary school, I rubbed along quite well with most of the teachers, the exception being Miss Minnie Milloy. On one occasion, when fooling around, I accidentally touched a classmate's face with my paint brush. The threat of the matter being dealt with after the afternoon break, caused me, with a little help - mainly from Florence McLean, policeman's daughter - to collect belongings and scamper. While sitting on my case at the old Post Office, our neighbour'; Mr Bobby Millar, Kilkivan, came by. 'Oat the school early the day, Barbara!' No questions were asked, as he was travelling at his usual high speed. Next morning, courage failed and I was forced to seek support and duly returned to class via our Rector, Mr Balfour Downie. Minnie re-christened me, and 'Little Miss Runaway' I remained. Would that be classed as bullying today? I don't recall much in the way of pupil bullying, just the odd boys' fisticuffs. It was a relief to progress to Miss Frame, rather unkindly known as 'Carrots'.
My relationship with Miss Jessie Milloy, Minnie's sister, who was principal teacher of Domestic Science, wasn't much better. Tricks were resorted to, e.g. filching a few preserved eggs from the departmental supply when fresh ones, which pupils brought in, had been forgotten. Companions Margaret Johnston (Young) and Margaret McGougan had a job controlling mirth when Jessie trotted along admiring 'the lovely fresh eggs'.
We were fortunate in the senior school to have staff who remained for many years - e.g. Messrs Banks and Graham - and some young, enthusiastic members who gave much of their time to arranging choirs, sporting activities - hockey, netball, badminton, football and athletics as well as dramatic and debating societies and school dances, so we were given a chance to meet up with other years and classes. Some romances blossomed!
Fewer people stayed on in school - some by choice, others necessity. Girls who left at fourteen worked on farms, in shops, banks, offices or domestic service. Professional people, as well as some small business people, employed domestic staff, some live-in, and many more were employed on the large estates. Though the rewards weren't high, most got a good training. I still recall with great pleasure the gleaming little coal range and brass kettle, and immaculately presented supper tray of Mrs Bethia McCuaig, Drumlemble - 'big hoose' trained! It's not surprising that her services were sought after the Second World War, when Miss Nora McAdam ran the Warren as a private hotel
The war brought a number of evacuees, who added spice and interest, though many stayed only a year. In the spring of 1940 we lost first our school to HMS Nimrod and then our playing fields. My enthusiasm for sporting activities was such that, when selected to play hockey against Oban, I tried to ignore the onset of German measles. Positive thinking isn't always enough! Some years ago I noticed Sheila McAllister listed as a past Dux at the Girls' High, Glasgow, from which she'd come. Obviously, her year at Campbeltown Grammar had no adverse effect she'd encountered stiff opposition from the late Keith McCallum and the late Mary Langcake (McMaster).
While in primary, I had a few unpleasant experiences. On one occasion, when Mr John Rattray, our regular school bus-driver, was off duty, I ran out behind the bus on alighting at Trodigal and was carried a good number of yards by a chauffeur-driven car. Though unscratched, my coat was torn beyond repair. A few days' later, the owners of the car called with a 6d box of Edinburgh rock. Suing hadn't been thought of then!
In the spring of 1936 I had a nine-week stay in the fever hospital, and sister Cathie a seven-week stay, with scarlet fever. As no visitors were allowed, except to look through a window, the highlights of the week were the delivery of a box of Blue's cakes and fruit and lemonade from the Fruit Market. Every day, for all those weeks, we had a large dessert plate of 'Creamola' custard, similar to Bird's, which is now in danger of extinction. There was a good social mix in the Calton fever hospital headmaster's wife (the late Mrs James McNeill) to travelling people. It was here, to the dismay of many, that I learned the words of 'I'm naw awa to bide awa'.
Having been discarded from the choir attending the 1938 Empire Exhibition in Glasgow, when the choir was being assembled by Mr M.G. McCallum for the very last concert in the school before takeover by HMS Nimrod, I figured that miming would protect me from exclusion, and it did. Few present at the concert will have forgotten the performance of 'The Bold Gendarme' by the late Dr Terence G. Parker and Mr Gordon Hamilton
'Bored' wasn't a word I used, and, unlike sister Cathie, it wouldn't have occurred to me to be learning Latin verbs during holidays! We had ponies. I recall seeing a photo of a Scottish Horse Camp, which included both father and my late mother's brother, Johnny McDonald, a handsome man who died of diphtheria in his thirtieth year. He was married to Katie Russell and they had one son, the late John McDonald of Knocknaha Farm, born after his father's death. My late mother travelled From Chiskan Farm to Campbeltown Grammar by pony and trap. Toby was stabled at the Argyll Arms Hotel.
Our First pony, Winnie, wasn't at all good-natured, but Pearl, who followed, had been properly broken in and was easier to handle, though on one occasion she threw me off in Lossit Park. After running miles trying to catch her, I was forced to beg help from father and a few of the local boys, who, with a long rope, cornered her. After a few circuits with Father's seventeen stones on her back, she and I trotted sedately home. John had more success - unlike me, he realisd that animals, like humans, prefer to be appreciated. Pearl had a Foal called Diamond, a beauty; but both were disposed of when interest paled and machines took over. Willie McCorkindale's smiddy was a Favourite port of call, as he and Father had shared interests in cars and machinery.
We had a pony and trap in wartime, in which, to save petrol, we took father to his Saturday golf, when his partners were Alex Tyre, Jim McPhee (haulage contractor) and Sammy Mitchell. Their game was timed earlier each year to avoid 'these young fellows chasing us'. Unfortunately, Trodigal hill could be seen from certain holes on the course, which led to trouble when John was spied in the Austin 10, doing a bit of motoring. Trouble then, though, was mild in comparison to the Find of a packet of fags and a box of matches in a trouser pocket 3t around 5 0' clock one morning, when searching for a hen-house key.
One of the Warren Anderson Family, various members of whom came throughout the summer, gave me some riding lessons in exchange for the use of the pony. The Rev. and Mrs Lusk and Family from Edinburgh owners of Machrihanish Farm and Lodge - were yearly visitors too. Kilgour, owned by Mr and Mrs Duncan Colville, was occupied by family and Friends throughout the summer. Mrs Colville - Mary Fleming Gilchrist - was a cousin of Father's and a regular visitor to granny at Mingary. She also provided our Family with an 'out of this world Christmas box', which of course was hidden (usually unsuccessfully) until Santa's arrival.
Adults travelled on the service bus along with Machrihanish pupils, so behaviour was very civilized. Mr Hector Thomson (golf professional) and Family took over Swallowholme, previously owned by Mr Greenless of Stewarton Store, early in the war. Pupils travelling included Nancie Thomson (the late Mrs Bob Dobbie), Doreen Chown - who played the cello and was the daughter of the Aerodrome Education Officer, then living at Rothmar - as well as the Families from the Salt Pans, council houses, May Smith (Douglas Lodge) and Stevie From Lossit Home Farm.
Babette Stevenson's ballroom and ballet dancing classes were very popular and enjoyable. Outlay for ballet dress of net and imitation satin was 5s. We referred to this type of dancing as 'toe dancing' rather than ballet, about which few of us would be at all knowledgeable. I recall being involved in a display in the Victoria Hall. In the '30s few parents had children's parties, though Mrs Campbell Mitchell was an expert organiser of parties, two of which I attended, when a happy time was had by all.
Another occasion of note was when Amy Johnson, who had flown the Atlantic, landed in the field opposite Hamiltons' collage in the early to mid-'30s. I clearly remember her and husband, Jim Mollison, being in Trodigal kitchen on a second occasion, when they landed opposite Machrihanish Farm. Father gave them a run to the Royal Hotel in Campbeltown.
It took years of persuasion to let me have a bike, which cost a little less than £5. At last David Livingstone supplied. I travelled many miles on it and certainly prized it. Life wasn't all fun and games and there was never any doubt that 'no' did mean no! One evening, when suitably attired to attend the Drumlemble 'hop', I went round to the sheep dipper, where John and father were working, with the request that they come in a little earlier for supper. I've not forgotten the reply: 'Ye're gan tae nae merr dances, lassie, till ye get merr than twenty-three per cent in English!' Two questions were put to me about nine 0' clock every Sunday evening, 'Have ye written the lassies?', 'Have ye derned the socks?' Luckily, Mrs Galbraith and family, Kilchousland, supplied hand-knitted regular replacements. As brother John had a preference for rubber boots, the holes were often the size of your fist. A ladder repair in precious wrinkle-free silk stockings, using an 'invisible mender' tool to lift the dropped stitch, was left until another time - a slow job. The cheaper Rayon stockings were much less popular.
I look back on the teenage years as happy, carefree times. Our tastes were simple and less varied than those of today and temptations were fewer. The loss of our school and younger members of staff to the war put an end to many activities. The war, of course, brought new faces, many of whom were entertained in locals' homes. Our first curried meat and accompaniments was made by an Indian gentleman in the farm kitchen, Flight Lieut. Douglas - 'Duggie' to all - who was ably assisted by Sub. Lieut. Frank Cowtan. There was added fun when a couple of ratings in the same squadron arrived at the back door to purchase milk, and the assistant cook, wearing my apron, answered the knock. Sadly, Duggie was killed in action in the spring of 1944.
TO BE CONTD.
---
The following account - which I have quietly tidied up and punctuated, while leaving intact the many idiosyncratic spellings - was written by Dugald McMillan, High Kilkivan, 011 .January 4, 1923, at the request of Duncan Colville, a founder-member, in 1923, of The Kintyre Antiquarian Society, and a distinguished local historian with wide-ranging interests. Mr Colville, who belonged to a prominent local distilling family, had clearly approached Dugald McMillan for stories relating to illicit whisky-distilling and smuggling, while researching his study, 'The Origins and Romance of the Distilling Industry in Campbeltown', which was serialised in The Campbeltown Courier in the first quarter of 1923. Mr McMillan's letter was among the papers donated to Argyll & Bute Council Archive after Duncan Colville's death and I thank Mr Murdo MacDonald, archivist, for drawing my attention to it.
Dugald McMillan 's grandmother, .Janet Currie, referred to in the text, was admitted to the Register of Poor for Campbeltown Parish in 1859, as a widow, living at Lossit Mill. Her date of birth is recorded there as 22 February, 1792. She died 011 26 May, 1873. A version of her encounter with the Exciseman at Witchburn, recorded in 1977, was published in my chapter on 'Illicit Whisky' in Kintyre Country Life, which is due for reissue this year. Ed.
I will give you some tales of the smugling that was done at Pans about a century ago. The most of it I heard from my Grandmother Janet Currie. My Grandfather was Neil McMillan. He was presed & taken to the war in navy and kept for 18 years, & after the war was over he was let home to the Pans on furlough & met an accident to his knee & after that they wouldn't take him back & he got no pension so he started making whiskie & never paying the King a shilling. He wrought at it years & was caught at last & sentenced to a year's imprisonment but the Laird of Lossit got him off with 6 months.
There was a man at Pans named Alister McConechy. I don't rimber him. I new his son Alister. Alister was a great smuglar. My Grandfather & him wrought together. They had a wherry & took cargos to the Clyde & other ports.
One time they were going to the Clyde with a cargo & when they came in sight of Sanda they saw the [Revenue] cutter at an ancor till the tide would turn. They drew along side the cuttcr & the Captain of the cutter came on board. The whiskie was covered with the kelp & McConechy was giving the Capt. a dram & broke the bottle in kase he would feel any smell of the stuff that was under the kelp.
One time my Grandmother was going to Campbeltown with a lot of whiskey in bladders. She had a big Cloak & a lot of bladers full under it. When she was at the Witch Burn a exciseman caught her & was going to take them from her. She said to him after me earring it so far you will surely let me have a dram out of one of the bladders. 0 yes he said you can have a drink & she skooted the whiskie in his eyes & he jumped & cried. There were some joiners working there, [among them] the late James Taylor, the Father of James Taylor of the Argyll Hotel, Southend. While they were doctering his eyes she got away & got her whiskey sold.
I never heard of any fights with the smuglars & the excise. They depended more on runing & geting the stuff hid than fighting. There was a man called Neil McNeill. He was always called Neil Og ['Young Neil']. He was very fleet of foot when he was young & if he got a fair start with the still he always got it hid & got off. I remember him when I was a small boy. He died about 1866, nearly 90.

346