THE KINTYRE
ANTIQUARIAN and
NATURAL HISTORY SOCIETY
MAGAZINE
Taken from
Issue Number 59 Spring 2006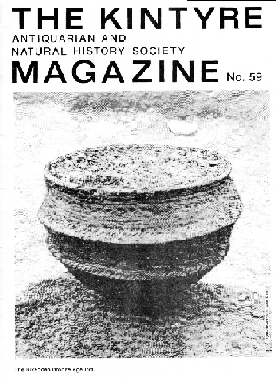 The Kilbrannan Bronze Age Pot
CONTENTS
The Holmes family originated in Ireland and its earliest recorded member is an Archibald Holmes, born c. 1775, with a father possibly called Hugh. Archibald married in Ireland, about 1800, to an unknown woman, probably called Elizabeth. There were at least two children from this marriage, Elizabeth and Hugh, and possibly a John and a Mary. Some time after 1810, Archibald and family migrated to Campbeltown.
The first definite date in the Holmes family is the marriage, on 27 December 1831, in Campbeltown, of Hugh Holmes, mason, to Ann/Agnes McNeil, youngest daughter of John McNeil and Mary Brolochan. (The names Agnes and Ann were often interchangeable.) Her great-granddaughter, Elizabeth 'Bessie' Holmes Drysdale, told me, when I visited her in 1960, the story of their elopement and the estrangement of mother and daughter. There was parental disapproval because Hugh Holmes was an Irishman and about nine years younger than the bride, who was also pregnant! When Ann Holmes returned home, her mother, Mary Brolochan, spied her coming up Main Street with a new babe (her daughter Elizabeth) in her arms. All was forgiven and mother and daughter reconciled.
Hugh and Ann had six children in all: Eliza, the eldest and my great-grandmother; Ann McNeil; Archibald; John; Mary Brolochan and the youngest, Hugh. The second and third child must have died early, as neither is recorded in the 1841 Census. Only the births of the three eldest children were recorded and possibly because of these early deaths the three youngest children were not baptised. However, in 1841 Hugh and Ann Holmes were living in Argyll Street, Campbeltown, with their four remaining children, and Hugh Sr. was again described as a mason. Also recorded in 1841 was Archibald Holmes, a 66-year-old handloom weaver and his daughter, Elizabeth, aged 30, living at Back Court, Campbeltown. Both were born in Ireland and were the father and sister of Hugh Holmes.
By the time of the 1851 Census, Hugh Holmes was a master mason employing six men, and the family had moved to Back Walk. Eliza, so baptised, was always recorded, from the 1841 Census on, as 'Elizabeth'. In the 1851 and 1861 Censuses, and on the record of her marriage to John Stewart, she is also recorded as a dressmaker. For many years, there was a beautiful bronze taffeta wedding-dress at the home of my grandmother, Annie McNeil Stewart, Elizabeth Holmes's elder daughter, in Dennistoun, Glasgow, which Elizabeth Holmes had made for her wedding, and which was shown to her three great-granddaughters. However, it was not there when the house contents were sold in 1974 after the death of Bessie Drysdale, my aunt.
After the death of Hugh Holmes on 8 February 1852, at the early age of 42 years, the family moved to Glasgow. For several years, Ann Holmes kept a boarding-house at 24 Robertson Street. It was there, on 20 February 1857, that Ann died of asthma, of three months' duration. She was buried in Kilkerran Cemetery, Campbeltown, with her husband.
The Holmes family had moved to Glasgow for the greater opportunities provided for employment. The four siblings were recorded as living together at 230 Holm Street, BIythswood, in 1861. The next few years were to see three of them married. Mary Brolochan Holmes, the younger daughter, was the first one. On 9 June, 1863, at her own home, she married William McTaggart, the well-known Scottish painter, who was born at Aros, near Campbeltown, in 1835. Interestingly, also recorded on their marriage certificate was the maiden name of William McTaggart's mother, Barbara Brolochan. Thus, William McTaggart's first wife, my great-grand-aunt, was related to his mother.
William and Mary were descended from two brothers, Duncan and Neil O'Brolochan (both mentioned in the Kintyre rentals of 1709) who emigrated from Ulster 'early in the reign of Queen Anne' and settled at Barr and High Barr on the west coast of Kintyre. William was descended from Duncan and Mary from Neil. They were fourth cousins once removed.
Sir James Caw does not mention this in his biography of William McTaggart, only that William and Mary had known each other as children in Campbeltown and did not meet again until they were both visiting New Orleans Glen, to the south of Campbeltown, in the summer of 1860. William's address at the time of his marriage was 13 Pitt Street, Edinburgh, and his witnesses were Archibald McTaggart, his brother, and Peter MacKell, a friend.
Mary and William were to have six children, one dying early, before Mary herself died on 15 December 1884, still in her forties. It was a double blow for William, because his mother, Barbara Brolochan (Brodie), had also just died. Elizabeth Stewart, Mary's elder sister, was known to be very upset at Mary's death and worried about her sister's children. However, William remarried to a Marjorie Henderson, and had another family, and happier times were to come for both families.
Elizabeth, the eldest in the family and my great-grandmother, married next, to John Stewart, on 2 June 1865. She also married at home, in BIythswood, her witnesses being her brother, John Holmes, and brother-in-law, William McTaggart. Rather unusually for those times, John and Elizabeth Stewart were to have only two children, both girls: Annie McNeill, my grandmother, and Jessie, who never married.
The following year, on 8 June, 1866, the younger son, Hugh, married Christina Craig at 48 North Frederick Street, Glasgow, with John Holmes again a witness. They had a family of three sons and two daughters.
Hugh Holmes Sr. and his two sons, John and Hugh - particularly the former - were all said to have had beautiful baritone voices and to have sung at weddings and other choral occasions.
The elder son, John Holmes, never married. He did, however, leave behind a wonderful family heirloom in the form of a hand-written parchment document presented to him on the occasion of his retirement from the presidency of the Kenmore Choral Union, Perthshire, in May 1881. It is now in the possession of Louise Elizabeth Heggen, my second daughter. The twenty-nine members of the Choral Union signed it. After being president for four years, John was returning to Glasgow. Another possession of John Holmes's was a small snuffbox, which is also in the family.
Yet another family heirloom, in the possession of my son, lain Heggen, is an oil painting by William McTaggart. It has come down the years in the possession of, first, Elizabeth Stewart (nee Holmes), then her younger daughter, Jessie Stewart, then her granddaughter, Bessie Holmes Drysdale, then to Bessie's niece and my sister, Anne Drysdale, and, finally, to my son lain in Australia. It is thought in the family today that the painting, 'By a loch, harvest time', signed 'W. McTaggart', but not dated, might have been a wedding present to Elizabeth Holmes and her husband John Stewart, in 1865, from William and Mary McTaggart. The painting - which measures 12 by 9 inches and is still in its original gilded frame, overall size 21 by 17 inches - depicts children in a field of corn-stooks on the Kilkerran shore of Campbeltown Loch, with a backdrop of MacRingan's Point and the Arran mountains.
The career of John Holmes can be traced from the various censuses during the nineteenth century. He was recorded as aged seven, in 1841, in Campbeltown with his parents, younger brother and two sisters. In 1851 he is described as a 'Mason's apprentice', no doubt working with his father, a master mason. In the 1861 Census, after the family had moved to Glasgow, he is recorded as a warehouseman and clerk. Unfortunately, his whereabouts in 1871 have not been found, but in 1881 he was living in Kenmore as a boarder and was recorded as a bookkeeper. The last record of John Holmes's life, apart from the four years as president of the Kenmore Choral Union, is his death certificate, in which he is described as an accountant, aged 48 years. He died on 8 August 1882, at 20 Armadale Street, Glasgow, the home of his eIder sister, Elizabeth Stewart. Sadly, Elizabeth also outlived her two other younger siblings, for Mary McTaggart died in 1884, and Hugh Holmes, a ships' chandler, in 1887, as a result of an accident at the Glasgow docks. So, Elizabeth Stewart lost her younger sister and two younger brothers all within the space five years, and died herself in 1901, aged 69.
The talent for singing continued into the next generation. Grandsons William ('Willy') and Robert, sons of Hugh Homes Junior, the youngest in the family, also had beautiful voices. The oldest son, Hugh, went to sea at an early age, gaining his master's certificate at Glasgow in 1891. His career thereafter can be traced through Lloyd's Captains' Register, which shows him as commanding eleven ships between 1891 and 1923.
On 13 February, 1909, while commanding the Glasgow-registered Denaby, Captain Holmes was involved in a collision with another steamer, the Grenadier of Newcastle, 35 miles north-west of the Hook of Holland. The Grenadier, from the reports, suffered only slight damage: two plates dented and an anchor carried away. The Denaby, however, after some repairs at Hamburg, headed for the Barry Graving Dock at Cardiff for further repair. She reported 'having experienced heavy weather during the voyage and [receiving] severe deck damage'.
There is a gap in the register between 14 September, 1914, and 10 August, 1923. Hugh Holmes would have been serving his country at sea during and after the First World War. He died at Hamburg on board the Rose Marie on 5 October, 1923.
The second son in the family, William, was, according to my father, a 'wanderer'. He worked in the South African gold mines for a time. He gave my grandmother, Annie McNeill Stewart, a beautiful, translucent Indian china tea service as a wedding present in 1894. It was subsequently given to my sister, Anne, by her aunt, Bessie Drysdale. It is not known where, or when, he died. The youngest son, Robert, a physiotherapist, emigrated to America in the early 1900s.
The two daughters of Hugh and Christine Holmes are thought to have married, the elder, Annie, to one Miller. They had at least one child, a daughter Marion - called 'Madge' - who was a nursing sister in Campbeltown and lived with her mother. In the mid-1930s, my grandmother visited her cousin Annie, accompanied by my father, my aunt Bessie, and we three children, Marjorie, Anne and Rhoda. When sent outside to play, we chased the ducks into the hen-run, where they were found the next day ... some of them lame! We stayed in the Argyll Arms Hotel, Bellochantuy, on the west coast of Kintyre, our choice of accommodation during several other holidays - always at Easter - in the 1930s.
Contact between the families of Elizabeth Stewart and Mary Brolochan McTaggart continued into the next generation, particularly between the two eldest cousins, both called Annie and closest in age. Annie Mary McTaggart, born in June 1864, married James Lewis Caw in October 1909 'in the McTaggart studio'. He had been appointed the first curator of the National Galleries of Scotland two years earlier. He was later knighted for his services to art, and, as already mentioned, wrote a biography of his father-in-law, William McTaggart, published in 1917, as well as other publications. A copy of this book was given by the Caws to my grandmother in 1935 and I have inherited it from my father.
The younger cousin, Annie McNeill Stewart, born in 1867, married Robert Steel Drysdale in 1894 in Glasgow, and had a family of four sons and one daughter. The eldest surviving son, Archibald, was my father, and the only one in that family to have children.
I met the Caws on two occasions in my youth, once as a six-year-old in 1935. They stayed with my parents, near Manchester, while they attended the opening of William McTaggart's exhibition at Manchester Art Gallery - it had opened earlier in Edinburgh - on the centenary of his birth. The Caws had given my parents a lovely, delicate water-colour painting of Machrihanish - by Sir James - as a wedding present in 1927, which is also in the family out here. My younger sister, Anne, stroked Sir James's beard! He was amused, but I, being the elder, was most embarrassed!
The second meeting was at Easter 1946, when my Father and I were visiting my Grandmother and Aunt Bessie in Glasgow, and the four of us motored over to Edinburgh to have afternoon tea with the Caws. A vivid memory of the visit was of a house filled with beautiful paintings! As far as I am aware, it was the last time the cousins met. Lady Caw died in 1949 and my Grandmother and her younger sister, Jessie Stewart, who lived in Dunoon for many years, both died within two months of each other in late 1950. Sir James Caw also died in the same year.
NOTE ON THE AUTHOR. Marjorie Heggen (nee Drysdale) is the eldest of three girls, born near Manchester of a Scottish father and an English mother. She married an Australian engineer, who was working in England, in 1955. She worked for more than forty years in libraries, both in the U. K. and in Australia, and retired from Melbourne University Library in 1991. She published a book on her husband's family history in 1999 and is soon to publish another on her own family history. Ed.
---
Captain Dugald Campbell McNab was born in 1931 at Tullochgorm, near Minard, the son of a fisherman, Alexander McNab, and Jeannie Campbell, but brought up with his maternal relatives at Silvercraigs, after his father's death in 1935.
'Dugie', as he is popularly known, attended Minard, Aird and Lochgilphead primary schools before completing his education at Keil School, Dumbarton. His career at sea, with the Blue Funnel Line of Liverpool, spanned the period 1949-60, and he holds a Foreign-Going Master's Certificate. He has since been employed in various harbour-related posts in Aden, Libya, Netherlands Antilles and, since 1987, in South Riding Point, Bahamas, where he is marine manager, berthing master and loading master.
Captain McNab contacted me in July, 2005, after reading an account of Silvercraigs in my book, Fish and Fisherfolk. Had I known of his existence, he would certainly have been in the book, but the contact came too late for that. His memories of a boyhood spent in a Lochfyneside crofting-fishing community seemed to me to be of such interest, however, that I encouraged him to write them out, and offered to publish them in this magazine. This is the first of three installments.
Silvercraigs, to be sure, is decidedly outwith the true geographical range of this publication, but the social history which Captain McNab here relates clearly has Kintyre parallels, and an aunt of his, Jessie Campbell - Mrs Colin MacBrayne - reared, in Dalintober, a large family which intermarried locally and is now linked with many families in South Kintyre. Editor.
The ancestral home of my mother's folk, the Campbells, was situated about thirty yards from the shore at Silvercraigs, which is about four miles from the small town of Lochgilphead. The community consisted of five crofts located in an alluvial strath, the bed of which provided the land for the growing of crops and through which a burn, the Allt Oigh, runs. The strath is surrounded on three sides by hills which provided the communal grazing for all the crofts, and the shore un to which the burn empties is the south-west boundary. When the loch ebbs, about a hundred yards of sandy beach is exposed, with numerous mussel-beds.
Like so many men of the district, my father was engaged in the fishing industry, a physically demanding and dangerous business. He died of pneumonia when I was three years old, leaving my mother with the burden of raising my brother and myself. Round about the outbreak of the Second World War, she took a position as housekeeper with one of the more affluent members of the local society, and, since the post was an 'unaccompanied' one, we youngsters were 'farmed out' to the Silvercraigs croft.
The Campbell family living there at that time comprised Grand Uncle Archie, who had never married and who had been a crofter-fisherman for what seemed to be an eternity. He would be in his late seventies at the time, but was a fit man who carried out all the tasks which the croft demanded with a remarkable agility for his age. He was revered by all the family, who looked up to him not only for his years, but for his personality.
Aunt Maggie was, I would say, the 'boss' of the outfit. (She liked to be called 'Meg' when she wanted to be a wee bit posh!) She too had never married but had devoted her life to the service of the older family members who had lived there down through the years.
Uncle Duncan was an easy-going, quiet man who had been through the carnage of the trenches in the First World War. He served with the 8th Battalion, Argyll and Sutherland Highlanders, and had taken a bullet through the jaw at, I think, the Battle of Beaumont Hamel. The medics had left him as a hopeless case, but he was eventually taken to a first aid post and, after years of rehabilitation, returned to normal life. He suffered from a bad cough which was initiated by chlorine gas in the trenches and exacerbated by the smoke from a multitude of 'Woodbine' cigarettes. By trade he was a stone mason, but he also fished. He became a member of the Royal Observer Corps at the beginning of the Second World War and kept watch for aircraft at the 'post', which was situated on a hill not far from Dunchologan outside Lochgilphead. His position gave us youngsters access to the latest information about new types of aircraft and modifications to existing planes.
The house itself was a typical stone-built structure with a slate roof. It consisted of a 'room' and a kitchen, with a box-bed in each, and with sleeping accommodation up in the 'loft', under the rafters. It was accessed by a ladder in the lobby, and a trapdoor separated the loft from the main body of the house. Up in the loft, as there was no insulation between the roof struts, one slept close to the weather, separated only by the slates and the roof planks, so that the 'sooch' of the wind and the patter of the rain were only inches from one's face. The heat from the kitchen, however, rose into the loft and afforded some comfort. At the back of the house there was a wooden structure with a huge brass-trimmed bed, known as 'the bedroom', which could accommodate a couple of adults or a large number of youngsters, especially if they slept 'head to tail', which sometimes the numbers demanded.
The atmosphere in the house was one of serenity and good humour. People seldom, if ever, snapped at one another and the humorous aspect of any situation, even an unfortunate one, was soon seen and commented on. Work on a croft was continuous, as cattle and hens must be tended and fed, crops planted and harvested, fuel for the fire collected and running repairs carried out on fences, the house and byre, gates and other structures. Young hands could be put to good use on the croft and were always welcome, especially in the summer when haymaking - which provided winter fodder for the cattle - was the main activity.
The family were 'Wee Frees' and attendance at Sunday services in Lochgilphead Free Church was mandatory. This entailed a walk of four miles in all weathers, and four miles home again. Sometimes the service would be in Gaelic, but ignorance of the language of our ancestors was not regarded as a good enough reason for non-attendance. During the service young folk were usually refreshed with large peppermint drops which every older man seemed to carry, and which were passed surreptitiously along the pews. The men's uniform for church attendance, and funerals, was: blue serge suit, snow white shirt ('Parazone' and 'Cleansil' were added to the washing water), black knitted tie and bowler hat. Boots were highly polished, a chore which was completed on Saturday evening. On the Sabbath, peace reigned. There was no noise, no playing games, no whistling, and singing was the metrical psalms only. After lunch the adults retired for a siesta and we children kicked our heels or went for a walk. The time seemed to drag interminably.
Each day, 'the Reading' was held morning and night. Bibles were passed around and a metrical psalm was sung, followed by a chapter of the Bible read alternately, and then Uncle Archie launched into a long Gaelic prayer. Minimal cooking was done on the Sabbath, each meal being prepared on Saturday. Breakfast was mince with poached eggs cooked in it as it heated over the fire; dinner was a thick broth; and tea was the cold beef from which the soup had been made. And the men shaved on Saturday evening and went to church with a noticeable stubble on the cheeks and chin. I would make the comment that it is ironic that, if anyone mentioned Darwin's Theory in those days, the patriarchs would just smile and Say, 'That's not what the Bible says'.
Adjoining the house was the byre, a thatched structure where the cows, calves and hens were accommodated. The hens' loft was above the cows' stalls and was accessed by a ladder. It was quite an amusing sight to see the hens, one by one, as the sun set, making their way up the ladder to the spars in the loft where they would roost for the night. A part of the byre was set aside as a store for the 'ready use' hay and for laying-boxes for the hens.
The number of stock varied, but, on average, there would be two cows, a stirk and a calf. The character and temperament of each beast was known and, if the name of a cow cropped up in conversation, a stranger could be forgiven if he assumed the conversation was about a person. For example, 'Peggy was annoyed when I didn't let her into the byre, and went off shaking her head'. Or, 'Tarzan just gave a grunt and walked away'. One of the chores which presented itself in any cowshed was 'carting the byre'. At least once a week, or more frequently if the grazing was good, with spade and wheel-barrow the droppings had to be removed and dumped in the midden. Later, the accumulated manure was barrowed to the hayfield and spread as a fertiliser.
When the hay had been brought in and built into a stack, the cows were allowed to graze in the hay fields and build up their constitutions for the coming winter. By this time, the grass was lush and they gorged themselves. What goes in must come out, and the end-product was of a runny consistency. Many a young lady would unknowingly accompany Aunt Maggie into the byre to see the cows being milked and emerge with additional green/brown designs on her dress!
Electricity was still a thing of the future and cooking was done over the open fire. Coal was expensive and was used sparingly, so that the hunt for fuel was a continuous task. Whin bushes were burned each year and the dried stalks gave a bright, hot flame. Driftwood was the other main source of fuel, so the beaches were patrolled regularly for suitable pieces. As this was wartime and Ardrishaig was an anti-submarine training base, the search could also turn up some very interesting flotsam. Sailors' caps were prized, especially those complete with the H.M.S. band. (The name of the ship was not shown, as this would have given information to the enemy, who were assumed to be lurking everywhere.)
Water was brought from the well, which was about fifty yards away, and a large cask was filled with water on Saturday to tide the family over the weekend. In summertime, the water from the well at the next croft, as it was always ice cold, was often used to make a thirst-quencher in the hayfields, two or three fistfuls of oatmeal being thrown into the can to give the drink more substance.
Between the house and the shore, two low drystone dykes were built, and, out of season, the boats were drawn up there, where they were somewhat sheltered from the worst of the wind. The larger boat, of about 18 ft. in length, was known as the 'line-skiff', and was propelled by a lugsail as well as oars. As she required several strong men to launch her, she was seldom used during the war years, which is the time-frame of this account. The other boat, which was widely used, was the 'Yella Punt', a clinker rowing-boat about 10 ft. long.
At the beginning of the war it was mandatory that each boat was emblazoned with a registration number. The number of the Yella Punt was B39. Uncle Archie didn't have a small paintbrush which he could use for the paint job, so he grabbed the collie, 'Glen', as he passed and clipped a snippet of hair from his tail. From this he fashioned a very serviceable brush and completed the work. Camel hair was the usual material, but dog hair was a good substitute!
There was a total of ten siblings in my mother's family, so numerous nephews and nieces visited the croft and some stayed there for the summer holidays. Cousins from Greenock, Campbeltown and Clydebank were regular visitors. Extra hands were always put to good use and the summer holidays provided a valuable supply of cheap labour for haymaking, when the hay was dried prior to building a stack for the winter. In the uncertain Mid-Argyll weather, the cut hay was spread at the least hint of weak sunshine, was heaped into 'coils' at the advance of showers, and re-spread when the sun peeped through the clouds again. In a bad summer, the process appeared to be never-ending, and a very frustrating one to boot, as it seemed to be such a duplication of effort.
As a reward after an exhausting day in the hayfield, a couple of the youngsters might be allowed to go fishing in the long evening. This meant that they rowed a mile-and-a-half out into the loch and watched adults hauling in cod and haddock, then they rowed back again. From this you might think that children were considered to be an expendable commodity, and some of the younger ones might have believed they were. The adult mantra was, 'Children should be seen and not heard'. This meant that one never interrupted adult conversation, the reason being that children's opinions were not worth listening to! At meal times, if there were a number of adults, the children stood and ate at the dresser. This was purely a logical and logistical solution to delivering hot food to a good number of people simultaneously, but it also put us in our proper place in the pecking order.
A psychological ploy which was used to generate effort was the occasional accolade to one and the mild criticism of another. 'Man, but Erchie's good at the rowin', followed by, 'Dugie wasn't even botherin to feather his oar in the wind'. This engendered in the former a determination to maintain his place of prominence, and in the latter a doubling of the effort to move up in the estimation of the adults.
---
---
Glin Bennet introduces these extracts from his grandmother's diaries.
It has been a delight to me to discover my links with Campbeltown, as / had always thought of my mother's family as old Edinburgh. / had read once that she had been born in Campbeltown, but that conveyed nothing to me at the time and / thought little more about it until/ read recently in an old obituary that my grandfather (for years a Baptist minister in Edinburgh) had also been born in Campbeltown. Then I had a story to unravel.
From the excellent website, scotlandspeople.com, I discovered that my grandmother, Grace Newbigging Kerr, had actually been born in Main Street, Campbeltown, in 1859, and that her father, John Kerr, was a leather merchant there. I fancied them living over one of the shops in that busy street. Her mother, my great-grandmother, was born Margaret Goold, in 1827, and was a daughter of Hugh Goold (1791-1851), who had been land steward to the Duke of Argyll.
The origins of my grandfather, Alexander Wylie (1843-1928), are less clear, but as far as I can tell, he was an uncle of that distinguished son of Campbeltown, Rev. Alex Wylie Blue.
There wasn't much variety in Christian names in those days, which makes it harder to trace the generations back. I would be very interested to learn more about my Kintyre antecedents: Kerrs, Wylies, Goolds and Blues. My forebears, for the most part, presumably migrated from the Lowlands in the seventeenth or eighteenth centuries. This was an amazing discovery for me, because my father's family migrated similarly to County Armagh from the north of England at around the same time. Thus, from both sides of my family / am a migrant, though born in London and now living in Bristol.
My grandmother, Grace Wylie, started writing a diary - slightly edited here - for my mother (Annie Flora, 1887-1952) and my aunt (Margaret Goold, 1889-1979). She gives a piccture of life with small children in a period when so many children died, as did two of the six she bore. Along with her deep religious conviction, there was a real interest in the detail of a child's life before I thought that childhood had really been recognised as such a deeply importnt period.
EDTOR'S NOTE. These diary extracts are taken from a chapter in Dr Bennet's book about his mother's family, Father, Son and Father, Part 3, which is pending from Broadcast Books, Bristol.
Journal of Annie Flora Wylie, begun on August 21, 1892
.
It has long been my wish to begin a separate journal for each of my children, but felt it might be too much to keep up, with so many duties continually pressing upon me. However, I have resolved to make the attempt, even though only the main features of their childhood should be noted. Then, if spared to grow up, each will have a volume to take up and continue. I commenced my own journal about 15 years of age and have often wished that the former interesting and formative years were not a blank. I trust I may be enabled to follow up this. To see my dear children grow up good. and in the fear of the Lord, exercising a wide and beneficent influence for the furtherance of God's glory, is one of my strongest desires (perhaps too strong at times) but to God we commit them and believe that the prayers of their parents, yea and grandparents, will reach God's ear and return an abundant answer.
Annie Flora Wylie was born on Thursday, July 28th 1887, at 11.10 am. She weighed 7 3/4 lbs and gained 1 1/4 lbs in a fortnight. She was a bonnie baby - a little round plump face, large blue eyes and a very neatly formed mouth. Her nose was small and broad, hair very fair. We thought she resembled her Grandma Wylie at first and so she has all along. She slept a great deal for the first month and seldom cried, but made up for that later on. If she were crying and nurse would begin to dress her, she was quiet at once. That was characteristic from the beginning, for she has still a real liking to be dressed and at times appears in the oddest costumes and combinations of colours one could think of. Yet always an amount of taste in the arrangement which shows, as her father says, 'An eye for art'.
When 1 month old we went to Auchlinskye 3 miles from Rumbling Bridge [a village 17 miles south of Perth]. She throve there splendidly, and lay sleeping the greater part of the day on the garden seat. Her little face got quite brown with the sunshine. The winter and spring passed by and she kept well, and grew quite a strong restless child. There always has been in her a certain quiet manner with great determination to gain what she wants. When an infant, she would fidge and fidge until her face got perfectly red, and only then would the cry come out.
She is named after Grandma Wylie, and Aunt Flora - an Aunt of Alexander's and sister of his mother. We had much discussion as to her middle name. As she was born in Queen Victoria's [Golden] Jubilee year, we thought of one bearing on that, but her Father had a dislike of all fancy names, so we fixed upon Flora, but we generally call her Florence - or Fla. John keeps to Flora and Greta calls her 'Sea'. We sometimes wish we had begun saying' Anna'.
In July of 1888 I went for a fortnight with Father and Mother to King's Cross, Arran. There she was most restless - could not walk and yet would not be nursed. The whole house was kept in commotion, and I resolved that never again would I take a baby of 11 months from home without a nurse to watch it. Mother said she never did see such a restless child and yet so quiet and good. I went on to Campbeltown after this for a short time, but got a girl there to keep her. Her Grandma was so pleased to see her namesake.
For August of that summer we went to Abington -:- near the source of the Clyde [30 miles south-east of Glasgow]. It was towards the end of that month she went off walking alone 13 months old. She was very strong and healthy and full of energy; won't yield readily to John unless when she shows some affection, then she will give him anything. Her Father takes such pleasure in shewing her pictures and she delights in them, and would sit on his knees rapt for a long long time. She is so fond of him and runs to meet him with such warmth of affection. Love will win her; it is not a driving or forcing which will ever make her. There is a stiffness in her nature which force will harden but love may mould into a strong and beautiful feature of character.
Aunt Mary was married on Sept. 17th 1891 and Florence was one of 4 little bridesmaids. This was a great event and one of the earliest recollections she will have. The white silk dress, stockings, slippers and basket of lovely flowers are not things for her to forget. After the wedding she remained in Glasgow for about a month. The spring before, she had whooping cough and was rather bad, but got over it nicely. John and Greta had it also and it was a heavy 4 months nursing. We took them for part of June to Pirnmill, Arran, and in August were at Aberlady [15 miles east of Edinburgh on the Firth of Forth].
She does not incline to learn as John did, but we have never seriously set about teaching her. She knows all the letters and many of the small words, but often says she is going to begin with big words. She docs like painting and will sit a long time painting the pictures in various periodicals. Nothing she enjoys better than to get me to paint some and then she imitates. Some taste does show itself in the blending of colour. John does tease her very much, and she does him. They are quite different children when alone. There is too much difference in their ages [3Yz years] to understand each other's play, and she resents being thought inferior by John and so they have it. At times it is so different and they agree well. Their dispositions are very unlike - John and Greta are more alike [though 6 years apart].
This summer she was a month with mother at Newtown, Lochranza, where I used to go as a child. She was remarkably good; every letter reported 'clever in doing things for herself and quite a little lady'. The kittens were an endless source of joy to her, also the dog, cows and hens. Since her return her talk is all about them. This time will leave a strong impression on her mind and as happy as my own are of the same spot. John and Greta went down and she has come home. I was telling her about writing this book and that all her naughty actions as well as good ones were to go into it, and she plead with me not to write something down that day. She breaks out in tears over every story in the least degree pathetic and is easily touched by stories of poverty .unkindness or any child losing its mother. She loves her dolls and treats them with great tenderness and comes about me so kindly when not well, stroking my face and hair very gently, giving kisses now and again in her own affectionate manner. Many are her speculations regarding heaven and the angels, and curious questions are asked, but at present I cannot recall any. Gathering of wild flowers when out their walks always gives great pleasure and then presenting them to me and seeing them on the table at tea consummates it.
Journal of Margaret Goold Wylie, begun by her mother, Aug. 21, 1892
... On Sabbath Nov. 10th at 10.30 AM 1889 our dear little girl Margaret Goold was born. She is named after my mother. She was a big baby, weighing 10 lbs when born. Her features were very decided - full eyes, dark blue, broad nose, and fair hair, a very strong voice. No one even said she was a pretty baby. Indeed I often thought friends looked quite disappointed at her as they looked on in silence. Mother was the only one who maintained her a splendid looking infant and of course particularly because of the name got the credit. It made no difference to me - she was all right and sound and received from her father and mother a welcome of love. She smiled and laughed very early and for about 3 months cried much and slept little. I never had less rest, but at times she was so good. She throve steadily and at 6 months was one of the brightest of our children, so full of life and fun. Her Grandma gave her a beautiful fawn coloured pelisse. She walked when 13 months old, but creeped long before that. In the spring of 1891 she had whooping cough with the others and was very ill. She is a great pet with her 'Dadda' and makes so much of him which he appreciates, and they make a lovely pair. She goes tapping at his study door. This he never resists - the door is opened and she walks in, takes a book and seats herself on the easy chair, and begins reading in own way.
During the last Spring of 1892 she has developed so rapidly. While there is considerable strength of will and quickness of temper (which is momentary) she has such a sweet, loving, forgiving disposition, no one can but love her and she sits on a chair so contentedly for long times singing and chatting to herself so happily. Almost every morning her first words to me are, as she creeps from her crib into my bed: 'Do you love me very much this morning, dear mother?'- 'Yes. Do you love me'!' - 'Yes, Detty loves mother.' Then she nestles in and covers me with kisses. Her ways are most winsome, and she 'is so original in her remarks, much more of John's disposition than Flora's, though hers may be as good. She began going to church when 2 years and 4 months and when 2Yz sat as still as possible. I shall never forget her sweet smile when ready to start, dressed so nicely, her tiny little bible in one hand and her penny in the other, and glancing at 3 sweets on the mantle-piece to be given on her return according as they were merited: 3 for excellent, 2 for very good and 1 for fair.
---
Robert McKeich was the second son of James McKeich, born 11 Nov., 1815, in Campbeltown, and Mary Betts, born 2 Oct., 1831, in Polmont, Stirling. James emigrated to Australia in 1849 and went directly to the gold mines at Fiery Creek, where he invested in the mines and served the area as a slaughterman, carter and grocer. He eventually bought the lease on a 27,000 acre property at Yanakie, and died there on 14 January, 1864.
Robert, his son, was born on 5 September, 1855. at Fiery Creek, and emigrated to New Zealand in 1876. He became a butcher in Dunedin and in 1882 purchased a butchery in Lawrence and supplied the local residents and miners with meat and small goods. Robert was a keen sportsman, playing for the Lawrence cricket team and taking part in shooting events. He formed a cadet corps among the youth of the area and was also a Sergeant Major in the Tuapeka Volunteer Rifle Company. In 1901, he applied to join the 9th New Zealand Contingent for service in the Boer War in South Africa and was commissioned with the rank of Lieutenant on 2 February, 1902.
Robert kept a diary of his time in South Africa. The last entry was made on 3 June, 1902. On 4 June, Lieut McKeich and his friend Lieut Rayne mounted their horses and set off across the veldt in search of springbok and a day's shooting. Some distance from Vereeniging, they were held up by a party of Boers who had not heard of the Declaration of Peace. The two men were ordered to dismount and take off their clothes. As they did so, Lieut Rayne whipped out his revolver and shot one Boer through the head and another through the chest. The third Boer rushed at Rayne, who hurled his now unloaded revolver at him, hitting him between the eyes. This blow crushed the Boer's skull, killing him.
As the officers were remounting, the wounded Boer reached for a rifle and shot Lieut McKeich in the back, between the shoulders. He died instantly. After Payne returned to camp, the whole contingent went out in search of Lieut McKeich's body. The funeral took place at Meyerton, a few miles north of Vereeniging. This area is now the site of the Macauvlei Golf Club and a section of the grounds has been set aside as a garden of remembrance. War graves have been established there, marked by a military iron cross. The funeral was a big one, attended by the majority of the 9th Contingent. Robert's son, Walter, had only just arrived in Durban with the 10th Contingent. He was unable to attend the funeral, but was granted leave to visit the grave.
BILL McKEICH
Bill McKeich, N. Z., is a g-grandson of Robert McKeich. He and Mrs Maureen Bell, Drumlemble, share a g-g-g-grandfather in Archibald McKeich, wheelwright, Kilchrist. Mrs Bell's family became Keiths. Ed.
---
Copyright belongs to the authors unless otherwise stated.
The Kintyre Antiquarian & Natural History Society was founded in 1921 and exists to promote the history, archaeology and natural history of the peninsula.
It organises monthly lectures in Campbeltown - from October to April, annually - and has published its journal, 'The Kintyre Magazine', twice a year since 1977, in addition to a range of books on diverse subjects relating to Kintyre.
CLICK HERE for Correspondence and Subscription Information.
ISSN 0140 0762

220