Any reader who saw Mike Newall's charming 1994 movie, Four Weddings and a Funeral, will have to forgive my plagiarism. The two Campbeltown weddings here discussed are those of my great-aunt, Mary McKinven2, to Hector McCallum, and of her daughter, Peggy, almost half a century later. I played the organ for the second. The catalyst for this article is The Photo (my capitals) on the back page, which depicts the first wedding, an event that took place in late 1901 in the back garden of a fine house. It seems that church weddings were far from the norm years ago. A discussion of the bridal couple, the officiating minister, Rev. Hector MacKinnon and Captain Duncan Stewart, RN (RET.), who offered his Campbeltown home, 'Stronvaar', for the ceremony, sheds a little light on the protagonists and their times.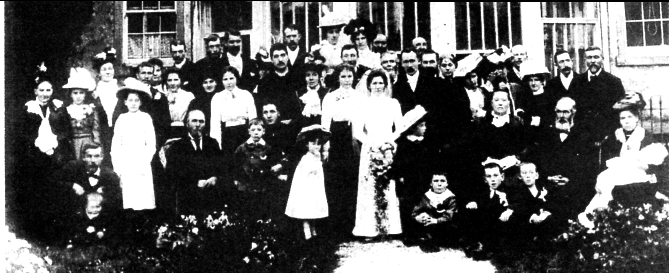 Mary McKinvcn and Hector McCallum
The McKinven family lived at Maidens' Planting north of Campbeltown Loch. Their mother, Margaret, had died years before this tale, when Mary was only five, leaving four others under 16 to be raised by the older children and Norman, her father. He was a shepherd, bearing his crook with pride in every extant photograph. Ten McKinven children achieved adulthood; there was something to be said for growing up in the fresh air of the countryside, as opposed to the disease-ridden slums of big cities. In this large family Margaret, my paternal grandmother, was nine years older than great-aunt Mary, but the sisters were close friends.3 Apart from whatever the groom might have offered, Mary had to rely on her own resources to pay for the wedding. Help from her father was limited; he was now 70 and had long given up laborious work such as shearing. He gave his occupation as 'carter' to the Registrar of Births, Deaths and Marriages, whose certificate reveals Mary's solution: hold the event in Stronvaar House, the home of her employer, Captain Duncan Stewart. After all, Mary was an accomplished cook, trained in Paris,4 and could probably draw on a good deal of experience in entertaining. One may assume that no alcohol was served for the guests, especially with the Rev. Hector MacKinnon of Campbeltown's Highland Parish Church present. By a quirk of fate, Mary's only daughter, Margaret (Peggy) Smith MacCallum, was married in that church, half-a-century later.
1 To forestall any cries of nepotism, I here acknowledge that I am connected by marriage to the Editor: one of his (first) cousins is also mine, once removed!
2 (1869-1958 in Campbeltown).
3 See footnote 10.
4 The Denny family, famous shipbuilders of Dumbarton, sent here there, c.1888
Great-aunt Mary was 32 when she married 37-year-old Hector McCallum, a cabinet-maker who owned his business. His father was a gardener, but he seems not to have recommended the great outdoors to Hector or his older brother, Neil. Certainly craftsmen in wood were better paid. Hector advertised himself as 'HECTOR MACCALLUM, Cabinet Maker, Joiner and Undertaker. REPAIRS NEATLY EXECUTED.' Perhaps he shared his business with Neil, a joiner. It would appear that, although joiners employed similar skills to cabinetmakers, they made doors, window sashes, panelling and fixed objects in a house, whereas cabinet-makers made smaller things requiring more finesse. What is much more interesting than this word-play is the fact that for many years Hector kept a commonplace-book, in which he noted addresses as well as other miscellaneous information, such as 'How to make furniture varnish' and 'Men Ruined By Drunkenness'.5 Above all, he seems to have been a sensitive person and was fond of writing poetry. For patrimonial reasons, I limit quotations to a few concerning Canada, where he emigrated around 1888 to work for the Hudson's Bay Company, probably long before he met Mary. If, as Hector's notes imply, he was assigned to one of their more remote trading posts, then his employers should not have been surprised when such a skilled craftsman returned to Scotland after only a year or so.
On Going to America, 5 June 1888; Mother's Farewell
I say to thee, dear son, Farewell,
I say to Thee Adieu.
Can I e'er thee again embrace
None but the Lord can tell
Can e'er thy mother see thy face
So kindly and so free.
Can e'er again My dearest son
Mine arms around thee place
If ne'er again thy face I'll see
If ne'er again we'll meet on Earth.
We'll meet yont Jordan's Sea.

A poignant existence is captured in a page beginning, 'North America I Alone 1888':
Received(?) in Manitoba:
The evening hours are lonely dear
that once were bright and gay
I felt as if there is nothing here
When thou art far away.
No gentle voice is left to greet No voice I love to hear
And gone is all that sunshine sure With thee my only dear.
5 Now in the possession of Hector's grandson, Alasdair MacCallum, 'Inverossie', Rossie Braes, Montrose, Angus.
But all was not melancholy. Hector seems to have enjoyed some of the new songs he heard in Canada, for he copied out the ballad, 'The Red River Valley', when he was in 'Portage La Prairie6 I Manitoba ass[iniboia] INorth western I Terri[tory] I Written on Christmas I Day 1889'. The lonely craftsman was not to spend much more time on the Canadian prairies. The poem after the latter is marked 'at return New Castle on Tyne December 6, 1889'.
The Reverend Hector MacKinnon 7
Besides the bride and groom, the officiating minister is the most important person at a wedding, even more essential than an organist! A handsome Scot, tall, well-built, the Rev. Hector MacKinnon was at the mid-point of his ministry to the folk of Highland Parish Church ('The Old Kirk of Campbeltown '), 1897 to 1905, when at 2 p.m. on 16 October 1901, he joined Hector and Mary in marriage. He was born on the Island of Tiree, Argyll, in 1866 and ordained into the Presbyterian Church at the age of 25. His Campbeltown flock was probably saddened when their pastor accepted the call to a church in Glasgow, because his powerful sermons had attracted overflow congregations which sat on the window sills and even the pulpit steps. In sorrowful commemoration of his premature death from pneumonia in his 47th year, all the Campbeltown churches, not just the Highland Parish, tolled their bells during the hour of his Glasgow funeral and the flags on every ship in harbour flew at halfmast. Such a fine, respected man would do much to establish the 'tone' of Hector and Mary's wedding on an afternoon long remembered.
The Stewarts of Glenbuckie and Stronvaar
As mentioned above, great-aunt Mary's employer at 'Stronvaar' was Captain Duncan Stewart, RN (RET.), not to be confused with his grandfather Duncan Stewart, whose captaincy in the army was a lower rank. Before moving to Kintyre, the Stewarts lived in Balquhidder, Perthshire, about 40 miles equidistant from Perth, Edinburgh and Glasgow. Earlier, in the perilous 16th century, a fortified house stood on the estate from which the laird, one Ian MacGregor, oversaw his tenants. Some time later everything passed into the hands or a Stewart of (, A small town on the Assiniboine River, about 100 miles west of Winnipeg. the provincial capital. 7 See cover photograph. Glenbuckie. The severe religious-political strife which disturbed the peaceful Scottish vales in the 18th century certainly affected the Stewarts, a distinguished Jacobite family. For example, it was probably the carnage of the Battle of Culloden which not long afterwards deprived the Glenbuckie branch of the Stewart line of a surviving heir. But a resourceful Scot, a Stewart of Ardsheal, ensured the continuity of the line by marrying a Glenbuckie daughter. The couple and subsequent offspring continued to name themselves 'of Glenbuckie'. Army Captain Duncan Stewart himself was one of these come-lately Stewart clansmen and, in fact, called himself a 16th-generation Glenbuckie! He it was who began to make the move from central Scotland to Kintyre. Photographs of the Glenbuckie estate on Loch Voil reveal a beautiful landscape, perhaps with only limited opportunities for economic growth. On the other hand, High and Low Knockrioch Estate in Campbeltown, which Duncan acquired in 1798,8 together with the family's other properties at Glenahervie and Tomaig, became leading cattle and dairy-producing areas in the peninsula, thanks to the Stewarts' progressive policies in irrigation and the use of fertilisers.
It would appear that, for a time, the Stewarts continued to maintain two homes. For example, in 1825, already well established in Kintyre, they made some extensive improvements back at the Loch Voil house .. Finally they sold it in 1849 to a SC0ttish industrialist David Carnegie (no relation to the Scottish-American tycoon, Andrew Carnegie). :Carnegie's improvements to the mansion and grounds· cost a small fortune and he commemorated the renovation by restoring the estate to its original name, 'Stronvar' (sic). Five years before selling the property at Loch Voil to Carnegie, John Lorne Stewart had leased a large house in Campbeltown that the Duke of Argyll had built as an· ·investment around 1825. Sometime later the Stewarts called this house· 'Stronvaar' after. the Loch Voil property.
The Stewarts as Chamberlain and Provost
Stronvaar House still stands in all its beauty, thanks to the extensive renovations made by the present owners, Mr. and Mrs. Ray Goodman. It has given its name to the Stronvaar Bowling Club, while the memory of the former owners is perpetuated in Stewart Road ·and Stewart's Green (a small public park off it), as well as by the village of Stewarton to the west of Campbeltown. But the influence of the Stewarts was not restricted to the geography of the area. Putting aside any remnants of bitterness, the Duke of Argyll, who had fought at Culloden for the Royal Protestant faction, appointed army Capt. Duncan Stewart as his chamberlain, or estate manager, in Kintyre. Argyll's recognition is significant, since he was one of the greatest landowners in Scotland, if not in the whole of Britain. Stewart must have served ably, for upon his death in 1829 he was succeeded by his son John Lorne Stewart (1800-1878).
Being the Duke's Chamberlain did not win popularity contests, and there were times when John Lorne Stewart was ridiculed in a series of anonymous, versified handbills. Whiffs of libel or defamation suits filled the air but the ridiculousness of the situation exhausted the oxygen from the litigation and the matter sputtered out. In the depressed economy of the 19th century, John Lorne was more probably liable to the charge of refusing requests to lower rents than submitting to pressure from the Laird to raise them. Not only he himself, but citizens lower in the social scale, the burgesses of Campbeltown, property owners, professionals, small businessmen, and so on, also held Capt. Duncan and John Lorne in esteem. Both men were chosen by their peers to serve six-year terms as Provost of the Royal Burgh of Campbeltown.
8 The last part-proprietor of Knockrioch bearing the name of Stewart was Robert Bruce, chief of the Appin Stewarts, who died in 1948.
Captain Duncan Stewart, Royal Navy (retired)9
Forgive me for having left great-aunt Mary's employer, Capt. Duncan Stewart, sitting among the wedding guests at 'Stronvaar' for such a long time. Understandably, he had a front-row seat in The Photo. 10 Beside him sits his 32-year-old spinster daughter, Elizabeth, who was her father's housekeeper and shared cooking duties with our great-aunt Mary. Even more important, she seems to have had the good sense to comfort six-year-old Robert, my future father, amidst all the excitement of a special group photo. Or were such photos a common feature of weddings and nothing special? Unlike his father and grandfather, whose roots were in Perthshire, Duncan smelled the sea air from his earliest years. And it was to the sea that his career took him. Not for him the power of fertilisers that could transform the poorest Kintyre soil into the most productive. Not for him the world of leases, tenancies, unpaid rents. He enlisted in the Royal Navy on 2 January 1856 by direct entry, rather than by first attending a naval college.11 Perhaps because of his social standing, he began his career as Mate, rather than being consigned to the lower decks as Seaman. All the ships on which he served were what we would call today 'tall ships' with full rigging, although they were now fitted with steam engines and screws for auxiliary, or even main propulsion.
9 Christened 22 July 1834 in Campbeltown.
10 Seated at our extreme left, front row. My grandmother, Margaret McLean on Rev. MacKinnon's left, next to the Maid of Honour, Rose Thomson, table-maid in Captain Stewart's household.
11 Details of Capt. Stewart's naval career may be found in ADM 190. Admiralty Office records, Public Record Office, London.
His first cruise on Geyser embraced a mercy mission to Tristan da Cunha, three volcanoes whose tips break the surface of the wild South Atlantic Ocean. There, 46 of the handful of British inhabitants could no longer cope with their bleak existence and had asked to be repatriated. Returning home after two years of service on Geyser, Stewart was promoted to Lieutenant and, even more important, took leave to go up to Edinburgh and marry Margaret Ferooza McNeill in St John's Episcopal Church, 8 March 1858. Her father, the Rt. Hon. Sir John McNeill, KGCB, a famous son of Colonsay, was an eminent civil servant of the day, and sometime British Ambassador to the Court of Persia (Iran). Margaret McNeill was born in that country, as her middle name attests: ferooza in Arabic apparently means 'turquoise', 'beautiful', 'sacred'. Yet the marriage of Duncan and Margaret lights up an unattractive side to the former's nature that might well have been left in the deepest shadow.
It would seem that, as Duncan grew to manhood and became aware of his potential inheritance, bitter confrontation finally turned father against son. In short, Duncan demanded such a great share of the family's wealth and property that he would have seriously disenfranchised his brothers and sisters. In the will of 13 August 187812 his father, John Lorne Stewart of ColI, makes clear why he does not propose to add any new bequest to the most generous sum he granted Duncan upon his marriage: then, £20,000; today, a staggering £1.42 million.
I have made the foregoing Settlement in the way which my own judgment has dictated to me to be right and proper, and much as I have for years intended that it should be, in the main points, none of my children having ever said one word to me as to how I should leave him or her provided for, except my son Duncan who has insulted me, dictating to me demands in his own favour, the most unjust, and attempting to grasp the greater part of my property to himself without any consideration for his Brothers who have no expectations from anyone except myself.
In the Codicil of 5 September 1874, Stewart senior concludes:
And I here record that I consider that my son Duncan Stewart by his undutiful behaviour towards me, in traducing me privately and publicly has forfeited all right to expect any share of my estate beyond what is provided for him by his Marriage Contract and the foregoing Settlement.
12 National Archives of Scotland B 41793.
A later cruise on Scylla, part of the famous Far East Flying Squadron, from September 1863 to August 1867, offered more challenges and Stewart received a First Class citation in Gunnery while on the China Station. No shots were fired in anger, one hastens to say, although Scylla's sixteen 64-pounder guns and 1200 horsepower engines would have been useful in a shooting war. Her crew had to content themselves with the observation of Russian operations in northern Japanese waters. Back in home waters in late 1867, Stewart by this time had been in the Navy more than ten years. Whether or not he welcomed his next (and last) posting to Impregnable is conjectural. It was a Boys' Training Ship, formerly Howe, a 11O-gun, first-rate, screw-propelled Ship of the Line. My guess is that this development in the training (and retaining) of young sailors was another of the reforms that their Lordships made to the Royal Navy after the great age of Nelson and his admirals. In a gradually evolving Industrial Age, no longer could Britain's Senior Service and Defender of the Realm, the Royal Navy, rely on press-gangs and other primitive means of maintaining numbers and establishments, to say nothing of developing any es esprit de corps.
After less than a year with Impregnable, Duncan Stewart was promoted Commander on 4 August 1868 and, perhaps, could now look forward to an even more challenging career. Sad to relate, family life forced him to accept another option. After the long absences at sea and other uncertainties in the life of a professional sailor, Duncan and his wife were blessed with three children in quick succession: Elizabeth, born c 1868, who appears in 'The Photo', and Charles E., born about a year later and for whom no further information is at present available. The birth in Edinburgh of the third child, Ferooza, on 11 March 1871, infected her mother; Margaret Ferooza Stewart died a few days later on 23 March. So, at age 36, Commander Stewart had to retire from the Royal Navy to bring some sort of stability to the family that no number of domestic servants, and there were seven on the staff at the time of Mrs. Stewart's death, could possibly provide in the same way.
Thus, in August 1873, after only some 12 years' service, Commander Stewart accepted retirement, with annual pay of £155 2s 6d, about £9,500 in today's terms, just enough perhaps to keep 'Stronvaar' going after the death of his father, John Lorne, in 1878. Promoted in retirement, Duncan Stewart, now a Captain, died in Campbeltown aged 81, on 15 November 1915.
The Second Wedding
As a nineteen-year-old Canadian music student in London I wanted to make my first visit to Argyll, the ancestral home, as soon as possible. Hearing about the wedding, the following Easter, 1950, of Peggy MacCallum, great-aunt Mary's only daughter, I decided to invite myself to the festivities in Campbeltown by offering to play the organ.13 In many ways the trip was most satisfying. I worshipped in Lorne Street United Free Church and sat in the old family pew, number 32, where their hymn books were still in place. Clearly the authorities felt that, even though the family had departed for Canada in 1912, they would undoubtedly be unhappy and return for one reason or another! And that was certainly true, if not in any permanent sense. My father, on leave from the WW I trenches manned by his Canadian-Scottish battalion of Cameronians, had visited only a few years later. He never reclaimed his copy of The Church Hymnary, a present on his 15th birthday, on 13 July 1910, so I confess I took it for my eldest son, named Robert after him. More poignant were some inscriptions in my great-uncle Hugh's hymn book. It seems that on a particular Sunday he was so moved by the sermon that he wrote 'Born again', noting the scriptural passage the minister had used. Not for me to comment on the frequency of such events in a conservative church, but rather to mention, especially for those who enjoy coincidences, that this revelation took place on Sunday, 5 January 1902, exactly 28 years to the day before I, his namesake, was born!14
Getting to know great-aunt Mary in person was illuminating. Hector, her husband, had died from diabetes on 3 February 1917 in his early 50s, just a few years prior to the discovery of insulin in 1921. Mary was left to raise Sandy (14) and Peggy (9). But at the age of 48, Mary was able to rise to the challenge of single parenthood, much more difficult then than now, by capitalizing on her skills as housekeeper and cook. Receiving the bequest of 'Dunfraoch', the fine house of a former grateful employer in Connel, she used the proceeds, c.1934, to purchase Dalintober House at the end of Campbeltown Loch and convert it into a guest house or private hotel.
Great-aunt Mary's cooking was of a high order. As mentioned earlier, she had trained in Paris and, after her return from the Denny family in Dumbarton, had probably served in some of the best houses in Campbeltown. It is said that she made crepes suzette every week and sent them to one of Queen Victoria's daughters, Princess Louise, wife of the Marquess of Lorne, 9th Duke of Argyll. The logistics of transporting such delicacies so many miles north to the ducal seat in Inveraray suggest that the family legend more probably refers to Ina Erskine MacNeill of Colonsay (1874-1925), Dowager Duchess of Argyll, widow of the 8th Duke.15 She certainly had close connections with Queen Victoria, if not familial ties, having served as a Lady-in-Waiting as well as Private Secretary. More important, she lived quite close to the source of these famous crepes, at Macharioch House, Southend, alas, as a recluse. Certainly when I stayed with great-aunt Mary in 1950, the meals, despite continuous food rationing since the end of World War II in 1945, were excellent; Dalintober House proved a very comfortable hostelry.
13 Her groom was Angus Smith of a farming family from Tayinloan, where great-aunt Mary was born.
14 Continuing coincidences, great-aunt Mary was also born on my birthday, 5 January!
15 Was she related to the aforementioned Sir John McNeill of Colonsay?
But I had come up to Argyll to play the organ, not to play the gourmand, and I arranged for regular practice on the organ of the Highland Parish Church. Everything went well; the organ, though modest, was entirely suitable for the building, and I hoped that my selections would be fitting. Imagine my surprise, having arrived in good time for the mid-day ceremony, to find my organ world topsy-turvy! No matter what stops I chose, I could not seem to disguise the fact that the Highland organ had become some kind of wheezing hurdy-gurdy, in no way suitable for the task in hand. From a stunned state, I have no clear recollection of how I coped with this emergency, but probably used as few stops as possible to conserve wind pressure. Fortunately, the bride, groom and guests had other things on their minds than strange noises from the organ loft, if, indeed, they were even aware of such things. After the service, I went down to the organ blower room when all quickly became clear. The blower was powered by water pressure, not by an electric motor.16 And since at mid-day all good Campbeltown folk went home to fill their tea-kettles for lunch, there was a significant drop in the burgh's water pressure, to say nothing of a corresponding rise in the blood pressure of a young organist. In later years, when I taught music history at university, I often permitted myself an inward smile in any discussion of the water-organ, the hydraulis, of the ancient Greeks.
Today, weddings seem to take place anywhere one wishes: in a garden like my great-aunt's, on a pier like a friend's wedding at Daytona Beach, Florida, or even in a large South Korean auditorium filled with hundreds of prospective brides and grooms, as newspapers have related. Clearly, I am prejudiced: as an organist I prefer a church wedding with an appropriate fee to augment my old-age pension. But a thousand-couple Korean wedding? Only in my dreams!
16 Needless to say, the Highland Church many years ago changed over to an electric blower for the organ.
The writer was named after his father's favourite uncle, Hugh McLean, a successful Campbeltown fishing boat-owner and skipper. Professor McLean's grandfather was a senior journeyman plumber with Armour's in Campbeltown and a Sergeant in the Argyll & Eute Volunteer Artillery. He and his family emigrated in 1912 to Winnipeg, Canada, where Hugh was educated. He afterwards attended the Royal College of Music and King's College, Cambridge, and now lives in Florida. Editor
---
This extract is taken from 'Southend Fifty Years Ago', a series of articles published intermittently and anonymously in the Argyllshire Herald between 23 February and 11 May 1867. Editor.
One of the most interesting events in the parish - the more exciting that it occurred only at an interval of several years, a millstone of the right stuff being rather a durable object - was the bringing of it home to the mill. The stone had to be hewn out of one of the large conglomorate boulders which face the sea at the rowan the Brunerican shore. How the huge mass, weighing some tons, was cut out of the parent rock and put into shape - that is, rounded, levelled and bored in the centre - I cannot explain as I never saw the men at work upon it; but of this I am certain, that the men who dug that immense stone out of the solid rock and gave it shape, must have been men of great practical skill, patience, and perseverance. The stone having been excavated and put into shape, the miller gave notice to the parish that on a certain day the stone was to be dragged from its native habitat to the mill, distant two or three miles. At the invitation of the miller, a very large proportion of the farmers in the district appeared on the spot at the appointed hour, each with his best horse and the requisite tackling, consisting of ropes, etc. It was quite a gala day, as I remember it, even at this distant day - several hundreds of persons being present.
A long pole forty or fifty feet in length having been firmly inserted in the central hole, previously made in the stone, a certain number of the horses were yoked by ropes to the burden, and as many men as could find a position took hold of the 'wan' as it was called. Two or three of the more energetic and active men were picked out to command the end of the 'wan', and these men were to regulate the movements of the stone. Of course, having command of such a powerful lever, they could easily control the exertions of those who were inside of them. But the course through which this massive rock was to be transported was soft sand, composed of the abrasions from the rocks that towered above inland, and right in the way were ugly ridges of rocks, stretching from the land out into the sea, with fortunately a small opening here and there, sufficient to give a passage to a cavalcade such as we describe; and through these with 27 scant enough room the directors managed adroitly to conduct their charge. At the 'end of the wan', as the most critical and responsible position, were usually placed, in my boyish days, John McVicar and John McDonald, both farmers in Dunglass - both men of great bodily vigour and mental energy, fitting them for any daring enterprize; hence the position assigned them by universal consent on these grand and exciting occasions.
Both of these heroic fellows with their families have long ago emigrated to the western continent. As emigrants to a new country, whether the States or Canada, I can safely augur that they have succeeded well. They were just made of the kind of stuff, mental and physical, to face and master the difficulties and hardships to be encountered in the New World. I am very happy to learn that the son of one of them is now a respected and useful minister of the Gospel, and in that capacity visited his native South end a few years ago. I cannot say whether he exhibited a specimen of his preaching talents in that locality or not. But I know that he paid friendly calls in the village and thereabouts, which were highly appreciated.
Well, a dozen horses or so being yoked to the ponderous mass by strong ropes, the bagpipes - for these were an indispensable accompaniment to the occasion - were set agoing, perhaps with the tune of 'The Campbells are Coming', and the terrible shoutings of the multitude blending with and rather drowning the sounds of the pibroch, off started the procession, with its unwieldy burden. Now and again the huge stone sank so deep in the yielding sand that all the powers of the horses were unsufficient to drag it along. But after a dram dealt out bountifully to every person present, from the jars which were sure to be there on such great occasions, human skill and bestial power succeeded in pulling it out of the rut in which it had been arrested for a time; and on they went, singing or piping, or both together.
'Tho' we fell we aye got up again; And sae will we yet, and sae will we yet.'
At short intervals, the teams of horses required to be changed, so heavy was the ground through which the heavy load had to be dragged, and especially in crossing the river which joins the sea near Dunaverty; but relays fresh and willing were always ready to supply the place of their exhausted compeers. Having at length after dreadful tugging and pulling, shouting and swearing, reached the King's highway, the work was comparatively easy. The very horses, by cocking their lugs and wagging their tails, gave unmistakeable signs that they deemed it now only children's play. Still, however, the shouting went on, especially by the men at the 'en' of the wan', till having brought their precious cargo to the vicinity of the mill, and deposited it safely - no man likely to run away with it before the morning light - they repaired to the Inn at the invitation of the respected miller, and after a most comfortable dinner of 'Tatties and Glashans' [potatoes and small coalfish] - at that time a common and favourite dish, galore of whisky toddy, made of wee still smuggled, at that time easily procured, for the gaugers were then few and far between - was presented, and the toast was drunk with 'three times three', if not with even nine times nine, 'Health to the miller, and success to the millstane this day brought hame'. I am pretty sure that miller Galbraith did not go to bed that night in the desponding mood of the miller of Doon, who is represented as singing,
'I care for nobody, no - not I,
For nobody cares for me. '
Millstones are made on a very different principle and by a different process now-a-days. In a quarry in the neighbourhood of West Kilbride, they are cut out of the rock in quarters, and being fixed to each other so as to form a circle, they are fastened round with a strong band of iron, and thus, deprived of all superfluous material, they are easily transported on a common cart, from the quarry to Ardrossan - the port of transhipment. The world is still progressing.