Campbeltown Museum Art Collection recently received the bequest of a fine drawing by Dame Elizabeth Blackadder, the Queen's Painter and Limner in Scotland. It is a portrait of her friend, Campbeltown-born classical scholar, Neil Keith McCallum. Blackadder is best known for her paintings of animals and plants. This portrait emerged from discussion, after supper one evening, and was later presented to Keith as a gift. Keith's wife Hilary died in Edinburgh in December 2014 and the painting came to Campbeltown via a bequest to the National Portrait Gallery in Edinburgh. Those of us who remember Keith will recognise it as a remarkable likeness and a wonderful addition to the Museum's fine art collection.
The acquisition of the painting draws attention not only to a remarkable scholar but also to the golden years of Campbeltown Grammar School, and two remarkable teachers, Alexander Banks and David Lees. With their respective wives, these two teachers played a very significant role in Campbeltown in the first half of the twentieth century and in the careers of many Campbeltown pupils who went on to gild the name of their school in the fields of science, the arts and medicine.
Born in Airdrie in 1910, Dr David Lees came to Campbeltown as Classics master in 1935 after studying Latin and Greek at Glasgow University and then taking a Doctorate in McGill University, Montreal. It was there that he met his Canadian wife, Olive, who was the subject of an appreciation by Carol McNeill in Kintyre Magazine No. 79. They brought up three children in Campbeltown, where Lees taught until 1950.
With the outbreak of World War II, Lees was called up for service in the Intelligence Corps. As an outstanding linguist, he was sent to learn Japanese at the School of Oriental Studies in London and then to Indonesia, where he served until the armistice. Lees's career ultimately led to the headship of The High School of Glasgow, one of the country's premier schools, and he was also chairman of Airdrieonians FC, which he had loyally supported since childhood.
Alexander Banks was the son of the colliery manager in Dreghorn, Ayrshire. He was born in 1890 into a highly intelligent and successful family. One brother, Thomas, became the Chairman of Coutts & Co. and the Queen's personal banker. Alex attended the University of Glasgow where he won Gold medals for Mathematics and for English. His academic career was interrupted, however, by war service, during which he was badly gassed in France. This permanently affected his health and left him with a facial tic. On returning to University, he took first class honours in English and subsequently joined Kintyre Technical College at Keil House in Southend as an English teacher.
Keil House burned down in the winter of 1924 and was relocated to Dumbarton and renamed Keil School, but he wished to stay in Kintyre and took the post of head of English in Campbeltown Grammar School. Here he was revered, with the by-name of 'Old Kubla', for the rest of his career. A 'weelkent' figure, he passaged, on his bicycle, between his home in Lochend Street, the school, the Gentlemen's Club, where he was a very skilful billiards player, and Stronvaar Bowling Green. He was a Fellow by Distinction of the Educational Institute of Scotland and a member of various national examination boards. He was also on the editorial board for the standard Scottish school poetry books A Poet's Quair and Narrative Verse, in which he managed to place the poem 'Legend of Corrievrechan' by Campbeltown poet Latimer MacInnes, whom he much admired.
In 1922, in Dumfries, he married Mary Agnes Laidlaw, from Moffat, one of the first women to graduate with honours from Glasgow University. Mary Banks, a tall, very distinguished figure, always stylishly dressed, was a lifelong friend of her fellow-student at Glasgow, Miss Ellie Mitchell, the company secretary of Spring bank Distillery. As well as being a Justice of the Peace, Mary was involved with both the Red Cross and the Girl Guides for more than 30 years. Mary Banks had taught Classics until marriage. Thereafter, as was then the rule, she had to give up her career. Her inspirational tutoring role was thereafter to be exercised in encouraging and mentoring some of the brightest of her husband's pupils. Among the most notable of these were Keith McCallum and his very close friend, her only son Robin. Robin Banks went on to become an engineer of the highest calibre. He was in charge of the installation of the Kirk o' Shotts television transmitter in 1953 in time for the Scotland-wide transmission of the Coronation ceremony and ended his career as Director of the GEC Research Laboratories, answerable directly to the formidable Lord Weinstock, Chairman of GEC Ltd.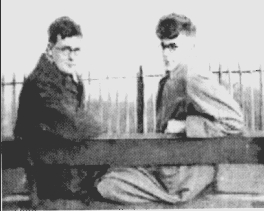 Keith McCallum age 17 and Robin Banks in Campbeltown
Dr Angus MacVicar, Dr Guy Ralston, James Gulliver CVO, Margaret (McDougall) Macaulay and many others who went on to great success have also acknowledged her kindness and intellectually stimulating help and encouragement. She was especially generous of her time with pupils who had fallen behind following illness. This author was also privileged to have known Mary Banks and to have benefited from her interest in his progress in school and university.
(Neil) Keith McCallum was the only son of John (Jack) McCallum and Mary Kerr Scott. Mary's family had originally come from Loudoun in Ayrshire, where her father was a master tailor. Jack McCallum on the other hand derived from a long line of Largieside families, including, on his grandmother's side, one Dugald Bell who had come from Inverness as the shepherd for the MacDonalds of Largie on the island of Cara. Bell married into the Smiths of the Ferry Farm, Tayinloan, and Keith was always very aware of his family links with Gigha and Cara. His father, however, was the third successive master baker in his family. An austere man, who had had a difficult time at Gallipoli, he nevertheless ran a very successful business in Reform Square, Campbeltown, until the 1950s.
Keith entered the primary stage of Campbeltown Grammar School in 1929 and commenced a school career of unbridled success, coming first in virtually every examination through to his final year. He did, however, claim that this was, at least in part, because his best friend, Robin Banks, had had to start school a year after him due to illness, or the competition would have been much more difficult for him.
Whereas Robin Banks was a mathematician and physicist, Keith was the classicist par excellence. Indeed, so competent was Keith in Latin that, exceptionally, Lees decided to teach him classical Greek also. This allowed him to present these two subjects for the Glasgow University Bursary Competition and prevail. He went up to Glasgow in 1941 and began a gilded university career, winning two Gold Medals in his first year; but at the end of his second year, war service intervened and he was drafted into his father's old regiment, the Argyll and Sutherland Highlanders. He lasted no more than three months there before being transferred to the Intelligence Corps and sent to Batavia (Djakarta) to learn Japanese in order to translate Japanese secret signals and documentation. The head of the Japanese training school in Batavia was, of course, David Lees, Keith's old Classics master at Campbeltown Grammar School. The supplement to the London Gazette of 23 November 1945 reports that Sergeant Neil Keith McCallum was granted an Immediate Emergency Commission from the ranks in the rank of 2nd Lieutenant.
After the war, he was able to return to Glasgow University to complete his degree, again with distinction, coming first in his class and winning all the medals and awards available in Latin, Greek and Humanities, as well as being awarded the prestigious Snell Exhibition to allow postgraduate research at Balliol College Oxford. Previous holders of the Snell include such luminaries as Adam Smith and Robert Caird, and it is not awarded unless there is a candidate of clear and outstanding merit. The current Master of Balliol, Professor Sir Drummond Bone, Ayrshire-educated and a graduate of the University of Glasgow, was a Snell Exhibitioner in more recent times.
After the successes of his academic career, McCallum had to start to earn a living. In 1949, he entered the Administrative Class as an Assistant Principal in the Scottish Office. He was, in succession, Private Secretary to the Permanent Under Secretary of State, Sir David Milne KCB, and Assistant Private Secretary to the Secretary of State for Scotland, the Hon. James Stuart (later 1st Viscount Stuart of Findhorn). Subsequently, he was a Principal in the Roads Department before, in 1959, taking up the post of Private Secretary to Lord Craigton, Minister of State in the Scottish Office. He clearly relished these jobs, based in Dover House in London, which positioned him at the centre of the Scottish Office. Not only did he enjoy the work, but also, somewhat unusually in the Civil Service, he and his wife Hilary developed a firm friendship with his Minister, Lord Craigton, and his wife.
In 1951 Keith had married Hilary Wilson, an art teacher from Edinburgh. They shared a great passion for the arts but also for the Island of Gigha. They were married by the retired minister of Gigha, Dr Kenneth Macleod, author of the famous song 'The Road to the Isles', and Keith's old friend from school in Campbeltown, Robin Banks, was best man. Hilary and Keith had a passion for the collection of paintings by Scottish artists, with whom they often had personal friendships, including Sir Robin Philipson and his first wife, Brenda Mark, Sir William Gillies, Dame Elizabeth Blackadder and her husband John Houston, and Anne Redpath. Hilary was recognised as more outgoing than Keith, who was somewhat reserved, and she is remembered as a very kind and generous mend, albeit with strongly Liberal political views and a rigorous and on occasion fierce intellect.
After dynamic roles in Ministerial Offices at the centre of events, both in Edinburgh and London, Keith returned, on promotion, to Edinburgh, as Assistant Secretary in the Home and Health Department. Whether the more mundane duties of his new post jarred with his expectations, or for whatever other reason, the return to Edinburgh coincided with deterioration in Keith McCallum's health. He should have been on the cusp of further exciting challenges as his career was starting to accelerate. However, he began to suffer from clinical depression and was forced to take a period of sick-leave. He was obviously greatly missed in his department, as letters from colleagues indicate.
On 5 September 1964, Neil Keith McCallum died suddenly. The premature and unexpected loss of such a talented man in the prime of his career shocked his relatives, colleagues and mends. He was buried in Carnwath, in Lanarkshire, from where his wife's family originally derived and where she herself was buried in December 2014, but Keith's name was also added to the family headstone in Killean Cemetery It is another quirk of history that the Lockharts of Camwath and MacDonalds of Largie have been closely related land-owning families since the 18th century.
Keith's family and friends were clearly devastated by their loss. His wife, Hilary, remained in their family home in Edinburgh for the rest of her long life, curating their art collection and surrounded by their wide collection of friends. She also maintained a strong interest in Gigha, which she visited regularly. She was an early and generous supporter of the Isle of Gigha Trust, following its progress through the regular newsletter, and the Trust was one of the principal beneficiaries on her death in 2014. She also left a legacy to the Royal National Lifeboat Institution, for use in relation to the Campbeltown station.
The McCallum art collection was dispersed to national and local galleries, friends and collectors, and Campbeltown's most distinguished classicist is remembered in the fine Elizabeth Blackadder drawing and the deposition of photographs, letters and documents relating to his life, which are now held in the Museum's Collection.
In preparing this article, as well as my own personal reminiscences of Keith McCallum I have been able to access his papers, etc, which are held in Campbeltown Museum, by courtesy of the Curator, Ms Elaine McChesney. I have also received great help from Hilary's friends Harold and Marion Mills and from Robin Banks, Angus Martin, Carol McNeill and the McCallum family.
It was a beautiful bus ride from Glasgow down to the Kintyre peninsula. Narrow winding roads, graceful waterfalls, snow-capped mountains and crystal-clear lakes decorating the roadsides, with stone walls and grazing sheep on the sea's grassy shores by stone houses built centuries ago seasoning the scenery. This leg of my journey was about four and a half hours, but time stopped and flew by all at the same time.
I have read countless books and articles about Kintyre. My mind had painted a picture of what Loch Lomond or Tarbert would look like in reality. Each town sign or sight would stir more memories of the people I had read about who lived so many years ago. This was the home my ancestors left when they moved to Northern Ireland. How sad it must have been to leave this wondrous place. Why did they leave? I will never have the exact answer to that question.
The bus made a stop for passengers who wanted to go to Carradale. My people called it home in 1541. They were farmers, fishermen and archers. Before this, they were the 'purse-bearers' for the Lords of the Isles: sporan means 'purse' in the language of our ancestors. My surname is 'McSparin', but was originally MacSporran. The name has been spelled many ways since long
ago - McSparron, McSparren, Me Sparran, McSparrin - but I know that no matter how it is spelled, I am probably related to any of those with the surname. When the bus came into Campbeltown, I sat straight up in my seat taking in each bit of scenery along the route. I had reached my destination and the beginning of my historical respite, with Angus Martin waiting for me at the bus stop.
Before I go any further, I must give some background to the excitement I felt getting off the bus in Campbeltown. My journey into the past began about three years ago when a veteran I was working with at the local VA hospital asked me if I was 'Scots-Irish'. I had never heard the term before that day. He brought a book entitled Born Fighting by Senator Jim Webb. I read it in a day. It fascinated me. After reading the book, I asked my father if he knew anything about our family history. He did not. He told me his father and grandfather never spoke about their family. They were too busy working hard to support their families. They were also very quiet and private men. My father did not speak much of his childhood. He, too, was and is a quiet and private man, but he has, in recent years, shared many things about himself which I treasure.
I had to start from scratch in building the family tree. I remembered one piece of information my mother had told me many years ago when I asked her where the McSparins came from before the U.S. She told me they originally lived in Scotland, but had to move to Ireland for religious reasons. She was told this by my grandmother who learned it from my great-grandmother. It seems the women in the family shared history with one another even if the men did not. My cousin Brett had done many hours of research before the internet was available. It helped me find a starting place. Over the past few years I have bought many old and new books on the history of Scots-Irish pioneers, Ulster Scots, and Kintyre. In my office at home I have maps of Scotland and Ireland with stick-pins noting places on the map my ancestors were found to have lived. I have traced their steps through hours of research.
Growing up a McSparin, I knew the name was uncommon. Our branch began its time in the United States during the mid-1730s when Archibald McSparran moved to Pennsylvania from Dungiven, Northern Ireland, with his large family. His ancestors came to Northern Ireland from Kintyre around the late l500s to the very early l600s. In the l730s, Archibald came to America looking for his only brother, Reverend James McSparran, of Narragansett, Rhode Island. Rev James (1693-1757) had moved to the U.S. for the last time by 1721. He was a well-known minister in Rhode Island. He is the reason I was able to find so much information on McSparin ancestors, as many authors wrote about him and his family history. He authored several books which were published in the U.S. and Ireland. Archibald, his brother, settled in Chester County, Pennsylvania, and died in 1751, leaving his Irish-born children to make their own way. Reverend James did not have any children.
When Arch and his wife settled in the U.S., they had one more son named Joseph. He is where I believe my branch originates. Joseph had a son named James, who, sometime after adulthood, settled in Monongalia County, West Virginia, where he married Parthenia Wilson in 1817. They moved to Southern Illinois in 1819. James's brother, John, also moved with him.
They purchased farmland in Southern Illinois and began their family and new lives. They had two sons, James Harvey and Lilburn Wilson, and many daughters. Lilburn died during the American Civil War in 1863, but had sons before his death. James Harvey stayed in Southern Illinois until his death in 1893 at age 65. He also fought in the Civil War, enlisting as a Union Lieutenant and mustering out as a Captain. He fought in the Battle of Vicksburg in the state of Mississippi. His and Lilburn Wilson McSparin's names are on the monument in Vicksburg, the surname misspelled 'McSpavin'. He outlived three wives and had 13 children.
James Harvey begat James Wilson who begat Ezra Hubert who begat Edwin Laurel who begat Robert Laurel, my father, who is 81 years of age. He is strong and healthy and comes from a long line of strong and hardworking people. Including me, he has four children. His four siblings also have McSparin children. McSparin blood courses through our veins.
After gathering family history in the United States, I began researching Irish and Scottish history. I fell in love with Scotland and Ireland. My search results from the internet for McSparrans in Scotland and Northern Ireland were few. Mr Cormac McSparron of Belfast e-mailed a return letter. He is Archaeology Research Professor at Queen's University in Belfast. I have developed a friendly and helpful relationship with him through e-mails. He and his wife, Bronagh (who also majored in archaeology and anthropology) have been most helpful in trying to answer questions I have had on Ulster Scots history. If it were not for them, I may not have planned such an isolated adventure. They offered to host my Northern Ireland visit. My plans were to visit Kintyre for a couple days and then fly to Northern Ireland for the remainder of my trip.
I tried for months to find a contact person in Kintyre, to no avail. I planned my trip to Campbeltown knowing I would be by myself, but that changed the day before I was to leave on my journey. A new-found internet friend saw my plans posted on a Scottish Travel Society page. She grew up in Campbeltown as Audrey McInnes and knew of McSporrans. She messaged me to let me know she had a cousin in Campbeltown who could help. He e-mailed letting me know he would be waiting at the bus stop to escort me to my hotel. Without Angus Martin, my limited time in Campbeltown would have been more sightseeing than historical in nature.
Kintyre is where I wanted to start this wonderful adventure into my family's past. After settling into the hotel, Angus and I met for coffee in the hotel bar. He gave me a history of the region and some ideas as to why my family branch moved to Northern Ireland. He gave me an autographed copy of his book, An Historical and Genealogical Tour of Kilkerran Graveyard, in which McSporran names appear, and gave me an historical tour in that graveyard, where I saw the McSporran name on several stones. It was getting dark, so Angus escorted me back to my hotel and walked himself home.
The next morning, I had only eight hours to explore town before leaving Machrihanish airport for Belfast. I was originally going to be in Campbeltown for two days, but experienced air sickness onmy last plane the day before and had to check into a Glasgow hotel to sleep off the ills. Every minute needed to count. I began with a lovely breakfast in the Ardshiel Hotel where I stayed. When I checked out of my room, they let me leave my luggage in their office all day so I did not have to lug it around. They were very kind people.
I walked all over town. I found the Museum, the Information Centre, and many other nice shops. It reminded me of the town I grew up in before the coal mines closed: people walking all over town busy with their days. They knew a strange face when they saw one, as it seemed they all knew one another. Some nodded hello to me as I smiled back at them. At one point in my day, I sat in a small park watching their world go by as an observer. I heard children laughing. I walked to find the local elementary school having recess time. I was in heaven listening to them playing, their little Scottish voices yelling to one other. I photographed beautifully structured church buildings and Celtic crosses. I have large prints of my photos on my office wall at home.
I met Angus for lunch at a local cafe. We spent more precious time talking about history and family. It was so nice speaking with someone who had some of the same interests. It's rare to find someone excited to talk about 400 years ago. After lunch, we went for another walk to the graveyard. He continued his tour, which was cut short the evening before due to sunset. I appreciated the time with him before I said goodbye. I will never forget him or lovely Campbeltown. We have communicated through e-mails since my visit. Scotland is not only in my blood, but in my soul. I want to go back for a longer trip soon.
The day I arrived in Belfast, I was given another piece of my puzzle. I got an email from familytreedna confirming that Cormac McSparron is a blood relative of my father. It has been a fascinating discovery of deep ancestral roots. However, this new find was more significant for me as it involved a living human being I was going to meet. He is my distant cousin. What a small world this has become!
When I flew into Belfast I took a cab to my hotel. I called Cormac and spoke with him and his wife about the next few days' plans. Each day they took me to another fascinating place. I experienced walking on the same lands I had only read about in the past couple of years. My imagination did not do justice to what my senses experienced: Belfast, Dunluce Castle, Bushmills, Aghadowey, Banagher, Maghera, Portglenone, Limavady, Dungiven, Derry City, Loch Foyle, and many other places. We visited cemeteries, historical homes, Catholic cathedrals, Presbyterian churches, and a local pub. I experienced so many wonderful things while there for five days. Cormac, his wife and seven children, along with his sister, were so fun to be around. They told me memories of their Irish childhood. They shared the same sense of humour I have. It was refreshing to be around 'my people'.
The last day I was to spend with Cormac, we had an appointment at Monreagh Heritage Centre to get a tour of the McSparran House and speak with staff. William Houston, of Limavady, helped arrange this meeting. He is another gentleman I met on the internet through the 1718 Society, along with Boyd Gray. These gentlemen led me to this place. It was a wonderful day! I met Malcolm McSparron of Claudy. He had done extensive genealogy research and was given time to present his findings. I videotaped it for any of my family back home who may be interested. The manager of Monreagh, Kieran Fegan, videotaped us throughout the day. He published a ten-minute video on their YouTube channel for us to watch called 'Clan McSparron of Kintyre'.
Our trip back to Belfast was full of conversation. Cormac has helped me in so many ways. He knows how to translate Ulster history in a manner an American can understand. Before I had to say goodbye to Cormac for the last time, when he dropped me off at the hotel, I smiled and thanked him for a lovely time with him and his family. He thanked me in return. He had a great time, as well.
The last day of my time in Belfast was spent at the Public Record Office of Northern Ireland (PRONI). I found many new pieces of history on McSparrans, including a 1620s record from Coleraine naming Gillaspick McSparran. My ancestor's name was Archibald, which is an Anglicized form of Gaelic Gille Easbaig. I feel certain my family came from this Gillaspick and now I have even more information as puzzle-pieces. That evening, I met Stephen McCracken for coffee. He has also been a big help in piecing this puzzle together. I will never forget one of the things he said to me that evening. He called me 'brave'. When I asked him what he meant, he seemed surprised I did not know. I am brave because I travelled to Scotland and Ireland by myself. I thought about it for a minute. 'I guess I am brave. My ancestors were brave. It must be a family trait.'
Sitting here at my desk back home, I have constant reminders of my time on the other side of the world. I brought back little rocks, fern leaves and moss from each of the significant places I visited. From labelled baggies in my suitcase, my husband transferred the precious contents into paperweights. One paperweight contains pieces of Kintyre and the other contains pieces of Northern Ireland. My wall has pictures of Kilkerran Graveyard, sunset over Campbeltown from my hotel room window, St Fiegan's Church, Dunluce Castle and a field of grazing sheep at Dungiven. These treasures will be passed down to my children and grandchildren. I may not have been told the whole story of my ancestors, but my children will know some of the answers when my grandchildren ask.