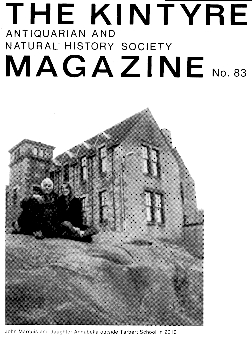 CONTENTS
An Interpretation of Killean Parish; Murdo MacDonald
Walking to School in the 1930s; William A. Pursell
Marquis of Tarbert; John Marquis
Old Sea-Fight off the Mull of Kintyre; The Bulletin
HMS Mull of Kintyre; Ronnie Roberts
Campbeltown's Olympian; D. Mayo & R. Roberts
By Hill and Shore; Angus Martin
Botany and Butterflies, 2017; Agnes Stewart
Letter: Miss Campbell of Kildalloig; Murdo MacDonald
Review: Eighty-Five Years in Australia; Angus Martin
Obituaries- Carol Thomson & Tom Ralston; Angus Martin
GENEALOGICAL. ENQUIRY. I am looking for information on my McMurchy ancestors from Achnaslisaig/Culinlongart. Donald MacMurchy had eight children - Archibald, Catherine, Alexander, James, Barbara, Agnes, Isabella and Donald - four of whom emigrated to Canada and the United States (one died at sea). Archibald and Catherine settled in Maple, York County, Ontario, and married Cameron siblings (their father Donald was the son of Archibald Cameron who farmed at High Glenadale). James MacMurchy settled Michigan, USA. Donald MacMurchy was married at least twice: to Nanny Kelly (mother of Archibald, Alex and Donald) and to Isabel McNeil (mother of Barbara, Agnes and Isabella). I do not know when Nanny Kelly died, but I am assuming it was around 1830. I do know that Isabel McNeil was born about 1804 and died in 1863. It also appears that Donald MacMurchy was involved with a Margaret McShenoig (mother of James MacMurchy who settled in Michigan). I am looking for any information on the MacMurchys, particularly on Catherine and her father Donald (and back). I do not know when Catherine was born, but I believe it was between 1822 and 1826. I also do not know who Catherine's mother was but it is possible that it was Nanny Kelly. If anyone has any information they can share with me, or would like more details of the information I know, please contact me at lmfamilyresearch@gmail.com or the editor. Thank you. Liisa Macnaughton, Ottawa, Ontario, Canada.
ERRATA: No. 82. Thanks to Ronald Black for pointing out that the Historical Dictionary of Scottish Gaelic project at the University of Glasgow - now the Digital Archive of Scottish Gaelic (DASG) - was not established until 1966, contrary to what I had in my article, 'The Knowes and the Years', p 16.
Concerning Ronnie Roberts's article on Neil Keith McCallum, Ms Marilyn Lees, daughter of the late Dr David Lees, has intimated, among other points, that her father was never out of Britain during the Second World War, contrary to statements on pages 17 and 19. Editor
MESSAGE IN A BOTTLE. From the September/October 2017 issue of Island News, the colourful newsletter which serves Rathlin Island: 'On route to their wedding reception, Mary Jo and Brian Huey tossed a message in a bottle from the Rathlin Express which crossed the sea and came ashore on a beach on Kintyre. The couple received a letter from Marion McCallum who found the bottle.'
THE PIPER'S CAVE. Information will be welcomed for an article, in preparation, on the Piper's Cave, Ben Gullion. If any reader has memories of exploring the pot-hole or remembers hearing about explorations, please contact the Editor.
'THE WEE TOON'. For the interest of any reader who has ever wondered how far back the mawkish by-name for Campbeltown, 'The Wee Toon', extends, the first instance of its use which I have noticed was in the column 'Sparks and Flashes' in the Campbeltown Courier of 3/8/1935. Editor
Letter to the Editor: Miss Campbell of Kildalloig
Sir-
Thank you for your most intriguing article, 'A Shield to Miss Campbell of Kildalloig' (No. 82). It sparked so many questions in my mind and called out for further investigation.
The age of the deceased, first of all: she was only 31 years of age. (By eerie coincidence, her father died at the same age and her mother at the age of 30.) The cause of her death was registered as 'Acute yellow atrophy of the liver'. I sought the advice of our Society's President, Dr McMillan, who kindly explained that the obsolete terminology referred to a type of hepatitis.
What we cannot experience now, so far removed in time, was the power of this young woman to inspire such devotion, across the class barriers of the period, among the fishermen of Campbeltown. As a community, the fishermen appear to have been fiercely possessive of Miss Campbell's memory. It was the fishermen who accompanied her coffin to the steamer which conveyed her remains away for cremation and disposal in Canterbury, where she had spent her childhood. The fishermen, too, made it quite clear that the memorial about which you wrote was their memorial, erected exclusively by their subscriptions. There was, of course, no grave in Kilkerran which could be marked by a monument.
As mentioned in your article, the memorial was the work of Walter Macfarlane & Co., iron-founders in the Saracen Foundry, Glasgow. The firm was renowned for the quality and delicacy of its work, which was exported to many parts of the Empire. The Category A-listed Winter Garden in Rothesay is among the firm's finest work. In his letter to Campbeltown Town Council (CTC Minute Book, 22 May 1907), David Robertson, Secretary, Campbeltown Fishermen's Association, described the proposed memorial as 'a handsome and useful addition to the amenity of the neighbourhood', and the Town Council undertook 'to maintain it on behalf of the Town's people of Campbeltown'.
So, what happened? Questions remain. Were there no protests from the descendants of the subscribing fishermen? Why was the dedicatory metal shield from the memorial saved, only to end up being buried in what is now Mr McAlister's garden? I hope one of your readers will come forward with answers.
I am, etc., Murdo MacDonald, Balliemore, Lochgilphead, 9 February 2018.
Society Website Imminent
Thanks to the efforts of Mike Peacock and Elizabeth Marrison, the Society will soon have its own website, on which photographs can be viewed, information found, contacts made and publications purchased. The embryonic site will be at: www.kintyreantiquarians.uk
---
Book Review
Eighty-five years in Australia, by Archibald Crawford, reissued in 2016 by Peter Hallett Publishing, Australia.
One day last year I listened to a telephone message from someone who had been to Campbeltown and was already gone. His name was Peter Hallett, he was from Australia and he had left a book in the tourist information office which he wished me to collect and place somewhere it would be available to the public. I donated it to Campbeltown Library.
As the title states, it is a book about Australia, but its author, Archibald Crawford, was born, he said, in Campbeltown in 1833. His family emigrated, five years later, from Greenock, on the ship Portland, and the voyage to Australia took five months. Crawford, understandably, remembered very little about his birthplace, but the family took the Gaelic language with them to Australia, as the extract quoted at the end of this review illustrates. The book was dictated to a daughter when Crawford was about 90 years old and published in 1925. Peter Hallett, a great-great grandson of Crawford's, supplemented the text with historical detail and reissued the work in 2016 as a well-illustrated hardback. The jacket blurb describes the book as a 'wonderful encounter with early Australian colonial history', and I am sure it is all of that. Angus Martin
Gaelic earns a royal welcome
From Hamilton [driving cattle] we went to Bryant's Crossing (or Coleraine, as it is now called), thence to Munthome Station and to the junction of the Glenelg and Wonon, called Kirby's Crossing, and from thence to the Dismal Swamp. We called at a farmhouse for instructions and an old Scotch couple came out, and the man said to his wife in Gaelic, 'Put him up round the swamp; those cattle will eat all our grass.' It never seemed to enter these people's heads that I might happen to have a knowledge of Gaelic. I kept quiet for a time, while the old lady did her best to instruct me as to how I should find my way round the swamp, the 'guide moon' [man] prompting her continuaIly. At last, after listening for a while to very little purpose, I said, 'Perhaps the guide moon could explain it better?' 'Na, na,' she replied, 'he canna speak the Engliss.' 'What does he speak?' I asked. 'Gaelic,' she answered. 'Well, then, let's all speak Gaelic,' I said. I could have had the whole place then, and if the cattle had eaten every blade of grass I do not think they would have murmured. They enquired where we had come from, and we told them we had come from Sydney, as all New South Wales was then generally called. Well, did we know anyone named Cameron of Limestone Plain? was the next question. Yes, we did. Well, Mrs Duncan Cameron was the daughter of this old couple, so we were more in favour than ever. They treated us royally, but when we were leaving they offered us £2 10/per head of the cattle; we did not deal.
---
Obituaries
Angus Martin
Carol Thomson (nee Galbraith). The death, on 13 November 2017, of Charlotte MacMichael Galbraith, at the age of 87, removed the last of that quartet of post-war Kintyre female Mòd Gold Medal-winners in a six-year period. It was a special time, both for Campbeltown Gaelic Choir, led by its illustrious conductor, Malcolm G. MacCallum, and for these individual competitors. 'Carol', as she was invariably known, was the final winner of the four (the others were Flora Campbell, Rose McConnachie and Rona MacVicar).
It is difficult now to appreciate how very seriously the annual Mòd was taken in Kintyre back then. There was, however, a paradox at work: while the polished ornaments of Gaelic culture were being admired and desired, the walls of the house - the language as a living, spoken presence - were falling down. By the mid-1980s, the last of the native Gaelic speakers in Kintyre had died and the allure of the National Mòd was a fading memory.
When 21-year-old Carol Galbraith, a student at the University of Glasgow, returned to Campbeltown from Edinburgh with her Gold Medal in October 1951, Main Street was packed with people, 'all anxious to get a glimpse of ... the town's most popular singer, and the one most in demand at concerts, ceilidhs and social functions'. As the returning buses, led by pipers, turned into Main Street, the policemen on duty had 'great difficulty in clearing a space to enable the buses to squeeze through'. Provost R. Wallace Greenlees waited with the official reception party on a dais erected in front of the Town Hall.
Carol sang two Gaelic songs to her 'vast street audience' and was afterwards interviewed by the Campbeltown Courier reporter. Asked how she felt having returned home with the coveted medal, she replied: 'I was surprised and now I am very tired.' The music adjudicator at that year's Mòd, Miss Henschel, was quoted: 'It was as if she had taken the song into her two hands and said: "Look, isn't it lovely?'" The Courier report continued: 'She is not a native Gaelic speaker, having [later] acquired her Gaelic, but she gained more points than all the other competitors for language. At the university, Miss Galbraith took Celtic for her degree, and passed second in the Gaelic class.'
She was born in Campbeltown to Donald/Daniel Galbraith, seaman, and Margaret Sinclair MacMichael, and brought up at 6 Smith Drive. She had two sisters, Maimie and Stella, and a brother, Archie, who became a fisherman and boat-owner in Campbeltown. After completing her studies in Glasgow, Carol never returned to Campbeltown to live. She was, 1 understand, engaged to marry a crofter's son from Skye, Farquhar Macintosh - later a prominent Gaelic educationalist - but instead married Derick R. Thomson, a schoolmaster's son from Bayble in Lewis, who became Professor of Celtic Studies at the University of Glasgow (1963-91) and was a distinguished Gaelic poet. They married in London on 5 September 1952 and had six children. He died in 2012. She was buried at Linn Cemetery, Glasgow, on 29 November.
---
Thomas Ralston, who died at Lundin Links, Fife, on II December 2017 at the age of 81, was a natural raconteur who turned himself into an author relatively late in life. He has, therefore, left a record of his life, in My Captains - an anecdotal history of his boyhood and of the West Coast herring fisheries, published in 1995 and revised and reissued as Captains and Commanders in 20 I 0 - and To the Edge (1996), a memoir of his 34 years' service as a lifeboatman, which culminated in his being awarded the RNLI's bronze medal for gallantry in 1988, when coxswain/mechanic of the Mallaig lifeboat. His final literary venture was a fishing-themed novel, Silver Threads (2008); but he continued to produce articles, and was a contributor, over many years, to this Magazine, beginning with a piece on Clyde herring steamers, 'The Screws' (No. 40, 1996), and ending with 'Memories of Gayfield Place' (No. 74, 2013).
He was born in 1935 in Gayfield Place, a tenement at the head of Broom Brae, since demolished. His father, also Tommy, was a fisherman, and his mother and my aunt - Bella Martin belonged to a long-established Dalintober fishing family. When he left school, he joined the crew of his father's ring-netter, the Golden Fleece, as 'cook' (see quotation, below). His first trip, in January 1951, was to the 'North', or Minches, where he would spend the greater part of his life, for he moved to Mallaig in 1956, married a local girl, Ina Sutherland, and fished from there, with Ina's maternal family, the redoubtable Mansons, before setting up a business in buying, rather than catching, fish. Tommy and Ina had two daughters, Caroline and Gillian, and grandchildren and great-grandchildren. Tommy had a forthright personality, which didn't please everyone, but you always knew where you stood with him. His enthusiasm for history and heritage, and his humour and penchant for producing the right story at the right time will be missed. The latter part of his life was blighted by a debilitating illness, which left him unable to travel and denied him the pleasure of visiting the friends and relatives, in Scotland and abroad - his brother, Billy, lives in New Zealand - with whom he assiduously maintained contact (in his final years, by telephone and e-mail).
The following quotation is from 'To the North', one of the three articles he wrote for the magazine Fishing Boats. I'll end this brief tribute with the quotation which ended that article. It is from a poem by an American writer, Elizabeth Akers Allen, 'Rock Me to Sleep', which he adapted slightly.
'So, to sum up, your fifteen-year-old learned to cook, to mend nets, to maintain engines, to do minor repairs to the boat and to its electrics, learned the rudiments of navigation (or pilotage) and absorbed the age-old wisdom required to be a herring fisherman of that era. We learned to respect the sea and how to nurse our small craft safely through the roughest of weather. A tough apprenticeship, but a bloody good one!'
'Backward, turn backward, 0 Time, in your flight,
Make me a lad again just for one night!'
---
Copyright belongs to the authors unless otherwise stated.
The Kintyre Antiquarian & Natural History Society was founded in 1921 and exists to promote the history, archaeology and natural history of the peninsula.
It organises monthly lectures in Campbeltown - from October to April, annually - and has published its journal, 'The Kintyre Magazine', twice a year since 1977, in addition to a range of books on diverse subjects relating to Kintyre.
CLICK HERE for Correspondence and Subscription Information.
The Society website is at http://www.kintyreantiquarians.uk
---

338