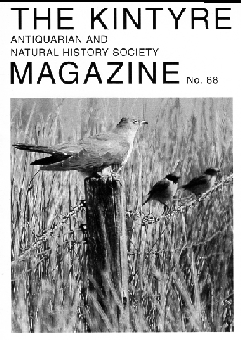 CONTENTS
Street and Playground Games: Part I; Moira Burgess
Campbeltown Cross Restoration
Ladysmith During the Siege; Maggie GilIon
By Hill and Shore; Angus Martin
Tarbert and the Second World War; Archibald K. Smith
Editorial
The following biographical sketches of little-known or forgotten individuals who were connected with Kintyre have been extracted from a work-in-progress, Kintyre Families: An Encyclopaedia, which I hope will be published next year. I have adapted these extracts for inclusion here, hence the removal of sources (which will be found in the book itself).
Donald Carmichael, piper, who died in Greenock in 1864, aged about 75, was born in Whitehouse, though his obituarist believed 'his family originally belonged to Lewis'. He was a cabinet-maker until 'adversity' overtook him and he was 'compelled to live by his pipes'. According to his obituarist, he 'ran away with a laird's daughter' and married her in the 'low country', in consequence of which he dared not show his face in Kintyre for many years. The Daniel/Donald McMichael, 'piper', who baptised several children in Campbeltown between 1824 and 1834 was probably him. His wife was Mary Macalister, which might lend credence to the elopement story. When he returned to Kintyre, he was a regular at fairs: 'He took his daily rounds through the town, and when the pipes ceased all of a sudden, Donald's tail might be seen disappearing into some favourite public house to receive his accustomed dram, for which he had the proverbial fondness of his class.' In 1855, his 'well situated' daughter in Van Diemen's Land (Tasmania) had written to the inspector of poor in Greenock asking for assistance in finding him, as she wished to pay his passage out.
Daniel Dewar. 'Cuthbert Bede' - Rev Edward Bradley - relates in The White Wife that Rev James Pinkerton of Longrow Church, when officiating at a marriage, 'scarcely thought the wedding was complete unless blind Donald Dewer was there with his fiddle to amuse the company'. This Donald, Bede wrote, was' father to the great Dr Dewer, Principal of Aberdeen College', who, as a boy, would guide him to dances and sleep on straw in a barn or outhouse until he was ready to return home with his customary payment of 'a piece of silver'. Daniel attended Glasgow University and graduated LL.D. in 1815 and D.D. in 1832. Late in his distinguished career, he was appointed Principal of Marischal College and University, Aberdeen, and Professor of Church History there. He died on 28 May 1867, aged 80, according to a Glasgow University website, but his death certificate - he died in Dunoon - gave his age as 86. His father's name was recorded as John, a farmer, and his mother's as Margaret McLaren. If his father's name was indeed John, then it looks as though he may have been the John Dewar, 'blind musician', who received a 'tack' from the Kintyre Estate to build a house in Campbeltown in 1787. So far, no baptismal record has emerged for Daniel, but in the 1861 Aberdeen census he gave his birthplace as Campbeltown.
Charles Drummond, described as a fishernan 'of Glasgow' when he married Agnes, daughter of 'the late Captain John ColviII of Campbeltown', in 1836, gave his birthplace as Ireland in the 1851 and 1861 censuses. In 1857, boat-builder John Greenlees, at the New Quay, launched a 'beautiful little smack', the Meg Merrilies, for Drummond. One night in January 1867, his boat, the Rambler, was damaged in a collision with John Osborne's Mary Agnes in 'the Lodden', that reach of sea between Davaar Island and Auchenhoan Head. The once-popular spring on Kilkerran farm, known as 'Charley's Well', was named after him: his 'good taste in water led him several times a day to the well'. In 1861, two Campbeltown 'mechanics' put a metal receptacle there, on which was engraved: 'May he who breaks or steals this ladle/ Incline to drink and not be able.'
Edward Hogarth in March 1888 had his 'Cast ashore on the lonely isle' hung in the Royal Scottish Academy exhibition in Edinburgh and had a local scene, 'Otter linn, Corven Glen', accepted for the Stirling Fine Art Exhibition; but his copy of Archibald MacKinnon's Davaar Island cave painting was unfavourably received in Campbeltown later that month. He was a son of William Hogarth, baker, and Isabella McTaggart, who married in 1856, and he appears in the 1861 Campbeltown census as an 11-month-old. Nothing further on his artistic career has so far emerged, apart from a reference to his 1888 R.S.A. exhibit in Peter J. M. McEwan's Dictionary of Scottish Art and Architecture (1994). His maternal grandfather, Edward McTaggart, butcher in Campbeltown, was a brother of Dugald, father of the artist William McTaggart.
Captain William Hutcheson R.N. (1778-1837) was born in Campbeltown, a son of John, shipmaster (died in 1812), and Ann Love (died in 1810). In 1816, on his retiral, he married a Campbeltown shipmaster's daughter, Elizabeth Ballantine, and lived in an old house in the present garden of the Ardshiel Hotel. He was 'elected' to the old undemocratic Town Council in 1824, but failed to attend even one meeting and was 'eased', or retired, a year later. Colonel Charles Mactaggart described him as a seaman who accomplished the 'almost impossible feat' - for those times - of 'rising, by sheer bravery, from the forecastle to the quarter-deck'. He was, at one time, Lord Nelson's coxswain, and was in the boarding party which captured the Spanish flagship San Jose during the Battle of Cape St Vincent in 1797. This was doubtless the occasion, recalled by Mary Streete Campbell from the Captain's own narration, when he lost his dagger and Nelson 'instantly took his from his side and gave it to him'. Mary saw the 'very handsome' weapon displayed in the Captain's dining-room. She also related that Captain Hutcheson's mother took ill at about the age of fifteen, and, having supposedly died, was being carried to the churchyard when the pall-bearers became aware of movement in the coffin and took her out.
Lizzy Kirkland, 'a famous sorceress' at Markland, Campbeltown, in the early 18th century, was allegedly 'practising her orgies every night between her dwelling and Glenramskill wood', c 1705, and was said to have been executed at the Witchburn, an event 'referred to' in A Collection and Abridgement of Celebrated Criminal Trials in Scotland from A.D. 1536 to 1784, by Hugo Arnot, published in Glasgow in 1812.
Thomas Lacy, when he married Katherine Beatson in 1810, was 'Commander of the Hardwick Irish Revenue Cruiser'. Between 1811 and 1825, they baptised nine children in Campbeltown. Elizabeth Streete Campbell recorded a story about his besting the champion English boxer, Daniel Mendoza (1764-1836). He was in 'full dress', going out to a dinner party, when Mendoza, 'seeing a well-dressed gentleman, was tempted to insult him in some way'. Lacy had been 'taught boxing scientifically', and, with his 'English blood ... fairly up', he pulled off his coat, handed it to a by-stander and engaged with the 'bully'. Soon, the cry from the crowd was 'Mendoza down, Mendoza down!' Lacy put his coat back on and carried on to the dinner party, afterwards remarking that 'until it was all over, he had no idea who he had been fighting with'.
John Alexander Paterson MacBride (1819-90), sculptor, was believed to have been born in Liverpool, but his parents, Archibald MacBride and Margaret MacKenzie, were from Campbeltown. He studied drawing at Liverpool Art School and anatomy at Liverpool Medical School, and, at the age of 22, moved to London and became a student member of the Royal Academy: 'There he exhibited his group of "Margaret of Anjou", a work which so struck one of the examiners, the eminent sculptor Samuel Joseph, R.S.A., that he took Mr MacBride into his studio as a pupil, foregoing, on account of the excellence of the group, his customary fee of 500 guineas.'
Francis McCallum, Adjutant of the 2nd Battalion Argyllshire Militia, died in 1839, aged 65, and is buried in Kilkivan with his wife Isabella McLean. The marriage was childless. Their house, of which only the foundations remained in 1926, was in the middle of a small field west of Kilkivan Glebe; and a little wet valley nearby was known as The Adjutant's Bog. In 1813, he took the lease of Lecknalarach, near Colluska, as a summer retreat 'for the benefit of his wife's health' and to graze 250 sheep, two cows and a horse. Elizabeth Streete Campbell recalled him as a 'brave old soldier' who had been badly wounded and 'returned with a pension'. On one occasion, during the Napoleonic Wars, he had just ridden up to his General and was about to salute, when his horse bit one of his feet. He unleashed a 'volley of oaths', which appeared to be directed at the General; but the outburst, when explained, 'ended in a hearty laugh'.
John MacDougall. On 4 January 1912, a lecture on Charles Dickens delivered to Clachan Literary Association by John MacDougall M.A. was one of the earliest tributes to the novelist in the centenary year of his birth. MacDougall was described as 'examiner in Gaelic, Edinburgh University, and a former pupil of Clachan Public School'. He was born at Crubasdale in 1877, a son of Archibald, farmer there, and Agnes Currie, who married in 1875. He read Gaelic and Celtic at Edinburgh University between 1902 and 1904, and in the following year studied in Wales and Dublin on a scholarship. His papers were donated to the Department of Celtic, Glasgow University, in 1975.
Helen McIntyre, Campbeltown, was sentenced in 1851 at Inveraray to seven years' transportation for theft by housebreaking, with previous convictions. She sailed on the Sir Robert Sippings on 17 March 1852, along with 221 other convicts destined for Van Diemen's band. When she arrived in Hobart, she was put to work in a paint shop; but, on 19 July, a few days later, she was admitted to the Colonial Hospital and died there on 2 August, aged 22.
Robert MacKenzie, born in Campbeltown in 1822, was a son of John McWhinnie, who came from Ayr as a stonemason and changed his name to MacKenzie, which was no great adjustment, because McWhinnie is a Lowland form of Mac Choinnich. In 1819, he married Agnes, daughter of Alexander Ross and Elizabeth Templeton and sister of the eccentric distiller John Ross No. 85, pp. 9-11). Robert, who was one of six children, went out to Ghazipur in India to manage the business of his uncle, Robert Mc Whinnie. In 1847, with fellow-Campbeltonian William MacKinnon, he founded MacKinnon, MacKenzie & Co., which became a major exporter of Indian goods to the U.K. He was drowned in the wreck of the S.S. Monumental City, which struck a reef near Gabo Island, off the coast of eastern Victoria, Australia, on 15 May 1853. He had been to Victoria on company business and was returning to Calcutta via Sydney. His estate would benefit his immediate family, and between 1854 and 1856 his two brothers, two sisters and widowed mother emigrated to Australia. One of his brothers, John Lorne Stewart MacKenzie (named after the Duke of Argyll's Kintyre chamberlain) became a successful sheep farmer in Australia, and Sir William MacKinnon, who died in 1893, left him, as 'brother of my deceased early friend and partner', the very substantial sum of £5,000.
John 'Dorrif' McMillan, a 'scandalous person', was referred in 1658 to the Bailie of Kintyre, Neil Campbell, for judicial punishment. His nick-name appears to represent Gaelic doirbh, 'difficult'. Described as 'stupid, senseless and ignorant', he was clearly resistant to ecclesiastical pressure to raise his moral standards and was ultimately 'banished'. Banishment - in effect, transportation - was the final punishment following excommunication, which was pronounced on those who showed no signs of repentance for 'guilt' and refused to submit to the discipline of the Church. They were forbidden to take communion or to have children baptised, and anyone socialising with them or sheltering or employing them risked censure.
F. Marion McNeill (1885-1973) was a daughter of Rev Daniel McNeill, M.D., pastor of the Free Church at Holm, Orkney, for almost 50 years, and Jessie Janet Dewar, a minister's daughter. Daniel's father, John, was a collier at Drumlemble, whose wife, Mary, was also a McNeill. Marion was one of twelve children, of whom four sons and three daughters were graduates or alumni of Glasgow University. She graduated M.A. in 1912 and was a folklorist, writer, and political activist, best known for The Scots Kitchen and The Silver Bough, a four-volume study of Scottish folklore. She was a prominent Suffragist and, with her brother Duncan, a founding member of the Scottish National Party.
John M. Murphy, who was born in Limerick in 1808, was a nail-maker in Campbeltown. He was twice married, but had no (surviving) children. His first wife, Ann McLoughlin - described in 1912 as a 'braw, sonsy colleen' - died in 1879 in the Wide Close. He was an authority on cock-fighting and once put a Dublin-bred bird up against a Dalintober bird. The fight, which took place in his own yard and was watched by 'a number of Campbeltown's staid and respectable inhabitants', ended in the third round when Murphy's bird 'succumbed'. He had wagered £5 on the contest, but his opponent, Donald McLean, didn't have that much money and instead took away the unfortunate Irish bird for his cooking-pot. In census 1851, Murphy is shown as employing four live-in nailers and a female house servant, but he died penniless in Campbeltown poorhouse on 22 May 1889.
Rev Dr Robert Stevenson, who was born at Lintmill on 8 May 1882, was said to have been a cousin of the writer Robert Louis Stevenson, but the claim seems dubious. His father, William, a wool-spinner and son of a weaver, came to Kintyre to work at Lintmill weaving and carding mill and married, on 31 December 1879, Mary McAulay, daughter of a local weaver. According to a biographical piece published in 1929, Robert took an arts degree at Glasgow University, a divinity degree at London and a philosophy degree at Oxford. He was widely travelled and, when elected a Fellow of the Royal Geographic Society in 1913, was 'the youngest on whom that honour had ever been conferred'. He served in both the Boer War, with the Cameron Highlanders, and the First World War, which he spent on the Eastern front with the Scots Fusiliers. In 1921, under the auspices of the R.G.S., he was one of a party of seventeen which explored the Amazon River into the Andes, and one of the thirteen who survived the expedition, having 'fought hostile tribes of wild Indians, snakes, all species of wild jungle animals, but most of all malaria'.
In the Scottish Parliament there are three large ceramic panels commemorating Scottish women whose contribution to the common good has been outstanding. The words, 'She is tiny, a Woman in Black, silently standing for justice, working for peace', are for Dr Runa Mackay. The organisation Women in Black was started in Israel in the late 1980s by Israeli and Arab women opposed to the occupation of Palestine and promoting non-violence in international conflicts. Runa was indeed small in stature, but her spirit and her influence here in Scotland and across the world was huge. Her family roots lie deep in the soil of south Kintyre.
Runa was born in 1921 in Hull, where her father, Duncan Mackay, was an eye surgeon. Runa's mother, Anna Train, came from Kintyre. Her grandfather, Rev John Train, who died in 1920, was minister of the United Free Church in Southend, and her great-grandfather, Thomas Train, who, in 1818, was the last person to be born at Innean Mar, married Mary Ann Gilkison, daughter of a Campbeltown merchant, John Gilkison, and Martha Langwill.
Runa followed her father into medicine and studied at Edinburgh University. During the war, in 1940, the home in Hull was bombed; only a few books and pieces of crockery were recovered and the family relocated to Campbeltown to be close to Anna's family. Runa's brother (Robert) Gilkison was killed in 1942 in North Africa and is commemorated on a war memorial in Keil graveyard.
As a student (before the NHS) Runa worked at the Livingstone Dispensary for Edinburgh's poor, run by the Edinburgh Medical Missionary Society (EMMS) in the city's Cowgate. She graduated in 1944. As a young GP, while visiting her family in Kintyre she did locums in Southend and recalled being called out late one night to help a shepherd's wife in labour at Glenahanty. By the time she got up Glen Breackerie, the baby was safely delivered by the shepherd and tucked up in a drawer.
In 1955, after a spell at the Manchester Children's Hospital, she was invited to do a six-month locum at the hospital in Nazareth run by EMMS. Runa agreed to go as a paediatrician rather than a missionary. Although Nazareth was and is part of the new State of Israel, 99 per cent of the patients and staff were Palestinian Arabs. With 3,000 babies being born each year in the hospital, Runa felt she needed further training in Obstetrics and came back in 1956 to complete this in Edinburgh before returning to Nazareth in 1957. Having initially gone there for six months, she had discovered that this would become her life's work and spent 30 years as a doctor living among the Palestinian people in the Galilee, only returning home to Scotland once every three years. The Campbeltown Courier on 15 September 1960, and again, on 27 October 1960, described one of her home visits and a talk she gave with 'a sound film' about her work to Women's Guilds in Campbeltown.
Runa had three sisters. Inez (1918-2009) was a house mistress at Edinburgh Academy and spent most of her holidays in Campbeltown. Moira (1923-2014) was married in Lorne Street Church (now a heritage centre) in Campbeltown, settled in Edinburgh, trained as an architect, but spent the last years of her working life in the office of EMMS and shared Runa's interests in supporting the Palestinians. Pat (1925-2013) cultivated the back garden at Rockbank as a market garden, supplying shops in Campbeltown with vegetables. In the early 60s, she hurt her back and decided to go into teaching, trained at Jordanhill and taught Science at Possilpark Secondary in Glasgow. When Pat went to Glasgow, Inez returned to Campbeltown to be with Anna and worked at Craigard. Anna Train Mackay died in November 1965 and Inez stayed on for another year or so until Rockbank was sold, then returned to Edinburgh and worked as domestic supervisor at the Royal Infirmary.
In 1975, after 20 years of working in the hospital in Nazareth, Runa moved into the community and began working for the Israeli Ministry of Health, where she could use her influence as a doctor to try to improve the living conditions of the Palestinians in the villages around Nazareth. New settlements were being built on the hilltops, depriving Palestinian villages of clean water and without installing modem infrastructure to these existing villages. Runa was treating infections in the children caused by these developments and she went to the Knesset (Israeli Government) to seek justice for the villagers. Diminutive but courageous, practical and determined, Runa was loved by the Palestinians whom she lived and worked with, and she was devoted to them. She delivered thousands of Palestinian babies into the world in her time at the hospital. During her final decade in the Galilee, she helped to set up The Galilee Society of Health, Research and Service and she was Session Clerk of the Church of Scotland in Tiberias.
In 1985, after 30 busy years working in the heat of the Middle East, she retired and returned to Scotland. Keen to acquire a deeper understanding of Islamic culture, she enrolled for an Honours degree in Arabic and Islamic Studies back at Edinburgh University, graduating in 1990· with a dissertation on 'Rhazes the 10th century physician and father of paediatrics', probably the greatest and most original of all Islamic physicians.
In 1987, in the long university vacation, she volunteered to work for Medical Aid for Palestinians (MAP) in the Palestinian refugee camps in Lebanon. Her colleague, Dr Swee Chai Ang, honorary patron and co-founder of MAP, worked with her: 'The kind and strong paediatrician who, after retiring from serving the Palestinians as a doctor for 30 years in Galilee, decided to join MAP in 1987 to work in Lebanon as part of our medical team .... The Palestinian refugee camps of Lebanon were under siege and shelling during Runa's time with us. Conditions were grim and treacherous ... In deep gratitude we're forever thankful that Dr Runa Mackay came into our lives to journey with us.'
On completion of her degree, Runa founded the Scottish branch of Medical Aid for Palestinians. In 1990, she returned to Palestine to work in a children's hospital in Hebron, and in 1992 she went back to Quasmiyeh Camp in south Lebanon for two years as part of MAP's Lebanon programme. Dr Ghassan S. Abu-Sitta worked with Runa in Lebanon: 'I had the honour of working alongside Runa in Scottish MAP and then in her mobile clinic in South Lebanon in the 90s. Her quiet dedication, matter of fact humility and strength will remain my most abiding memories of her. She was a wonderful human being, a great doctor and a resolute defender of Palestinian rights.'
In 1995, back in Edinburgh and immobilised with an ankle injury, Runa wrote Exile in Israel, an inspiring account of 40 years of her life with the Palestinians in Israel, Lebanon and the Occupied Territory. An authentic memoir of clinical, cultural, political and historical relevance and importance, it was published by the Iona Community and is available online.
Retiring (again) from active medical practice, Runa became a trustee of MAP, attending board meetings in London and visiting projects in Lebanon, Gaza and the Occupied Territories. Every year until in her mid-90s, she organised a fundraising event in early November at Holy Comer in Edinburgh, raising awareness of the suffering of the Palestinians and many thousands of pounds to enable the work of MAP to continue.
In 2014, after almost 60 years of service to the Palestinian people, Runa was presented with the Medical Aid for Palestinians lifetime award. She was a fully committed member of the Iona Community and campaigned tirelessly against Trident and the arms trade, and for justice and reconciliation, until well into her 90s. She enjoyed many visits to Iona. On Saturdays, whatever the weather, she stood silently with 'Women in Black' at the east end of Princes Street in Edinburgh.
Runa used to say she felt as much Palestinian as Scottish. Where did her resilience and inner strength come from? Maybe from the hardy folk who wrought a living from the rugged coastal settlements of south Kintyre? Perhaps her own experience of losing her home and her brother in war gave her a special affinity with the Palestinians. She carried and understood their suffering through her long life. As their lives became progressively harder, she used her time and energy to alleviate their suffering in all the ways available to her. She was never strident or judgemental, quietly presenting the facts, treating everyone with the same respect, regardless of race, religion, age or position. She was humble, her life style simple, she used words wisely and sparingly; a faithful friend who kept her sparkle and humour, delighted in her extended family, the natural world and in people. As she entered her 99th year, osteoarthritis hampered her walking and ability to attend meetings and events. She was confined to her tiny flat in Comely Bank, enjoying the beautiful sun and bird song in the days before she died. Her mind was clear, open and alert to the last and she kept in touch with her huge network of friends by email, phone and visits.
Runa's last trips to Kintyre were with her niece, Anna, in 2010, to take Inez's ashes, and in 2013 with Pat's, to the family burial place at Keil. Anna and Runa returned again in 2015 and 2016 for short holidays. Runa sat on deck savouring the sea-crossing from Ardrossan to Campbeltown. They visited the old family home at Rockbank in Campbeltown, Southend, Keil and the Lighthouse at the Mull, where long ago one of their forebears was a keeper.
Early in the morning of 31 May 2020 (Pentecost Sunday), Runa fell, breaking her hip, and died of heart failure shortly after being admitted to hospital. In Nazareth, a memorial service was held for her in June in the hospital chapel. Her funeral, on 16 June at Warriston Crematorium in Edinburgh, was tiny (as it had to be with government restrictions), but thousands watched it across the world. Her friend Peter Millar from the Iona Community quoted Micah, the prophet of 700 years before the time of Christ: 'The Lord told me what is good. What he requires of us is this; to do what is just, to show constant love, and to live in humble fellowship with our God.' (Micah 6.v.8)
Next summer, her niece Anna and family will bring Runa's ashes to the graveyard at Keil, to lie with her sisters and parents by their brother's war memorial, and her Train ancestors. In the shadow of Saint Columba's Footsteps, where seals bask on the rocks, fulmars nest, and gannets dive, it is an untamed, yet peaceful place for one of the great women of Scotland, who lived for so much of her life in the most conflicted place on earth and retained her humanity, quietly standing for justice and working for peace. Runa liked this quote from Rumi, the 13th century Persian poet: 'Beyond right or wrong, there is a field. I will meet you there.'
Efric
Susan Grant

The day that I met linen was the day my grandmother closed her eyes
 and the two large brown pennies were laid in place. 
It was me they sent to skirt, fleet foot, round the yellow-irised bay 
 to the Post Office which was also the village shop and the gossip station 
 where Angus, the owner before the owner before the famous Seumas, 
 was all things to all islanders. 
Breathless I was when I uncurled my tight fingers and held out 
 the hot half-crown sticking safely on my sweaty palm. 
And the Gaelic burred from his tobacco-stained lips 
'Your grandmother?' 
Still gasping, I nodded. 
So he took the old wooden ladder and leaned it over 
 the Brasso and Blue shelf, the beans and the biscuit shelf
 and climbed high, higher than ever I'd seen him climb, 
 to the topmost shelf in the roofly shadow of the shop. 
Then backwards, backwards, feet feeling each worn rung 
 in the arch of his boot, he brought down 
 a large and dark and dusty box. 
Unlidding it, the tissue paper whispered as if to say 
 'Who is it this time?' 
When his sea-fishing, log-splitting hands parted the paper 
 he took out a shroud - such as was beyond my ken until then -
 and it was purest white and cool and, yes, it was beautiful. 
'Best linen this, finest woven, plain, as decreed.' 
I stretched out a finger to feel the best. 
Reverently, he parcelled it up and tied it with hairy string, 
 then took the half-crown and put it in the ting box of the till. 
As he handed me the tidy bundle, he warned me, 
 in the Gaelic that I can only vaguely remember today, 
 not to drop it in the rising tide on my way home 
 or my grandmother would haunt me forevermore. 

Efric' first appeared in Northwords Now, No. 31 (Spring 2016) and Subsequently in Forty Voices Strong, published by Grayson Books, Connecticut, edited by Patrick Moran and with a foreword by Colin Waters of the Scottish Poetry Library. The poem is published by kind permission of the writer, a former resident of Machrihanish (.see this Magazine, No. 87, page 15).
---
Copyright belongs to the authors unless otherwise stated.
The Kintyre Antiquarian & Natural History Society was founded in 1921 and exists to promote the history, archaeology and natural history of the peninsula.
It organises monthly lectures in Campbeltown - from October to April, annually - and has published its journal, 'The Kintyre Magazine', twice a year since 1977, in addition to a range of books on diverse subjects relating to Kintyre.
CLICK HERE for Correspondence and Subscription Information.
The Society website is at http://www.kintyreantiquarians.uk
---

338