GLENS OF ANTRIM FAMILIES. The strong historical, cultural and family links between Kintyre and the Glens of Antrim - reinforced by migrations in both directions over millennia - weakened only in the 20th century; but the legacy survives in the genetic composition of the respective populations and in the many shared surnames. In Kintyre there remain innumerable descendants of families from Ireland and more specifically County Antrim, owing to its geographical proximity. Kintyre genealogists should therefore welcome the forthcoming publication of Family Names in the Glens of Antrim by Brian S. Turner, who has been researching the subject for nearly 50 years. The 192-page hardback 'describes and explains the evolution or the historical landscape through an examination of the names of its people', and incorporates 30-plus surname distribution maps and more than 50 photographs. The book is on subscription offer at £19.99, plus postage and packaging, until 30 April 2021, and subscribers' names will appear in a list within the book. The publisher is Ulster Historical Foundation, Newtownards, County Down, and further information about the book and subscription may be obtained at www.booksireland.org.uk/store/all-departments/family - names or by going on to the KANHS website (see page 1).
CLAN MACMILLAN DNA PROJECT. As part of this genealogical project, funds are available to pay for Y -DNA testing of MacMillans from Kintyre, which is considered to be 'the homeland of the largest MacMillan group'. As of February 2021, the project, which began in 2004, had 626 participants around the world, including the Chief, George MacMillan.
Applicants would require to be male with a genealogical 'paper trail' going back to the mid-18th century in Kintyre.
The project is hosted by Family Tree DNA and can be accessed at: https://www.familytreedna.com/groups/mac-millan/about/background
Robert McMillan, one of the adminstrators, will welcome enquiries at: rob.mcmillanjr@yahoo.com
KINTYRE HERALDRY.
Dr James Floyd of the The Heraldry Society of Scotland is compiling a
Gazeteer of Architectural Heraldry for Scotland
, and, owing to current travel restrictions, seeks local assistance in obtaining good close-up photographs of shields or coats or arms carved on gravestones and or the stones themselves. The following churchyards are known to have relevant gravestones or panels: Cill Aindreis, Tarbert (1 feature), Kilchousland (1), Kilehenzie (1), Kilkerran (9), Killean (1), Saddell Abbey (1), St Ninian's, Sanda (1), Skipness (1), Kilcolmkill, Southend (4), plus Glenreasdell Lodge (1) and Lossit House (1).
More detailed information can be obtained from Dr Floyd at J.D.Floyd@hw.ac.uk and The Heraldry Society of Scotland website can be accessed at http://www.heraldry-scotland.co.uk
An earlier article in this Magazine (No. 86, pp. 6-11) described how a business diary, kept by Malcolm Currie in Cleongart, was returned to his descendants. The article described the nature of Malcolm's business between 1765 and 1791. Almost as remarkable as the survival of the diary is the story of its journey from Kintyre to Great Falls, Montana, U.S.A., where it was discovered by a visiting scientist, Dr Burton Schaber. This article attempts to outline the route, and some of the associated events, of the diary, and its owners over two centuries.
The first holder of the diary, Malcolm Currie, born c 1749, was a farmer, living on the farms of Cleongart, Corputechan and Drumore/Drumorenabodach in Killean and Kilkenzie Parish, Kintyre.
His diary lists various transactions, stock, trades, etc, as he went about his business of fanning, whisky-distilling, and trading. It paints a picture of an active businessman, engaged in many pursuits and recording the transactions in considerable detail over many years.
Malcolm and his wife, Marrion or Sarah Black, had at least seven children between 1771 and about 1790. One of their daughters, Flora Currie, was believed to have married a McPhail and emigrated to North America, so I traced her line in the hope of finding a connection to Great Falls, Montana. After considerable research, and a few fruitless lines of exploration, I found that the most likely connection between Killean and Great Falls was as shown below.
The second holder of the diary, Flora Currie, was born about 1778 in Corputechan, the fifth of the seven or more children. By 1792, a Flory Curry, aged 14, was living in Bellochantuy with apparent siblings Malcolm, aged II, and Iver, aged nine. There was no record of her parents nearby. It is possible that these three children were orphaned by 1792 and were living with friends or family in the village. The ages of Flora and Malcolm are consistent with known birthdates for children of Malcolm Currie, but there is no matching birth in the records for an Iver (or Edward, an alternative name for Iver).
Flora Currie, Drumore, is recorded as marrying Neil McPhail, Cleongart, in the spring of 1810 .. The couple had at least four children between 1811 and 1818, three of them born in Cleongart. It is likely, judging by the family circumstances and the location, that Neil and his older children worked on local farms, but there are few traces of the lives of Flora and Neil McPhail. We have no later census records, and no death records or gravestones are recorded.
We know that at least three of Flora and Neil's four children emigrated to Canada, and the story of one of them is shown below. The fourth child, Sarah, born in 1818, has not been found after that date. In that era, many emigrants took elderly parents with them, but no trace has been found of Flora and Neil in passenger lists or in any Ontario records.
The third holder of the diary, Lachlan McPhail of Brock, Ontario (1811190 I), was the first child of Neil McPhail and Flora Currie. He was born in Cleongart about 1811 and is believed to have emigrated to Canada about 1841, settling in Brock Township, where he cleared virgin forest to create his homestead. The first formal record we have in Canada is the 1861 census for Brock, where he is living with a Mary McPhail, probably his sister, and farming there.
By 1871, Lachlan was married to a Kintyre woman named Catherine McLachlan (1839-1914), a daughter of Dougald, shoemaker, and Jane Mcllreavie in Crubisdale. Lachlan and Catherine went on to have eight children, several of whom continued farming in or near Brock. The fifth child in the family was Malcolm McPhail who broke with family tradition to become a doctor in Ontario, Michigan and Montana.
The fourth holder of the diary, Malcolm McPhail of Detroit, Michigan (1869-1948), initially qualified as a teacher and taught in rural Ontario for five years before entering the University of Toronto to study medicine. He graduated in 1895 and began his medical practice in Manilla, Ontario. He was, however, not simply a rural GP: his obituary states that he took up postgraduate studies in New York, in England, and in Scotland, before emigrating to the U.S.A. and setting up an urban medical practice in Detroit in 1914. Before travelling to Detroit, he made a visit to Kintyre, recording his trip in some detail, and describing his attempts to find relatives.
In the 1940 census, he is recorded as being aged 70, yet still working a 48-hour week as a physician in private practice. He was living in Webb Street, where new houses had been built around 1936. Most of those houses are still standing, many of them large, with six or more bedrooms, individually designed, and largely well maintained to this day.
Dr McPhail practised in Detroit until his retirement in 1942, then moved to Montana to live closer to his son. There he took up medical practice again, working in Great Falls until his death in 1948. By then he had practised medicine for 53 years. Obituaries and other documents describe him as a 'pioneer physician', especially in his work in Montana. He was very active in the medical associations of the area and was also an elder in the Presbyterian Church in Detroit.
Dr McPhail's wife, Alice Butland, had qualified as a nurse in Ontario, but later studied to become an expert in parliamentary law, organising classes on the topic for women in Great Falls. Her students set up the Alice B. McPhail Parliamentary Law Club, which continued to operate for some years after her death in 1955. The couple had one son, Francis, who ended his days in Great Falls, the only descendant of Malcolm Currie to live there, and we believe that the diary passed to him.
The fifth holder of the diary, Dr Frank McPhail of Great Falls, Montana (1899-1977), was born Francis Lachlan McPhail in Ontario, and qualified as a doctor at the University of Michigan. He continued to study at Chicago Lying-in Hospital, where he completed his obstetrical training.
He served in the Royal Canadian Air Force as a 2nd Lieutenant between 1918 and 1919, and in the U.S. Medical Corps from 1942 to 1946. In the 1960s, he commented, somewhat wryly, that, as an obstetrician, he was assigned to dermatology and orthopaedics! In 1924, Frank married Helene Torrey, an alumna of the University of Michigan. She worked as a teacher and supported him through medical school. In the autumn of 1930, Frank, Helene and their two young daughters moved to central Detroit, where he took up his obstetrical practice. It was in the depths of the Depression, and he, like all medical professionals at that time, was keen to take up any work available.
He responded to a call one night to see a sick woman on the east side of the city, but on arriving at the address he was met by a gunman and several gang members. He was told that he was being kidnapped and would be held to ransom. The gang members believed - incorrectly - that his father, Dr Malcolm McPhail, was wealthy and would pay a substantial ransom. The gang in question were not amateurs, but were part of the notorious Purple Gang, the major crime syndicate in the city. As well as kidnapping, gang members were running, or deeply involved in, bootlegging, vice, drugs, and murders.
Dr McPhail was detained by them in a warehouse, had almost all his belongings taken from him, but was allowed to retain his prescription pad. In his damp and chilly attic room, he was able to tear off pages, stick them to the windows, and spell out the word o Help'. Some passing schoolgirls saw the message and called the police. When the kidnappers returned they were arrested and he was freed, with no ransom being paid. The penalties for the kidnappers were severe, with at least one of them being sentenced to 30 years in jail.
The whole family did some soul-searching after this incident, and decided that they wanted to live and work away from a big city and its intrinsic dangers. An obstetrician's post came up in Great Falls, so Frank, Helene, and their two daughters moved there in 1931. A third daughter was born in Montana in 1938. Much like his father, Dr McPhail participated in his profession to a much greater degree than was required by his medical role alone. As well as delivering more than 8,000 babies, he was a founder of, and an active participant in, several medical societies in Montana and more widely in the U.S.A. He had a long-standing interest in post-graduate education, and helped to promote it throughout the region. A highly principled man, he worked diligently to ensure that education was removed from the political sphere. He was also an early and active proponent of birth control pills, seeing the advantages they could bring for physical and mental health.
Communications with one of the three daughters of Dr Frank McPhail leads us to believe that the diary passed to another of his daughters, Mary Isabel McPhail of Great Falls (1926-2003), who became its sixth holder. After a chemistry degree, Mary spent a few years in New York City in her twenties, rising from secretary to features editor of Glamour magazine, and interviewing, among others, the noted musician Glenn Gould and the actor Gary Cooper. After that, she moved to Los Angeles for a couple of years before returning home to teach in Great Falls.
Mary was a highly regarded teacher of English, specialising in Shakespeare, and taught in Great Falls for more than 35 years. She was also very active in the Great Falls Genealogical Society and researched her Currie and McPhail ancestry in considerable depth and with great rigour. She and her sister visited Kintyre and called on MacKinnon relatives.
We believe that the diary was among a number of items which were sent to a local antique shop in Great Falls. It was there that Dr Burton Schaber found it, and, after a number of years, returned it to its first home in Kintyre, almost 250 years after Malcolm Currie wrote his first entry in it.
Acknowledgements
I am particularly grateful to the following people, without whom the story would be incomplete:
Alec MacKinnon, Cleongart, suggested to me that the McPhail family had emigrated to North America and were worth researching further.
Robin and Jack Allaire supplied much background information about Robin's father, Dr Frank McPhail of Great Falls, Montana.
Janet Barstow, daughter of Dr Frank McPhail, checked the information and interpretation, and provided highly valued proof-reading services.
Burt Schaber found the diary in the antique shop in Great Falls, Montana, and returned it to Kintyre.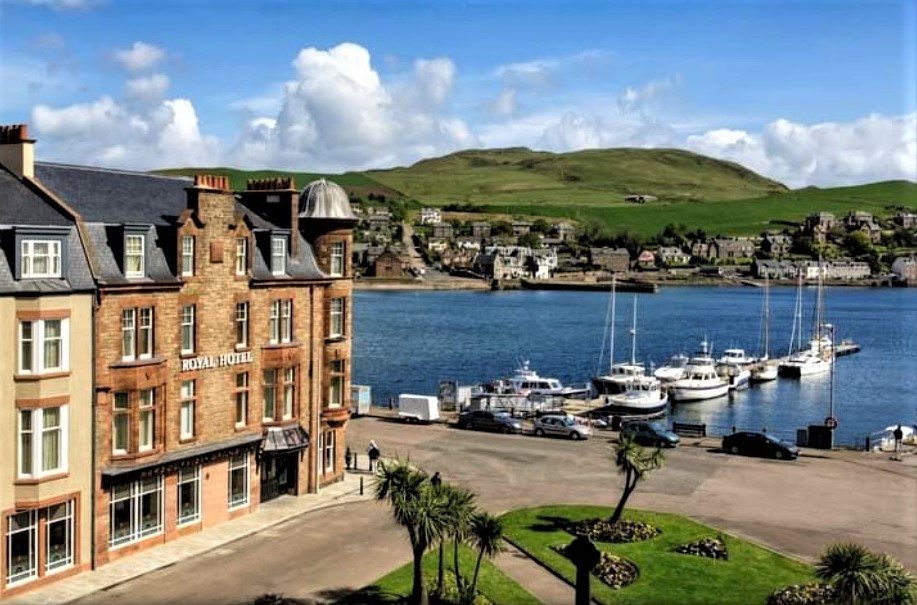 Royal Hotel
(Picture is not in
Kintyre Magazine
)
Introduction by Mike Maude-Roxby
The article below was written by my grandmother Elizabeth (Bess) Motherwell, wife of William (Bill) McKersie, who lived at Auchinlee, High Askomil. My mother, Elise, was the eldest of three daughters: next in line was Joan ('Noanie') who was followed by Nancy.
Elise was trapped under rubble in the Royal Hotel on the night of the bombing raid on Campbeltown, 6 November 1940. She had a narrow escape, and Bess provides a personal, on-the-spot account of the confused events of that night. Elise was a third officer in the WRNS, having joined in June 1940. She apparently worked in the cypher office of HMS Nimrod at Stronvaar House, but she never divulged much detail about the work or the location and always told me the Official Secrets Acts did not allow it - even half-a-century later.
She married Leycester Maude-Roxby in Longrow Church in August 1944. The reception was in the garden at Auchinlee - a wonderful spot with views of Campbeltown Loch. He was a Lieutenant in the R.N.V.R. and served in corvettes escorting North Atlantic convoys. They both left the services after the War and went to Assam, India, where my father managed a tea garden. I arrived on 6 November 1947, seven years to the day after the bombing described below.
Elise lived a full life after the War, moving in the early 1950s to Dublin, where my brother was born. We both grew up there and my parents lived in Ireland until the end of their lives. Elise carried a scar on her left shin from the bombing and both her eardrums were ruptured by the blast. Despite this, her hearing remained good to the end of her long life. She always told me this was because her eardrums were twenty-five years younger than she was! This rather cryptic remark refers to her being assured by the specialist who examined her that her eardrums would repair themselves naturally: she was born in 1915, so was twenty-five years old in 1940. She was otherwise unscathed.
There remain a few things I would love to find out about this episode: precisely what duties Elise had in Stronvaar House and the whereabouts of an umbrella-stand reputedly made from the nose-cone of the bomb. I visited the Royal Hotel with my brother in 2000 and we spotted it in the hall - indeed, we have a photograph of it. My mother was with us on that trip, but she refused to come into the hotel and sat in the car outside.
Finally, I often think of those others who were killed in the raid and did not, like Elise, have a narrow escape. I hope you enjoy my grandmother's account:
I had returned from the Red Cross and was in my room dressing, about 6.30 or quarter to 7, when I heard a plane making a terrible noise and, as it seemed flying verry low and near the house, I looked out to see its tail just pass out of sight. A second later I heard a terrific thud and bang and I knew [what] that was! I rushed round the upstairs rooms putting out gas fires and lights and calling to the maids to take cover in the passage and put out all lights. Nancy was the only member of the family at home and she and the maids lay down in the passage. I think 5 bombs were dropped and what turned out to be machine gun spraying we thought was our home guard firing at the raider!
Annie (our local maid) was in a terrible state of anxiety to get home to her house as we could see the sky all lit up in the direction of the harbour and her home. I had a job to restrain her till the firing was over and then Nancy and I walked over with her. As we passed the Hotel we saw a bomb still sizzling outside and several casualties lying about, hose pipes, glass, stone and mortar everywhere and we realised the side of the Hotel was down. Meantime, I thought Elise would still be at her headquarters busy owing to the raid and little did I know then that she was, when I passed, lying buried in the debris of the Hotel. Noanie2 had phoned that she was safe at .... and had been taken into the Hotel there.
On my return to the house I was told I had been personally called on the phone twice and as I came in I got the message from Rodger Hawkie3 that Elise was injured and was being taken by stretcher to a clearing station. I arranged to go for her in my car and get her right home and asked the house to call our Doctor to await us here. Nancy and I then set out by car in the dark. We had just got to the foot of the road when someone asked us to take a man who had been blown out of a window and was badly hurt to hospital and as this was more or less on our way, we did so and then crawled on, through glass, water and crowds to Elise's headquarters, where we at last heard more of Elise.
She was covered white in plaster dust (white hair) legs both bandaged and her blouse hanging out and looking very shaken but quite cheery. I'll tell you now her story and then continue our adventures. She was on duty that night and was on her way home for dinner, and at the Hotel, as she passed, she was called in to speak to Mrs. Mercer.4 R. Hawkie joined them and they were having a sherry, when they all said 'That plane is taking it a bit low' and next moment a crash - Rodger who was seated on a sofa was protected a bit by the sofa turning over on him when the front of the Hotel crumbled down. Elise standing by the fire was thrown (luckily) away from the fire and a large beam fell across her head and she was covered about 5 feet they say in stones, plaster and debris.
The fire set the wood alight and that was the awful danger that they would not get her out in time. Rodger managed to extricate himself and shout for help. It took half an hour to clear her and meantime they got her face cleared and a Doctor gave her morphia tablets and brandy. When the machine gunning started she told the workers to take cover - as 'She was all right in her wee hole'. She did not realize that the fire was approaching. They had to get a wrench (I think that is what you call it) to lift a large coping stone that pinned down the left leg. She was badly crushed and had no feeling, but her brain was very clear she said.
Some Marines were told to take her on the stretcher to a Doctor and it was during this journey that she kept saying she had a Key which must be delivered to her headquarters by her personally and to her annoyance the men thought she was delirious, and kept soothing her etc. As they crossed a street a cry of 'Take cover' came and the men took her into a close, and laid the stretcher down and then Elise got up and struggled away to her headquarters to deliver her Key. One Marine realized this and went after her and as he could not persuade her to return he helped her along. At the office I believe they were horrified to see this apparition appear, as they had heard she was at a Clearing Station. She delivered the Key safely personally and then collapsed, and was then given her first medical attention.
I appeared then and they got her into the car, an officer coming with us. As we returned, by bad luck we got a burst tyre from the glass which was feet deep in places. We tried to go on but eventually stuck in .... Street, just near the ... Hotel. What a scene there! There was said to be a time bomb behind the Hotel and it was in process of being evacuated of the people staying there. Three Officers came to my aid but in the dark and in my excitement we could not find the jack to change my wheel. Then Jean McKersie doing Air Raid Casualty driving appeared, and I begged a lift for Elise and myself, the Officers kindly offering to bring my car later.
We got home at last and the Craigard (the house of Mrs McKersie, Bill's Aunt) Nurse was waiting and the Doctor [appeared] later. The injuries are one bad gash on the left leg and terrific bruising of the muscles, cuts and bruises on the other leg and crushing (no bone injury) one arm more bruised than the other, two cuts on the head, both ear drums perforated from the concussion and a wee injury above the right eye. She is ~ well, but is terribly sore. She is in the other bed in my room, and is being kept very quiet for shock but is remarkably cheerful. Captain X (her Commanding Officer)5 'phoned me and said that when he saw her face appear away down this hole he never for a moment thought that if they got her out alive she would not be seriously injured in the spine or have broken bones. There are no broken bones or ribs and her pains are from crushing only and bruises. It is a most miraculous escape and I can't tell you how thankful I feel about it all.
Captain X also said' Her pluck and devotion to duty made them very proud to have her in the service'. So we all feel very proud of our wee Elise. Noanie had been golfing and was in the act of getting into her car when a plane came along (there were two raiders)6 and to her surprise it started dropping flares and then tracer bullets. Noanie and her partner got down behind the wall till it was over and then rushed for the Hotel where she phoned me. She thought they had had it all and was horrified to hear of what had happened here. The raiders were obviously looking for ... It has caused great sadness here as there are 6 deaths and many injured, most of them outside the hotel and near .... All shops in another street and many in .... have the glass completely broken up in their windows and are now boarded up.
The Craigard people send Nurse to dress Elise twice a day, but I am trying to get someone of our own. Meantime the Doctor says that she must see an ear specialist as soon as she is able and that the perforation of the drums will heal. It was difficult to get the dust and cement out, and her hair cannot be washed for a week. Some kind person put a coat over her face, she says, when they were working to get her out, and that saved her a lot of discomfort. I feel this is all very badly put but it is difficult to tell it all in sequence, and the whole subject is like a very bad dream. Every house took someone in that night and we took R. Hawkie who is still here.
End-notes
1. The writer's youngest daughter, who married an Australian Naval officer.
2. The writer's middle daughter, Joan, who had been golfing at Machrihanish.
3. Nothing is known about him, but he may have been a Naval officer.
4. Doubtless in error for Mrs Margaret Jane Merson, a daughter of Archibald Johnston; he built the Royal Hotel in 1908 and died in 1939.
5. Captain Charles Addis R.N., who was later awarded a D.S.G. for his part in the sinking of the German battleship Scharnhorst in December 1943. (David Mayo, 5/ I /2021 )
6. There was evidently only one aircraft involved in the raid. Four bombs were dropped on the town and four at Machrihanish, and then the plane returned to strafe the streets of Campbeltown with machine-gun fire. (Ibid)
Editorial Notes
1. The ellipses - three dots - in the text appear in the original document and represent locations censored in the interest of security.
2. The 1940 air raid on Campbeltown was the subject of a brief memoir by Dr Moira Burgess published in this Magazine, No. 87, pp. 8-9. There were five fatalities that night: local lorry-driver, 28-year-old Alexander Blue; Thomas Hunter, aged 51, from Creetown, Galloway, who was employed by the West of Scotland Agricultural College; and three sailors from Lancashire attached to H.M.S. Nimrod - Richard Howard Cookson, Harry Fitton and Michael Holmes - who were standing outside the Victoria Hall, next to the Royal Hotel, when the 500 lb. bomb exploded. Michael Holmes was interred at Ford Cemetery in Liverpool and the others at sea. Both Alexander Blue and Thomas Hunter were buried in Kilkerran. Alexander's headstone records only the date of his death and his age, and that his wife was Agnes Sinclair, and that their son, Alexander, died in infancy. Thomas's obituary in the Galloway Gazette (23/11/1940) described him as an 'excellent golfer', adding that 'he prominently identified himself with the task of supervising extensive green improvements at a well-known golf course on the West of Scotland'. Could that course, cryptically alluded to in the interest of security, have been Machrihanish?
---
In this, the centenary year of the Kintyre Antiquarian Society - the 'Natural History' bit came later - there may be little opportunity for formal celebration: as I revise these words, on 4 March, another strict 'lockdown' is in force, and, even with Covid 19 vaccinations now available, my imaginary crystal-ball remains ominously clouded. That the Society will attain its centenary is, of course, a matter of pride and satisfaction, but that new blood is required to augment and invigorate the committee if the organisation is to survive the next decade or two is an inescapably disturbing reality.
The establishment of a Kintyre Antiquarian Society was proposed at a meeting in the Argyll Arms Hotel, Campbeltown, on 22 June 1921. At the conclusion of the meeting, a steering-group - comprising John Ronald Moreton Macdonald of Largie (convener), Mr Duncan Colville (interim secretary), Sheriff J. Macmaster Campbell, Colonel Charles Mactaggart and Mr Latimer MacInnes - was appointed to draw up a constitution.1
That constitution was presented and adopted at the inaugural meeting on 13 July. In summary, the Society was to promote the study of the archaeology of Kintyre and adjacent islands, to investigate the history and antiquities of the area and to preserve and publish relevant records and documents.
The office-bearers were: President, Macdonald of Largie; Vice-Presidents, Sheriff Macmaster Campbell, Colonel Mactaggart and Thomas Lindsay Galloway; Hon Secretary and Treasurer, Duncan Colville; Council, Mrs T. L. Galloway (Margaret Maria Christina MacNab), Latimer MacInnes, Dean of Guild Neil McArthur, Major W. Macalister Hall of Torrisdale, Mrs Macneal of Lossit (Joan Gladys Rauthmell), Archibald Dunlop Armour and Rev Norman Mackenzie.2 Of these, Macmaster Campbell, Mactaggart, MacInnes and Colville would power the research engine of the Society in the early decades of its existence with studies on archaeology, history, place-names and local dialect.
The scholarly talents of two of the founder-members, Macdonald of Largie and Lindsay Galloway, were almost immediately annulled: by the time of the Society's first annual general meeting on 2 November 1921, both were dead. Macdonald, a product of Eton and Oxford, was the author of a three-volume History of France, and Galloway, a distinguished mining engineer and protege of Lord Kelvin, in 1873 graduated M.A. at Glasgow University with first class honours in mathematics and natural philosophy, 'a very rare distinction'.3
The first field excursion organised by the Society, on 23 July 1921, was to the forts at Dunskeig, near Clachan, the cairn at Carnmore and the cist and standing stones above Ballochroy, and was conducted by A. O. Curle, Director of the National Museum of Antiquities in Edinburgh.4
The first lecture, 'Something About Campbeltown Cross', delivered to the Society in February 1922 by Colonel Mactaggart, appeared in instalments in the Campbeltown Courier and was subsequently published as a booklet, using the original newspaper type, which set a pattern for the future run of varied Society publications. Some of these booklets, such as the Colonel's A Ramble Through the Old Kilkerran Graveyard (1922) and Life in Campbeltown in the l8th Century (1923), remain indispensable to this day.
Since the end of the Second World War, the volume of historical and archaeological papers published by the Society has declined markedly, largely owing to the high proportion of lectures which rely on illustrative content and for which there is no fomal written record, but also to the depletion of local subjects available for research. This deficit has, however, in great measure been compensated for by the Society's biannual journal, The Kintyre Magazine.
The first issue of the magazine was published in April 1977, under the editorship of Mrs Peggy Hunter, Southend, and it has appeared continuously ever since. After number 23, Mrs Hunter was succeeded by Mr A. I. B. Stewart, who retired in spring 1998, after number 43, and was replaced by the present writer.
The Magazine publishes an eclectic mix of articles - history, archaeology, genealogy, natural history, biography, memoir, art, science, place-names, local dialect, and much else - and the roll of departed contributors includes Eric R. Cregeen, lain Hamilton, F.S. Mackenna, Andrew McKerral, Hector MacMillan, Angus MacVicar, Naomi Mitchison and Jack G. Scott.
In 1970, the scope of the Kintyre Antiquarian Society was extended by the incorporation of 'Natural History' into its title, at the suggestion of Dr J. A. 'Jack' Gibson, Kilbarchan, a naturalist who was made an honorary member of the Society through his association with Duncan Colville, with whom he collaborated on several studies of Kintyre birds and mammals,5 including The Breeding Birds of Kintyre (1958) and Atlas of Kintyre Vertebrates (1975).
The Society, in its present form, organises monthly lectures from October to March annually, which are held in the Ardshiel Hotel, Campbeltown, and are open to the public. The Kintyre Magazine is sold at meetings and in local shops and is also available by subscription and is posted worldwide. Walks to places of archaeological and historical interest are organised by Mrs Elizabeth Marrison. Meantime, however, with the exception of this Magazine, all Society activities remain in a state of suspension.
Sources
1. Campbeltown Courier, 25/6/192 I .
2. Ib., 23/7/1921.
3. Ib., 8/10/1921, obituary.
4. Ib., 30/7/1921.
5. Kintyre Magazine No. 75, pp. 31-32, obituary of Gibson by A. Martin.
---
Copyright belongs to the authors unless otherwise stated.
The Kintyre Antiquarian & Natural History Society was founded in 1921 and exists to promote the history, archaeology and natural history of the peninsula.
It organises monthly lectures in Campbeltown - from October to April, annually - and has published its journal, 'The Kintyre Magazine', twice a year since 1977, in addition to a range of books on diverse subjects relating to Kintyre.
CLICK HERE for Correspondence and Subscription Information.
The Society website is at http://www.kintyreantiquarians.uk
---