.

---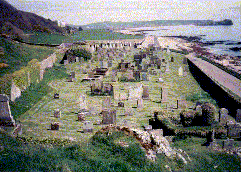 Kilcolmkeil Churchyard
Southend Parish, Kintyre Peninsula, Argyll, Scotland.
Looking Toward St. Columba Chapel in Distance



View a Map of Kiel region

See images for this cemetery at Find A Grave.

Read about the beginning of Keil

In 2002 and 2003, a genealogy researcher recorded the engravings found on many of the grave stones in Keil Cemetery located near Southend, Argyll, Scotland. And in May 2003, provided a list for inside the ruins of StColumba's Kirk. She has allowed me to make her work into a web page. The Middle information was updated and links to numbered photographs were added August 2003.
Many of the stones are badly deteriorated and nearly or impossible to read. These are her notes and diagrams.

If you find an ancestor in this list, please click here to let me know.

Also, let me know of corrections.

Harold A Ralston, Racine, WI, USA

EAST END
Diagram for Keil Cemetery East End
1. 1874 - Erected by Neil LENNOX gardener Keil in memory of Jane McMILLAN his wife a native of Boggs of Orbiston, Lanarkshire who died on 8th of March 1871 aged 62 years
2. PARK of Auchadaduie, died 1877
3. In loving memory of John Galloway PARK died at Glenbarr 19th July 1961 aged 79 years. His wife Annie Thomson who died 6th Feb 1967 aged 82 years
4. In fond remembrance of Alexander McNAB who died at Brackley Carradale on 4th November 1970 aged 85 years
5. FULLARTON died 1904
6. TURNER died 1796?
7. TURNER of Penisarach? Died 1837
8. Duncan McNEIL of Ormstry died 1808
9. Here lyes the Ranald MCDONALD of Sanda who died September 6th 1681? his age 54?
Anna Stewart his spouse dyed January 18th 1723? her age ?4 Here are also the remains of their children Archd John and Archd of Sanda died ......AD1796. In memory of Douglas J Kinneir MacDonald died 27th July ???? And his eldest son Douglas Kinneir in Queensland died at Pretoria 18th February 1901?
10. Robert HUNTER died 1875
11. Erected by Archibald & Isabella McMillan in loving memory of their children: Daniel born 3rd June 1872, died 11th April 1875, Andrew born 2nd June 1875, died 29th Dec. 1876, Tina born 19th March 1880 died 6th Dec. 1883, Agnes born 11th June 1867, died 20th March 1895. The above Isabella McMillan born 6th March 1843, died 23rd Feb. 1924. The above Archibald McMillan died 16th Jan 1926, aged 84 years. Click here to send message to a possible descendant.
12. Erected by Malcolm Cameron Shipmaster? in Campbeltown In Memory of his parents John Cameron late tenant in Kilmashenach who died 5th Sep't 1780 aged 55 years Also his spouse Margaret McMichael who died 30th Sept1771 aged 38 years. Also lies here one of Their Children.
13. James McCALLUM
14. In memory of Daniel STEWART who died 7th December 1847 aged 47 years. Flora McMICHAEL his wife died 18th December 1879 aged 78 years. And of their family Helen died 14th May 1867 aged 24 years. Flora died 18th March 1900 aged 66 years. Hugh died in infancy. Duncan died 20th October 1918 aged 82 years. Elizabeth died 8th October 1921 aged 75 years.
15. Donald MONTGOMERY of Dunglass now of BC Canada in memory of his wife Jane HARP died 1889
16. Sacred to the memory of Duncan MONTGOMERY tailor of Southend who died 29th August 1870 aged. Flora DRAIN his spouse died 5th March 1878 aged 68. Also their sons Duncan parish teacher of Southend died 11th November 1883 aged 45. William died 16th October 1861 aged 18. John who died in infancy. Erected by the family. Click here to see message from descendant
17. John McMURCHY died 1794, wright in Garnyvarich
18. Mary LIVINGSTON wife of Robert DUNBAR schoolmaster in Glenbreckay died 1836
19. Allan McLEAN died 1950
20. Sacred to the memory of Archibald Wilson of Machrimore d 11 May 1872 in the 57th year of his age. Also his son William d in infancy Erected by his relict and family And his dau Eliza, wife of Wm Reid merchant of Southend b 29 sept 1857 d 29 May 1890 Jane Rae widow of above Archibald Wilson d 21 april 1901 aged 77 Also their son John Wilson, farmer Blasthill d 9 July 1904 aged 53 years and 6 months Also their youngest son Thomas Wilson marine engineer d 22 July 1929 aged 671/2 years Their son George Rae Wilson died at Dunglass 23 Sept 1943 aged 83 years
21. John CRAIG died 1874 & wife Janet HARVIE
22. Robert MONTGOMERY died 20/11/1888
23. Angus McEACHRAN of Kilblaan
24. Colin McEACHRAN of Kilblaan died 1911
25. Erected by Robert McEACHRAN, seaman, in memory of his spouse Jenat MORRISON who died 18th March 1812 aged 34 years and of his child Magt aged 7 years
26. James DUNLOP in Balyshear died 1883 and Jean Parker his wife did 1863
27. Duncan McNEIL died 1853
28. Erected by Neil McNEIL in memory of his daughter Margaret McNEIL widow of Dugald McMATH late tenant in Glenrea who died 6th October 1840 aged 42 years
29. Erected by Donald McILREVIE in memory of his children. John died 10th Jan'y 1810 aged 23 years. Also Donald who died at sea June 1810 aged 18 years. Also Margaret who died 12 Aug't 1824 aged 17? Years. Also Charles who died in India October 1824 aged 29 years. Also Joseph who died 27 March1825 aged 25 years. Also Mary and Barbra died in infancy
30. Isobel McLEAN wife of Robert SMITH in Campbeltown died 1846
31. Neill Olynachan tenant in Eden in memory of his spouse Catherine Milloy who died aged 47 in April 1810
32. John McEACHRAN in memory of his daughter died 1860/66?
33. OMAY of Carane in memory of his wife Mary? TAIT died 1852
34. Daniel HATTEN. By Edward Bryson in memory of his father and mother in law, Daniel Hatten - Margaret McNeill
35. Archibald McCONACHIE erected by Margaret CAMPBELL?
36. CAMPBELL of Cornylach died 1871, wife Helen McMILLAN
37. Margaret McKERRALL died 1892 & William McMILLAN in Kilbride died 1892
38. Erected by James and Annie McNEIL in memory of their mother Annie SINCLAIR died 24th February 1857 aged 36 years and their father John McNEILL who died at Carskey Waterfoot on 9th July 1902 in his 84th Year dearly loved. And of his wife Christina MUIR who died 4th February 1903 aged 76 years
39. Donald McPHAIL died 1854
40. Alexander THOMPSON died 1803
41. Erected by Archibald McINNES in memory of his father and mother Margaret McNISH died 16th February 1866 aged 42 years. Donald McINNES died 17th March 1904 aged 82 years. Catherine their daughter died in infancy. Also his wife Catherine REID died 26/12/1880 aged 56 years. The above Archibald McInnes died 7th December 1943 in his 85th year. Also Catherine died 24th November 1952 aged 91 years
42. (4 graves within railings) To the memory of William COLVILLE writer late of Campbeltown who died 29th November 1887 aged 96? Years
Erected by John McMillan MacNEILL of Carskey in memory of his father HUGH McMILLAN tenant of Gartvain who died 18th Feb 1830 aged 87 years and of his mother Barbara MACVICAR who died 11th August 1829 aged 84 years and 3 of his children Barbara, Ronald and John who died young
….spouse to……McMILLAN tenant in Rorga???? Who died 26th April 1752 aged 40 years
In memory of Archibald McNEILL schoolmaster of Southend died 5 June 1868 aged 71 years. Also Barbara McMILLAN his wife died 15 June 1877 aged 88 years
Sacred to the Memory of DUNCAN McGEACHY late farmer of Ormsary who departed this life on 18th March 1849 Aged 58 Years Justly regreted by the Family and Friends This stone is erected by his Affectionate Wife Hellen Ralston

MIDDLE
Diagram for Keil Cemetery Middle
43. Erected by Neil LOYNACHAN tenant in Feachane….?? Mary McISAAC his wife in memory Of their son Duncan who died December 2nd? ….. aged 25 years
(43. Neill Olynachan tenant in Eden in memory of his spouse Catherine Milloy who died aged 47 in April 1810 - [this information sent to me by Audry Shane/Clarinda Armstrong [mackay at direct.ca Nov 18, 2002])
44. In memory of John AIRD farmer Coledrain died 24/5/1919 in his 61st year. His wife Margaret McMILLAN died 1st February 1953 aged 81 years
45. Here lies Mary McCOIG spouse to Hugh McKERRAL tenant Brunerican died March 1796 aged 69 years and the place designed for him and his family. The above Hugh died in isu?? Aged 96 years. Also John their son late farmer at Brunerican died August 1818 aged 56 years
46. To the memory of Malcolm MacKERRALL tenant in Balinabraid. Erected by his spouse and the …….and for their family. Hugh McKERRALL (secondus) born in Balnibaid 1772 died in Brunerican 1864. His spouse Margaret MONTGOMERY of Blasthill. Archibald McKERRAL Brunerican their son b1817 d1897 his spouse Isabella MacMILLAN of Knockmorr?? Their sons Hugh b1845 d1873, Archibald 1859 d1873
47. Neil McEACHRAN Kill..ach died 1793?
48. Sacred to the memory of Archibald MATHIESON who died in Glasgow 24th July 1829 aged 49 years. Also his wife Marion McCOIG who died in Liverpool 13th January 1856 aged 74 years. This stone is erected by their family as a tribute of affection
49. In memory of Flora daughter of John McMATH and Helen McSHENOIG. She died at Leargybaan 12th March 1818 aged 31 years. Erected by …….. Neil her brother
50. Erected by Archibald and Neil Mathieson in memory of their father Dugald Mathieson late tenant in Dalsmerran who died 27th Sept 1802 aged 51 years and. Their Mother Margaret McGill who died 27th March 1835 aged 79 years. Also their sister Jane Mathieson died ?? October 1886 aged 90 years.
51. Erected by Daniel McCALLUM and Isabella GEDDES his wife in memory of John McCALLUM who died at Lephenstrath Bridge July 1845 and his mother Isabella CONLEY died 25/1/1860 aged 72 years
52. Erected by John McCallum in memory of his mother Jane Johnston McMillan who died at Lailt 24th Feb. 1894 aged 78 years Also his father John McCallum who died at Lailt 4th March 1907 aged 84 years Also his aunt Agnes McMillan who died at Munroy 18th June 1890 aged 84 years.(Note: Muneroy aka Newton aka Munroy and now Southend Village. HAR.)
53. John McNEILL died 1852
54. Catherine McCOAG did 1811
55. Erected by Neil and John McCoag in memory of their Father John McCoag late tenant in Cuildreghan who died in March 1806 aged 85 years and of their mother Marion McGEACHY who died in august 1810 aged 88 years.
56. Angus GRAHAM died 1882 Click here to send message to a possible descendant.
57. Mary DARBOGH died 1902 wife of John Ferguson
58. Renewed?? By Hugh McVICAR tenant in Dunglass in memory of his father John McVICAR who died 19th May 1789 aged 75 years and his spouse Barbara SHAW died 5th March 1784 aged 63 years ….an..mvrd….1732 ..ad 50 bc d'd 1735
59. McKENZIE, McNEIL, McCAGUE
60. (hard to read) Helen in memory of her husband James McLARTY?
61. Donald and James children of James Montgomery SMITH (or could be MONTGOMERY, smith) died 1776
62. Archibald MONTGOMERY died 1819 aged 39 Click here to see message from descendant
63. John GALBRAITH grocer and carrier interred 12th January 1835 and wife Isabella ROSS died 1837
64. John MacGEACHY farmer Lailt spouse Mary MacMILLAN died 1814 See note
65. James and Helen McGEACHY tenant Blasthill in memory of their son died 1827 aged 32? Years
66. To the memory of Duncan McGEACHY late farmer Ormsary who departed this life on 18th March 1849 Justly regretted by the family and friends. This stone is erected by his affectionate wife Helen RALSTON Click here to send message to a descendant.
67. In loving memory of Rona MacVICAR M.A died 13th September 1949 and Archibald M MacVICAR M.A of Southend Manse died of wounds 1943
68. In loving remembrance of the Rev Dougald CAMPBELL who after thirty five years of earnest and faithful service as Minister of Southend died on the 21st March 1880 aged 68 years
69. 1816 - Rev'd John McKEICH Minister in Southend died 16th June 1815 in his 63rd year
70. Erected by Malcolm McSHANNON merchant Lephenstrath Bridge Glenbreadie in memory of his wife Ann HENDERSON died 27th February 1864 aged 43 years and children
71. Malcolm McSHANNON died Lephenstrath Bridge August 1874 aged 64 years and daughter Barbara died at Tiree 1879 aged 28 years
72. Erected by Duncan McNIVEN in memory of his brother Angus died 1878 aged 26 and sisters, aunt and Uncle (FLETCHER) and mother Euphemia FLETCHER died 1860 or 1880??
73. Jane daughter of Duncan and Jane McSHANNON died 1811 or 1911?? aged 24
74. In loving memory of John McSHANNON died 12th November 1975 aged 84 years and wife Janet McMILLAN died 1924
75. Walter BEATTIE shepherd Glenmanuilt died 15th July 1863 aged 36 years and his son Walter
76. Couldn't read as covered in ivy
77. Charles ARMOUR died 10th November 1875 aged 50 years. Mother Elizabeth died 1893?? Aged ??
78. Sacred to the memory of Janet SMITH wife of Dugald McPHERESON died 8th August 1869 aged 48 years and their children
79. Erected by Daniel HAMILTON in memory of his father and mother. James HAMILTON died 19th July 1864 aged 53. Janet CASSIDY died 3rd September 1874 aged 65 years. Also his daughter Elizabeth died 13th June 1936 aged 61. His son James died 28th Oct 1954 aged 83
80. Elizabeth BRANNEN Wife of Daniel HAMILTON of Lailt died 11th January 1890 aged 38 years. Also daughter Mary and son John. Daniel HAMILTON died Kilmory Killean 4th February 1938 in his 94th year. Also son Archibald.
81. Erected by John McMILLAN and his sons Daniel, Peter and John in memory of his spouse Margaret L….ELY died October 1841??? Aged 55
82. Margaret HOUSTON 1859-1935?
? 82. Their daughter Margaret who died at Dalmore 22/7/1937 (?) aged 49 years
83. Archibald HOUSTON died 12th May 1913 aged 41. Wife Janet HAMILTON
84. John GILLON died 10th November 1974 aged 63 years husband of Elizabeth CHAMBERS
85. John GILLON died 13th February 1902 aged 82 Margaret COWPER died 6th November 1922 aged 95 & children
85a. Erected by Mary Cowper in memory of her husband Edward McKerral who died 9th May 1885 aged 48 years
also their children
Margaret died 23rd Feb 1877 aged 5 years Margaret died 6th July 1880 in infancy
the above Mary Cowper died 21st Feb 1928 aged 89 years
their daughter Ann died 6th July 1936 aged 75 years
their daughter Jemima died 8th Dec 1953 aged 74 years
her husband Ernest Rowland Weaver died 23rd Nov 1964 aged 79 years
Contact a descendant at- mail1ATthemcconnells.org
86. Erected by Margaret CAMPBELL in loving memory of her husband Thomas G SMILLIE farmer Eden? Died 28th June 1900 aged 54 years. Margaret CAMPBELL died 28th September 1925 aged 75 years
87. Erected by James SMILLIE Eden in memory of his children and mother Barbara COLVILLE died 4th April 1856?? Aged 81. Christina McKINNON wife of James SMILLIE died 10th January 1887 in her 73rd year. James SMILLIE farmer Eden died 3rd February 1895 in his 92nd year
88. John McKAY late farmer in Achadaduie who departed this life 11th March 1829 aged LXX1X years. His memory will long be revered for his unbending integrity and moral worth. This stone was erected by his widow Isabella McKERRAL
89. 1856 - In memory of Charles THOMSON engineer who died 17th May 1840 aged 48? Years and Margaret MORRISON his wife died 18th April 1853 aged 50 years. Son Peter died 30th July 1856 aged 25 years
90. 1863 - Children of William GALBRAITH and Mary GRIEVE South Carrine late of Dalrymple Ayrshire
91. Neil LONELY??? Tenant in C….
92. Helen DONALD in memory of her husband Mathew LIGHTBODY farmer Ballybrennan died 27th May 1853 aged 51 years. Helen DONALD died 1895?
93. 1853. In memory of Elizabeth Speirs Buchanan wife of the Rev'd. James Lambie, Southend, who died 7th June 1853 in the 39th year of her age and of her father Walter Buchanan, merchant Paisley who died here 27th Feb 1855 aged 85 years also his daughter Jess Buchanan who died here April 21st 1881 aged 78 years. Jame
If you are a Walter Buchanan descendant and would like to contact another, please send me an email requesting their address, Harold Ralston, May 2010.
94. Erected by Duncan FERGUSON shepherd Mull of Kintyre in memory of his wife Mary McNAUGHTON died 25th September 1856 aged 74 years ? and of their family . Also his father Peter FERGUSON died 1829? Aged 75 years. Duncan FERGUSON died 3rd November 1859 aged 81 years
95. The Rev John Gillikson TRAIN son of Thomas TRAIN born 5th February 1847 died 7th November 1920. Wife Julia Londale WALT of Woodbank Windygates Fife born 19th May 1857 died 11th February 1954
96. John Campbell son of John McClelland HENDERSON and Mary Campbell TRAIN 26th June to 9th July 1915. Children and Grandchildren of the Rev John Gillikson TRAIN
97. Erected by Janet CAMPBELL in memory of her husband Thomas TRAIN, Mull of Kintyre Lighthouse born 13th June 1787 died 30th April 1841 and of their children. Janet CAMPBELL died Glasgow 28th August 1887 aged 97. Thomas TRAIN and Janet McKILLOP parents in law
98. John McMillan McNEILL of Carskey
99. Malcom McNEILL of Carskey
100. Erected by Agnes and Barbara McMURCHY to the memory of their father Duald McMURCHY late farmer Achnaslishaig who died 2nd April 1836? Aged 48 years. Also their mother Isabella McNEILL died 8th December 1863 aged 53 years. Daughter Barbara died Dunoon 1st March 1919 aged 83 years
101. 1854 - Erected by JOHN REID farmer, Dunglass in memory of his daughter ANN REID wife of Andrew RONALD Brunerican who died 27/7/1854 aged 42 years. Andrew RONALD farmer Pennysearach died 27/8/1897 in his 90th year. Here also lies Andrew RONALD farmer who died at Dalmore 29/11/1927 aged 83 years and his wife Jeanie WILSON who died at Dalmore 10/1/1930 aged 82. And their dau Margaret d at Dalmore 22 July 1927 aged 49.
102. Neil McCALLUM and Mary McNAUGHTON in memory of their family John died 18th Feb. 1876 aged 1 years Neil died 28th April 1873 aged 14 years. Donald died 26th August 1879 aged 16 years.
Erected by Isabella McLean in memory of her husband Robert McIlrevie smith in Campbeltown who died 4/1/1846? Aged 42 years. Isabella McLEAN his wife died ?? May? 186?? Aged 68? Years.

WEST END
Numbered Diagram.
Numbered Photograph
1. William JOHNTSTON, Brunerican died 1746? Also Jean SMYLIE his spouse
2. William REID, Pollywilling (illegible)
3. Erected by Christina STEWART in memory of her husband John REID Chiskan, who died 9/9/1890 aged 64 years and their son Gavin who died 29/11/1878 aged 11 years. And the above Christina Stewart died 31/3/1909 in her 80th Year.
4. (2 sides) Erected by Andrew REID farmer in Chiskan in memory of his spouse Catherine Reid who died 2/6/1820 aged 70 years. Agnes? Daughter ….died 6/2/1812
Other side - In memory of John REID farmer Chiskan who died 8th April 1859 aged 84 years and his wife Isabella RALSTON who died 1st Oct 1850 aged 62 years. Their son Andrew who died 20th Feb 1832 aged 22 years.
5. William RUSSELL senior of Cattadale died 18/12/1848 aged 36 years
6. Alexander PICKEN son to Hugh PICKEN late tenant in Gartloskine who died 17th January 1779 aged 23 years
7. Erected by Janet RALSTON in memory of her husband William REID farmer, Langholm who died 23/6/1888 aged 78 years. And of their family Jeanie died 7/7/1877 aged 34 years. Gavin died 21/7/1881 aged 24 years. The above Janet Ralston died 23/8/1903 in her 83rd year. Also their son John who died 25/4/1916 aged 68 years.
8. 1819 - Erected by John REID farmer at Kildavie and Margaret Reid his spouse in memory
of William and Janet their children who died in infancy
9. Unable to read - under bushes
10. Alexander McLAREN Lephenstrath died in Liverpool 2/5/1870 aged 64 years
11. Edward WILSON
12. In memory of Peter REID farmer, Knockbay, who died 15/6/1890 aged 76 years. Also his wife Margaret McMURCHY died 15/4/1892 aged 80 years. Their son Daniel died at Knockbay 27/6/1894 aged 57 years. Hugh, Peter, Margaret, William and Peter died in infancy. Also their daughter Margaret who died at Crosshill on 31/1/1923 aged 75 years
13. Erected by John and Margaret REID in memory of their son John who died 18/11/1878 aged 36 years and James died 27/2/1891 aged 50 years. And their daughter Bella died 26/9/1891 aged 46 years. Andrew died 20/4/1892 aged 57 years. Margaret Reid died 12/11/1893 aged 80 years and John Reid farmer Kildavie died 23/10/1896 aged 94 years. Also their daughter Margaret who died 13/7/1913 aged 75 years and their son Matthew died 25/12/1919 aged 65 years. Their son Gavin died …? And their son Robert died …..?
14. 2 sides - (1)In the front of this stone lies the remains of Walter McFARLANE late farmer at Kildavie who died Dec 1700 aged 71. Also Jean REID his spouse who died 1726 aged 79. Also John McFarlane late farmer at Polliwilline who died Sept 1742 aged 66(?). Also Janet CAMPBELL his spouse lies here. (2) Erected by William McFARLANE farmer at Polliwilinn in memory of Janet WHITE his spouse who died 15/5/1808 aged 42 years. Also William their son died 10/7/1815 aged 26 years. Also here lie the remains of Isabell REID spouse of Walter McFarlane farmer at Pollywilinn. She died 8/10/1819 aged 29 years (click on name to email a descendant).
15. In memory of Alexander McFARLANE late farmer Pollywilline died 15th August 1880 aged 88 years. And of Agnes REID his wife died 9th November 1882 aged 72 years. Also daughter Catherine died 4th January 1881 aged 38 years. Janet wife of Hugh McLEAN died 27th March 1912 aged 78 years. Isabella who died 17th January 1913 in her 66th year. Also their daughter Agnes died 4th June 1919 aged 79 years and their daughter Margaret died 16th March 1921 aged 84 years. Erected by their family
16. McFARLANE 1781 (Illegible)
17. Alexander, William and Robert Allan in memory of their father William ALLAN in Kildavie died in 17?? Aged ?? years
18. Erected by Edward BROWN of Machrimore in memory of his son Charles died 16/3/1809? Aged 7 years. Edward died 1838 aged 93 years
19. Illegible
20. William WALLACE, West Machribeg and Mary WHITE his spouse in memory of their son died 24th ?? 1817 aged 28 years. Also John & Martha??
21. Erected by Agnes Montgomery in memory of her husband, Alexander THOMSON, late lightkeeper RHU-NA-GAL who died at Pennygown House 18th. Jan. 1901 aged 61 years. Also their daughter Isabella, died at Glasgow 11th. Dec 1904 aged 30 years. Margaret, wife of Archibald Girvan, died at Girvan 13th. July 1908, aged 27 years. Buried at Girvan. The above Agnes Montgomery died at Glasgow 27th. April 1921 aged 79 years. "Their remaineth therefore a rest To the people of God." (Note:Revised 14 Apr 2003)
22. Andrew RALSTON, Dalbuie died 4/11/1812 aged 21 years. Other side - By the front of this stone lie the remains of Alexander Ralston, late farmer at Eden who died ….October 1696. Also Janet HUIE his spouse lies here
23. Alexander RALSTON farmer of Trodigle and Elizabeth FERGUSON his wife in memory of their family Mary died in infancy, Martha died 4 Mar 1848 aged 20, the above Alexander Ralston died 9 Mar 1858 aged 56, Peter died 19 Feb' 1873 aged 25 years The above Elizabeth died 27 Sept 1890 aged 85 years. "He that believeth shall be saved!" Email a descendant
24. William RALSTON of Ralston
25. Illegible
26. Erected by Walter REID farmer in Pollywilling and Mary Clark his spouse in memory of their children Isabella who died 3/6/1826 aged 1 year and John who died 19/2/1827 in infancy.
27. Patrick RALSTON of Brecklate died 1795
28. In memory of Thomas RALSTON late tenant in Brecklate who died 27 July 1833 aged LXXIV years. Also of his wife Margaret PICKEN who died 9 Oct 1849 aged 84 years. [Note: a 1849 letter from John Ralston at Brecklate to his brother Peter in Illinois provides the death date of 27 September 1849.]
29. John GIFFEN, weaver, Kildavie, and Janet DUNLOP his wife in memory of John and Janet their children who died in infancy. Also of Elizabeth THOMSON his former spouse died in the 34th year of her age. email descendant
30. Here lies the remains of William PICKAN late farmer at Nockstapplemore who departed this life the 13th February 1820 aged 82 years. Erected to his memory by Jean CALDWELL his widow and William their son. Also John Pickan father of the deceased William Pickan lies here.
31. James WILSON in memory of his father William died 3/4/1792 aged 76 years?
32. Robert HENDRY & Margaret HALL 1738 (illegible)
33. Erected by Jane CUMMING in loving memory of her husband James THOMSON who died at Feorline Southend 21st. Feb. 1914 aged 79 years. The above Jane CUMMING died at Feorline 31st. March 1917, their son Robert died 29 Dec. 1933 aged 63 years. Their daughter Jeanie died 10th. March 1949 beloved wife of Alexander S. RUSSELL also her father-in-law Alexander THOMSON who died at Heath Cottage Southend 12th. Oct. 1889 aged 84 years and his wife Catherine MCLARTY who died at Ballybrennan Southend 29th. Oct. 1894 aged 79 years. (Note: Revised 14 Apr 2003)
34. David RALSTON of Christach died July 1841 aged 68 years. Erected by his family in Illinois
35. Robert RALSTON, Knockstapple (illegible)
36. Andrew Brown 1702 (illegible)
37. Anna Maxwell, spouse of Thomas MAXWELL of Milnehouse (unable to read)
38. William ARMOUR, Kildavie (illegible)
39. Archibald and John BROWN, Cattadale (illegible)
40. James MAXWELL, Cattadale (illegible)
41. John RALSTON of Brecklate, Also Catherine BROWN his wife died 1864 aged 47 years (added Catherine, 25Dec2002)
42. …..MAXWELL (illegible)
43. JOHNSTON, Brunerican (illegible)
44. Archibald WATSON, Kildavie (illegible)
45. ASLEEP IN JESUS ERECTED BY THOMAS McKINNON and JANET McNEIL HIS WIFE IN MEMORY OF THEIR SON NEIL McKINNON WHO DIED 31 AUG 1867. AGED 2 YEARS AND 3 MONTHS AND THEIR SON JOHN WHO DIED 7th FEB 1892 AGED 24 YEARS THE ABOVE JANET McNEILL DIED 17th SEPT 1902 AGED 66YEARS AND THEIR SON Pte EDWARD McKINNON 16th MAY 1918 AGED KILLED IN FRANCE 37 YEARS THE ABOVE THOMAS McKINNON DIED 8th NOV 1921 AGED 85 YEARS
46. John MUIR died 6/4/1904 aged 75 years. Sister Adelaide died 3/5/1917 aged 80.
47. Illegible
48. RALSTON, Trodigal (illegible)
49. 1819, John MONTGOMERY, shoemaker in Kildavie and Agnes GIFFEN his spouse in memory of Margaret their daughter who died in the 14th year of her age
50. In Memory of Andrew GIFFEN, who died 18th June 1785, aged 71 years. Also Agnes Harvey, his spouse, who died 28 Feb., 1797, aged 75 years. email a descendant
51. James CALDWELL, Cristlach, in memory of his parents and children - the former Margaret BAIN died 1795 aged 61 and John Caldwell died 1797 aged 76. The latter Marey and Richard died in infancy. James Caldwell died Jan 1838 aged ??
52. In memory of the Reverend Alexander LAING, 1st minister of the United Church, Southend who died in March 1851 in the 80th Year of his life and the 52nd of his ministry. Also of his wife Anne MITCHELL who died July 1821 aged 40 and their children: John died June 1818 aged 14, Isabella died March 1820 aged 9, Anne died June 1833 aged 21, Martha died December 1847 aged 29, Margaret died May 1871 aged 55. And of his widow Christina REID who died 17th January 1875 aged 89. Mary Agnes died 10th December 1886.
53. Children of Rev Alexander LAING - son John died 20/2/1807
54. Rev'd. Alexander McLARIN YOUNG, Minister UF church, Southend for 40 years died 20/8/1913 aged 70 years and Wife Margaret HARDIE died 3/1/1927 aged 83. Isobel McLarin Young died in Poona India, 3/12/1936. Robert Co…Young died in Kingston, Jamaica 2/1/1947
55. Erected by Gavin RALSTON, farmer, Gallowhill, in memory of his wife, Jessie Dunlop who died 18 May 1866, aged 34 years. Also the their children, Martha Dunlop who died 9th Aug. 1858 aged 5 months. Jessie who died 15th Jan 1864 aged 2 months. James died 27th March 1888 aged 28 years. The above Gavin ralston born at Gartloskan 6th Sept 1823 died at Kilmichael 5th Feb 1911.
56. Hugh HILL, Pirlieknowe, died 24/8/1836 aged 42 years. Erected by Elizabeth HALL in memory of her husband
57. Erected by James HALL, farmer in Pirleyknowe, in memory of his spouse Elizabeth BLACK who died April 10th 1799 aged 62 years. And his forefathers viz Robert Hall and Jenat RALSTON, James Hall and Jean ANDERSON, Robert Hall and Margaret DUNLOP tenants in Eden. This is their place. (Click here to Email a descendant.)
58. Mathew HARVEY, lighthouse keeper and Helen BROWN his wife in memory of their son Mathew died 19/7/1866 aged 17 and Martha died in infancy
59. John GREENLEES, Machribeg, Mary WALLACE d.1772 39 yrs
60. Marker stone
61. George MACRAE, Cattadale
62. Erected by Duncan McCallum in memory of his father in law John McCallum blacksmith Machremore who died 17th Jan 1883 aged 77 years Mary Campbell his mother in law died 21 Feb. 1866 aged 60 years and his daughter Flora died 26th Nov 1873 aged 8 years. His wife Flora McCallum died 11th June 1902 aged 65 years Duncan McCallum died 10th Dec 1903 aged 67 years.
63. Erected by Elizabeth REID in memory of her husband John McDONALD of Pennygown who died 2nd March 1895 aged 87. Also of their daughters Isabella died 3rd June 1869 aged 26. Elizabeth wife of William LIGHTBODY died 9th November 1882 aged 30. The above Elizabeth Reid died 3rd July 1915 in her 95th year
64. Erected 1895 - In memory of John McDONALD Pennyland Mill born 1771 died 1845 Also his wife Mary REID born 1785 died 1865 and their sons David born 1812 died 1848 William born 1827 died 1854 (click on name to send email to descendant)
65. Erected by James McDONALD farmer, Dunglass in memory of Margaret RALSTON his spouse who died 5/4/1826 aged 63/83? Years. And of Helen McDonald his daughter who died 19/7/1845? Aged 31 years?
66. John McDonald (illegible)
67. Erected by James BROWN of Machrimore in memory of Isabella CLARK his spouse died 21/1/1823 aged 33 years. Son Mathew died 1842 aged 26 years? And wife Mary ANDREW died 18/5/1842? James Brown died 9/1/1859 aged 68 years?
68. Mathew BROWN, merchant of Southend and Ann DICKIE his wife in memory of their children who died in infancy, James died 21/9/1864, Thomas Patterson died 9/1/1877 aged 1 year 10 months
69. Andrew STEWART, died 19/4/1909 and Marjorie STEVENSON Died Brooklyn New York 1942 aged 82 years. Son Hugh died 3/1/1966 aged 90 husband of Barbara McTAGGART died 5/9/1958 aged 72 years.
70. Erected by William CLARK, Upper Gartvain, in memory of his wife Margaret CUNNINGHAM died 7/4/1850 aged 37 years
71. Illegible
72. Daniel FERGUSON married to a MONTGOMERY
73. Erected by Mary MONTGOMERY in memory of Neil McMICHAEL
74. John DAVIES (Cymro) of the Schooner Ann and the Frondes Morva drowned 7/2/1883 aged 58 years
75. Capt Evan JONES of the Schooner Ann drowned 7/2/1883 aged 47 years
76. In memory of Janet BOYDE daughter of Isabella McMILLAN died 12/7/1895 aged 3 years 4 months?
77. Mary CAMPBELL 1869-1905. Flora daughter of Duncan and Flora McCALLUM 1874-1908

INSIDE ST. COLUMBA'S KIRK
Numbered Diagram
Numbered Photograph- Looking West
Numbered Photograph- Looking East
Note - the first 3 are plaques on the wall at the west end of the kirk. They are behind railings and are covered with ivy etc. so difficult to read. There is a gate within the railings but I was unable to open it and it looked like it had been firmly shut for many years. Some of the other stones are now lying flat but they could be stones that were originally upright and have fallen over.
1. Erected to the memory of Colin McLARTY Esq of Keil who died ? December 1844 aged 78 years. Erected by his son John
Freeman McLaverty Esq. (Plaque on wall)
2. Jane & Colin McLARTY (Plaque on wall)
3. Anna BREOM??……Esq MD (Plaque on wall)
4. Erected by Alexander and Dugald Campbell in memory of their parents Dugald CAMPBELL who died at Glecknahavil 16th June 1860 aged 76 years and Flora McNAUGHTON his wife who died 8th June 1863 aged 75 years (Upright stone)
5. Illegible (Very small stone)
6. Erected by Malcolm TAYLOR tenant at Dalmore in memory of his two sons John who died the 16th November 1816 aged 22 years also Neil who died 26 September 1825 aged 32 years. And John his brother who died 11 December 1825 aged 73 years. And two of his children who died in infancy. (Upright stone)
7. Mary CAMPBELL died 26 August 1779 (hard to read - upright stone)
8. Illegible
9. Illegible
10. Here lies the corpse of Catharine McNAUGHT spouse to Arch'd McMATH ten't in Auchenan…sheag??. She died 28 May 1756 agd 41 yrs. Place designd for ye famile. (Flat stone)
11. Unable to read - stone fallen front down
12. Erected by Margaret and Mary MATHIESON in memory of their father Duncan Mathieson who died at Lephenstrath in Oct 1829 aged 64 years and their mother Annabella Mathieson who died in May 1844 aged 75 years. The said Margt Mathieson died 20th Feb 1861 aged 71 years and the said Mary Mathieson died 24 December 1870 aged 64 years. (Upright stone)
13. Illegible
14. Mostly illegible - ….November 1774 aged 10 months placed 1st and joind?…..ye family (Flat stone)
15. Very old stone (Flat)
16. Illegible
17. Very old stone (Flat)
18. Illegible (Upright stone)
19. In memory of THOMAS McNAUGHTON, farmer, Carrine, who died 5th Aug 1866, aged 75 years. and AGNES DRAIN, his wife, who died 8th Dec 1888, aged 86 years. Also their sons, THOMAS, died 4th March 1855, aged 19 years. COLIN, died 28th Dec 1855, aged 16 years. [added 30 July 2018]
20. Very old stone (Flat)
21. Very old stone (Flat)
22. Very old stone (Flat)
23. Very old stone (Flat)
24. Neil McNEIL of Carskey (Plaque on wall - unable to read, family crest carving on stone)
25. Illegible (Upright stone)
26. Illegible (Upright stone)
27. Illegible
---
Keil Cemetery West End Keil Cemetery East EndKeil Cemetery Middle

Inside ruins of St .Columba's Kirk at cemetery.

Message from descendant: My wife is descended from Duncan Montgomery and Flora Drain (East End 16). Duncan's father was Archibald (Middle 62). Regards, Harald Wolf, Saanich, Canada

Message from MacGEACHY descendant: I am descended from No. 64. in the Middle Section -- John MacGEACHY farmer Lailt spouse Mary MacMILLAN died 1814.
Their daughter, Barbara McGeachy, married Archibald McVicar (s/o Neil McVicar & Catherine Conley) 23 Nov 1831 in Southend Parish. They came to Canada in 1836 and settled in Harwich Township, Kent County, Ontario. They were my gg grandparents. I would love to learn more about any of my Southend ancestors. Archibald & Barbara buried several infants before coming to Canada with their first surviving child. Eleanor J. Burch, Carberry, Manitoba, Canada
---

Kintyre in the Seventeenth Century

From

The Old Bookshelf, Campbeltown, Scotland:

Andrew McKerral's 1948 book for those interested in the history and genealogy of Kintyre, Scotland. 160 pages of indexed reference material, and appendixes plus discussion of both Highland and Lowland surnames.

Ralston, Greenlee, Langwell, Huie, Ferguson, Hervie, Andrew, Brown, Breckenridge and more.


Scotch-Irish
Family Names

From Amazon.com:
87