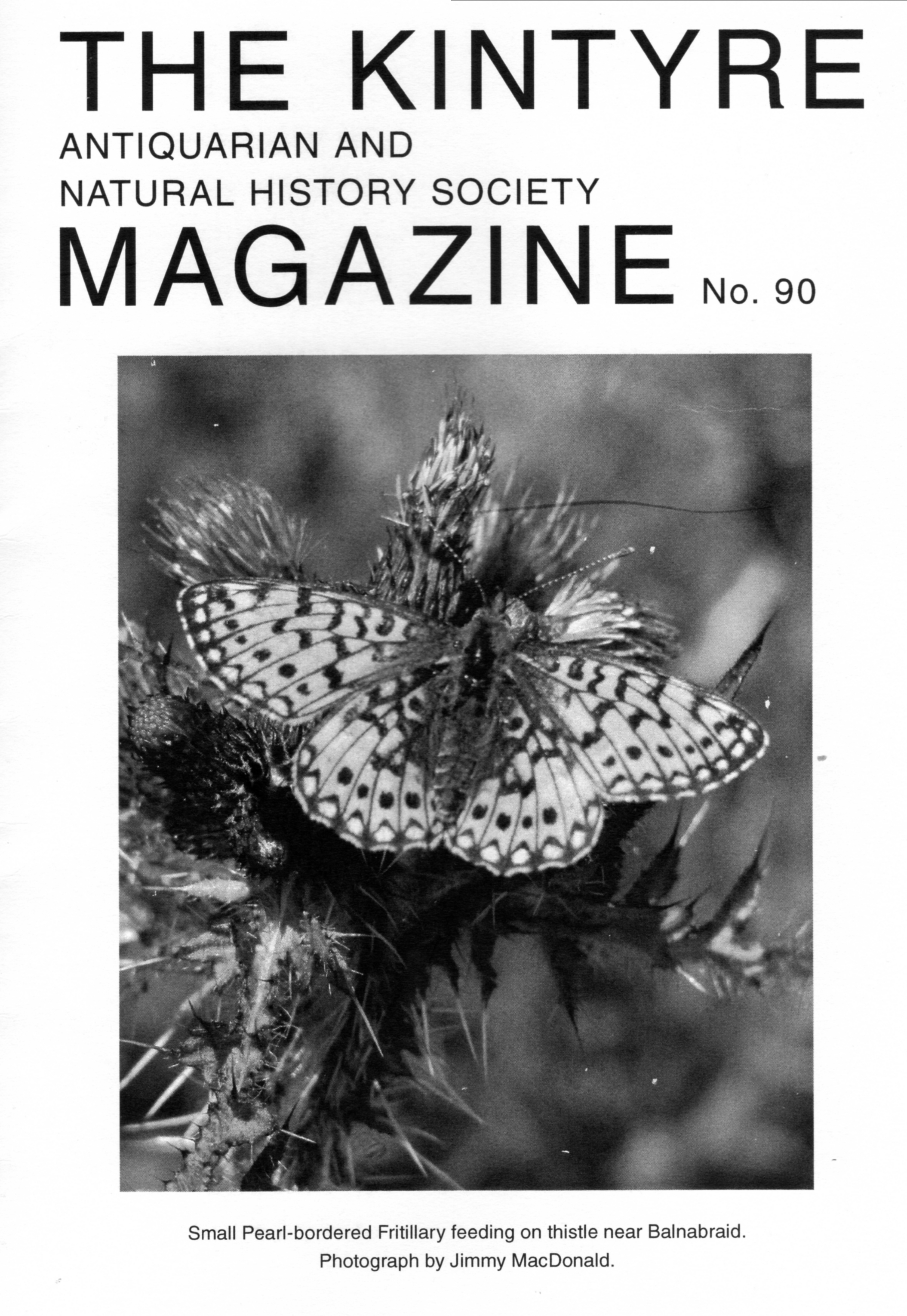 CONTENTS
Matthew McEachen: A Murder in Uruguay; Argyllshire Herald
John McEachen, Campbeltown, and the Excise Cutter Chichester; Barbara Wyley
From Auchnafad to Geelong (letter, 1856); Duncan MacMillan
Tarbert Fair (1897); Evening News
By Hill and Shore; Angus Martin
First Butterfly Sightings, 2021; Angus Martin
The Clarion Scouts at Carradale (1900); Campbeltown Courier
Jen Fisher: A Lasting Legacy; Christine Ritchie
Books Received; Angus Martin
---
The following letter was written at Brecklate farm, Southend, by John Ralston (1803-51) to his brother Peter (1791-1879) in Illinois. They were born at Brecklate to Thomas Ralston (1759-1833) and Margaret Picken (1765-1849), whose decline and death John describes in the letter. The gravestone in Kilcolmkill records her date of death as 9 October, but the date which appears in the letter, 27 September, may be accepted as correct.
Peter, the recipient of the letter, married Janet Brown, Machrimore, in 1820. They emigrated, with six of their children, from Greenock, in 1840, arriving in New York on 18 August on the barque Tay, after a voyage of fifty days. Their oldest daughter, Elizabeth, remained in Kintyre with her husband, William Fleming, whom she married on 11 June, shortly before her family 's departure. The Ralstons stayed with Janet's brother, Alexander Brown, in Cincinnati, Ohio, until 1843, when they moved to Harlem Township, Winnebago County, Illinois, which was heavily populated by Kintyre families.
John, writer of the letter, married Catherine Brown, Southend, on Christmas Day 1834. She survived him and died in 1864. Two of their children emigrated to Illinois and four to Australia.
John's sister Helen, who was 'sent for' during the mother's illness, married Duncan McGeachy in 1817 and was widowed on 18/3/1849, six months before her mother's death. After Duncan's death, she kept the lease of Ormsary, but in 1862 her son, Peter McGeachy, who was doubtless working the farm, wrote to the Duke of Argyll's chamberlain asking that she be relieved of the tenancy, as he was 'desirous of emigrating to the United States'.1 Helen, who died in 1867, was praised for her hospitality in the song 'Glenbreckrie', composed by Robert Boyd before he emigrated to America.2
It is clear from the latter part of the letter that many farmers were failing in the face of adverse weather, low crop yields and poor markets, and that emigration was regarded as their only escape from ruination.
The letter reproduced below is a copy made by P. W. Ralston, the whereabouts of the original being now unknown. A copy was given to Robert W. Ralston, Denver, by Jan Bryant, Albuquerque, New Mexico, daughter of Grace Ralston (1914-2017), who co-wrote the Ralston family history, Saga of our Kintyre Kin (1984). Robert passed a copy to his kinsman Harold A. Ralston, who, in turn, sent me a copy for transcription and publication.
Spelling, grammar and punctuation have not been altered, and some parts of the letter are quite difficult to follow. Owing to the density of references to people and places and to the occasional use of now-obscure terms, I have used numbered notes to avoid cluttering the text with explanations, and these will be found at the end; but some references remain obscure. I am indebted to Harold and Robert Ralston for background information on their family, incorporated in this Introduction and in the end-notes.
Editor
---
Braklate Novr 6th 1849
Dear Brothers we are all well at present thanks be to God for his mercy faileth never. I am sorry to inform you of our mothers death. She died the 27th Septr between 2 & 3 Oclock in the afternoon. She failed very much half year before she died, but was always able to make her own meat and bed and had all her faculties quite correct to the last. Eight days before she died she came to our house for a kindling for her fire in the morning and she said to my wife that she was become a poor failed woman, that she had to rise last night and could not find the bed, which we took as a warning to pay attention to her, for she never complained before. I wished her to come to our house and urged very much and told her that it was not right for her to be alone, that she was now become weak and needed assistance. She said that she did not like to leave her own bed and that Almighty God was with her. I sent for sister Helen the next day and we wanted her to come to my house all that we could, but she was not willing. I had a late care of her at night and when I awoke in the night I arose and went to know how she was. She was able to rise herself and took her meat every day but the day she died. The day she died me and my wife went to see her in the morning and we found her on the floor. She wished to keep the bed clean, we changed her clothes and washed her feet and I lifted her into the bed and we said that she was far weaker the day. She said to us that she was drawing near to eternity and the Lord to have mercy on her soul, and reward us with many blessings for what we had done to her. A little afterward the wife3 went over with her breakfast and she took a little, and she went to see her several times before dinnertime for it was throng4 harvest time the day that we were done of shearing & I was in the fields. At dinner time the wife gave her a little broth and she took a little, and about an hour afterwards she went to see her, and she could not speak to her. She came running for me and I went and she could not speak to me. I wet her mouth with weak toddy, and in ten minutes she closed her eyes in death without a struggle. I hope she has made a happy change, for she lived a life of faith in Gods son, & spent her last years in reading Gods word and in prayer, for whatever time I would go in to speak with her a little I would always find her at the Book. May God of his Souverign Grace and Mercy enable one and all of us to live the life of the righteous and seek daily his guidance and direction, and when we come to die our latter end shall be blessed. She was burried in my fathers grave upon Monday 1st Oct, carried in a Hearse with two horses and which is now Common, and we had a good attendance the day being fine.
She had about £20 left after her of which I paid her funeral charges which cost about £5. She was always offering me rent for the house since I got the new lease but I would not nor did not take any rent from her & she wanted me to take rents for her house if there was any money left after her of which also I told brother Alexr and Sisters and they were quite agreeable. Now five years rent at £3 a year makes the Remaing part of her money being £1. Were it not for the failure of the Bank5 she would have left above £80. She did not get but about scarcely seven shillings per pound. Dear Brothers not that I say it my self I was kind to my mother and gave her milk free and many things since she sold the Cow, for which she often wished me many blessings. We divided her chlothes and furniture among us and we agreed to give the clock to Jean as all of us had clocks. I should have wrote you sooner but I delayed until I could give you a full account of all things.
We had here a verry wet cold spring and a cold wet summer which has made a very light crop of Bear6 but com is long in straw but yielded superficially at the mill. Bear is light in weight & what is worse a very poor price only £1:2 per Boll, meal 15 shillings per Boll and is expected lower. Potatoes are still failing in the ground here. In general about the one half of them are sound, the other half only fit for cattle and to be used in little time if not immediately. They are still growing best and keeping best in sandy soil. Those farms having light sandy ground are making as much money of them and some people more as when they were growing well & having a good crop & a good price. Brother Alexr is one of such he has a good many this year. I had about 2 Bolls planted last year and having used what we needed for the family until now, all that we now have is about three Bolls, and most Farmers are such that has no sandy soils. Butter & cheese are low in price. Butter 10 pence per tron.7 We made sweet milk cheese8 these two years past the price of it is also small besides what it has been from £1:12 to £1:17 per cwt.
Black cattle are also considerably fallen in price. Good horses are keeping their price better, so that the present state of markets & the prospects of being still owing to free trade is raising my mind to America. When you receive this letter you will write me and give me your council and advice. Since I wrote you last we had an addition to our family of a Daughter called Helen 9 born 21st May last. Your Daughter Elizabeth's family are well.10 William and a partner with him has taken the town dues on Laddles11 of Campbelton at a Rent this year. Cousin John Ralston12 has given up his Farm and has wrote so to his friends at Illinois. Dougald Karral Brunerckan13 has also given up his Farm & is for going to America at May first. Reid of Dunglass14 has taken his Farm. Baxterl5 farmer Low Gartloskan has given up. Hugh Andrew, Keprigan, has taken it for his oldest son.16 Lindsay, Bleachfields, has given up his farm and Glen, farmer Tirfergus, Wm Wallaces old farm. The two last mentioned has taken farms in England, where it is said that the lands are cheaper than here and far back in improvements. There are many others speaking of giving up in the course of a year if no Reduction of Rent is given. Hugh Mitchell is into no business yet. John Galbreath17 has taken him at times with him to Falkirk market and Malcolm McMillan[.] My Fatherinlaw James Brown has a second child a son born to him by the third wife18 ten days since, the first died about six weeks old. Your old friend Baldy Colville19 died in May last. I wrote Brother Willm above 14 months since. I hope he has received it. All of us should write oftener to one another, for although I will be thinking & speaking often of you both & you may be the same, yet we should be speaking to one another by writing oftner. Brother Alexr & Sisters are well. Give my respects to George Picken Andw Giffen Alexr & John Ralston Jean Ralston John Picken. No more at present. I remain your affectionate Brother
John Ralston
[Postscript] Thomas Greenlees died 5th Nov, he was confined to the house & bed for about 2 months. No person has take John Ralstons farm as yet and on that account he has not got clear of the tilth.20
Editorial Notes
The abbreviation 'KL' signifies 'Kintyre Leases', extracted in 1958 by Duncan Colville from originals loaned to him by the Duke of Argyll.
1. KL 30.
2.
Campbeltown Courier
, 11/5/1929.
3. John Ralston's wife, Catherine Brown.
4. A variant of Scots 'thrang', meaning 'busy' here.
5. This bank failure has not been identified.
6. Bear, or bere, is an early type of barley which now survives as a commercial crop mainly in Orkney.
7. The standard weight for home-produced commodities, varying in different localities. (
The Concise Scots Dictionary
, 1985, p 737)
8. The manufacture of sweet milk cheese in Kintyre was pioneered by John Reid, Dunglas (see no. 14). (
Campbeltown Journal
, 25/2/1854)
9. John, the letter-writer's daughter, who died in Geelong, Australia, in 1916.
10. Peter's daughter, wife of William Fleming (see Introduction). She died in 1863 and he in 1864, both in Belfast.
11. Ladles was a tax, originally on grain. Colonel Charles Mactaggart, in
Life in Campbeltown in the 18th Century
, p 7, explained the operation of the tax, which was one of the most important sources of revenue for the burgh and applied to food and merchandise imported by road. The tax could vary, but, in theory, was one sixty-fourth part of the value of the article, which percentage was kept by the 'tacksman', who was the highest bidder at the town council's annual auction of the 'ladles'. William is William Fleming, referred to in the above note, and his partner was Archibald Galbreath 'that was farmer in Skerrling', which looks as though it could be a form of 'Skeroblin'; but, if so, there is no record of a Galbreath/Galbraith tenant there. In a letter William wrote in July of the following year to his father-in-law in Illinois, he reported that he and Galbreath had taken the 'Ieddils of the Burrugh' at a rent of £230 and that their contract would expire on I September, but 'it is not appearing to pay well on account of a defincancy [deficiency] in the crop and prices being very low.'
12. Probably John Ralston, born in 1789 at Brecklate and died in 1865 at Caledonia, Illinois. With his wife, Isabell Greenlees, and family, he sailed to America in 1850 on the
Charlotte Harrison
.
13. Dugald McKerral, Low Brunerican, renounced his lease on 27 September 1848 (KL 52A) and emigrated in 1850 to Chatham County, Ontario, with son Hugh and Hugh's wife Mary McTavish. (
Campbeltown Courier
, 25/6/1904)
14. John Reid moved from Pollokshaws to Dunglas in 1838, and, when the lease expired, was charged £33 as a penalty for having ploughed and sowed with corn and beans a field which should have been left in grass. (KL 112)
15. Andrew Baxter, who got the lease of Low Gartloskin in 1841 and renounced it in 1849. (KL 96B) 16. David Andrew, who entered the tenancy of Low Gartloskin at Martinmas 1849. (
Ibid
)
17. John Galbraith (1809-81), North Park, Campbeltown, was a director of the Campbeltown & Glasgow Steam Packet Co., a partner in distilling companies, gentleman farmer and provost of the burgh 1860-66. The Falkirk tryst was the biggest cattle market in Scotland.
18. Jean Brown. Their son John was baptised on 15 November 1849.
19. Archibald Colvill was born in 1761 at Peninver and farmed Drumgarve before, at the age of 27, establishing himself in Campbeltown as a grain and potato merchant and maltster and distiller. He was predeceased by his wife, Jean Clark, on 22 June 1834, and died on 19 May 1849.
20. Tillage or cultivation, i.e. he remained obliged to maintain the farmland until a new tenant was found. He was released the following year (no. 12).
---
Flora McCallum
Flora McCallum (1870-1947) was born in Kilbride, Southend, on 16 September 1870. Her father, Peter McCallum (1834-1902), worked as a labourer, ploughman and farmer in various locations across Kintyre, but at the time of Flora's birth he was a road contractor. Peter had married Catherine MacKinnon (1832-1921) in December 1858 at Low Dunashery in Killean and Kilkenzie Parish. Both parents had several generations of ancestry in Killean and Kilkenzie, with surnames such as Blue, Stewart, McGill and McGeachy in their family trees.
Peter and Catherine had ten children in total, all of whom lived into adulthood - by no means certain in that era - and five of whom married and had children. On 6 June 1891, Peter, Catherine and six of their children - Mary (aged 23), Flora (19), Elizabeth (18), Catherine (16), Jessie (15) and Donald (13) - sailed .from Glasgow to Montreal to begin their new life as immigrants. Intriguingly, another daughter, Margaret (26), was 'named on the passenger list. but with her name stroked out. She was the only family member who did not emigrate. She married Duncan McKay (1862-1942), a ploughman from Drumlemble, on1 June 1891, suggesting that other family members waited until after her marriage before they set off for Canada. The letter below was sent by Flora McCallum to her sister, by then Mrs Margaret McKay.
The voyage across the Atlantic to Montreal took about eleven days, and the family enjoyed concerts and dancing, and the attentions of crew members. After Montreal, the family travelled by train across Canada, ending their journey at Sehome, now part of Bellingham, Washington State, USA. From there. they took a coastal steamer to their ultimate destination, Seattle.
On the wharf at Seattle, they were met by Duncan McCallum, the oldest son of Peter and Catherine, who had emigrated to Fall City, Washington State, a few years earlier. Duncan was a pioneer settler in Fall City. where he cleared the land of timber to build his house and start a daily farm. Two of the sisters who accompanied Flora kept house for him until his death in 1947. The 'H. & J.' mentioned at the end of the letter are Hector McCallum (1865-1946) and James McCallum (1869-1934), two other sons of Peter and Catherine. They too had secured land and farmed near Fall City. (The identity of 'Pat' is not yet known.)
The other family members made their homes in the same area, often starting as farmers, but taking up other occupations in later generations.
Flora McCallum married a Welsh immigrant named Arthur Davies in 1907 and they had five children. Descendants of this family line, in particular Ruthie Lindsley and Nathan Bressel, retained, photographed and transcribed the letter below. Their efforts in doing so, and thereby providing an informamative account of an emigrant journey, are greatly appreciated.
Sadie Galbraith
---
The letter, which was all of a piece, has been broken into paragraphs based on the diary-like dated instalments, and where punctuation at the end of sentences was missing, extra spacing has been added. Editor
---
Left Campbeltown Thursday June 4th [by] steamer "Davaar". Had a very stormy passage up the firth, most of the passengers were sick. Arrived at Glasgow at ten p.m. Went down to Dumbarton that evening & went back to Glasgow the next day.
Saturday 6th June went on board the Allan Line Steam Ship "Sarmatian" at 10 a.m. Sailed half an hour later. The Banks of the Clyde looked lovely. Met the Allan Liner "Corean" just opposite Dumbarton. Arrived at the Tail of the Bank at 1 p.m. where a tug called "Lord Derby" brought out a cargo of sugar & one passenger who was very drunk. Left the Tail of the Bank at 6 p.m. The "Manitoban" arrived from New York at the Tail of the Bank at 4 p.m. We were ordered below at 9.30 p.m. & were just at Pladda Light at the time, but could see our old heath covered hills of Kintyre in the distance and bade them adieu. Passed the Mull Light at Midnight. We saw the light through our berth window.
Sunday 7th June got up at 4 a.m. & went on deck Lovely morning nothing to be seen but sea & sky Run 214 miles All square, set sail, steamer going 15 knots an hour.
Monday 8th June Lovely day, danced nearly all day Met a Norwegian Bark & two large sailing vessels Run 285 miles Wind East
Tuesday 9th June still beautiful weather. Met the steamer "Buenos Ayrean" & also the "Hibernian". Both Allan Liners. Run 288 miles wind S.S.E. Steamer going 13 knots an hour.
Wednesday 10th June. Sea very rough most of the passengers sick & in their berths. Steamer going 11 knots an hour. Run 284. Wind S.S. East
Thursday 11th June. Very stormy seas, ship rolling heavily, spray lashing over her. Had to alter the course on account of the storm. Run 186 miles Wind South.
Friday 12th June very cold, sea got calmer & steamer got on the proper course again & went at full speed. Run 163 miles Wind N.W.
Saturday 13th June Sea nice & calm, but very cold, steamer going 11½ knots an hour, had a concert in the evening Father sang a Galic [Gaelic] song at it & so did Jessie and I sing at it. Got very foggy. We were 147 miles from Cape Race on that evening. Run 270 miles Wind W.
Sunday 14th June very foggy fog horn blowing nearly all night, steamer going dead slow. Saw a large iceberg & met a steamer. Saw another iceberg. Sea rather rough. Steamer going 12 knots an hour, sighted part of Newfoundland called St Pierre. Run 242 [miles] W[ind] West.
Monday 15th June, saw Newfoundland with its hills covered with snow About a quarter to six in the morning we saw the reflection of the land up in the heavens. It was a lovely sight & called a "Morash" [mirage]. We saw lots of fishing smacks out fishing off the coast & lots of whales & porpoises. Passed Cape Ray at 10.45 a.m. two miles off The "Sarmatian" put up a flag as it passed. Had a dance in the evening, got very foggy steamer going very slow. Run 276 miles Wind N. W.
Tuesday 16th June steamer stopped for an hour or two with fog, pouring with rain cleared up in the afternoon & the steamer going 12 knots an hour. Lost sight of Newfoundland. Toward evening we were quite close to the banks of Newbrunswick which looked very barren there are some nice little villages along the shore. Run 216 miles Wind East.
Wednesday 17th June Pilot came on board a[t] Rimonski to pilot us up the St . Laurance [Lawrence,] the banks of which looked beautiful. Very warm day. Met the Allan Liner "Norwegian". Passed the "Brandy Rock" at 10.30 a.m. It is a very pretty sail up the river Met two or three vessels & lots of little smacks. Saw the pretty waterfall of "Montmorency" A doctor came on board 15 miles below Nuebee. Landed at Nuebee at 6 p.m. & I must say we had a pleasant journey across although we had it stormy enough for 3 days & we felt rather sorry when we had to say adieu to the good old ship which landed us safe & sound. Train left Nuebee at 10 p.m. Some of the officers of the Sarmatian saw us off at night.
Arrived at Montreal at 5 in the morning We had to stay there all day until 9 in the evening We wandered about town all day & [it] is a very nice place with some beautiful buildings. The "Sarmatian" arrived at Montreal at 2 p.m. We met some of the officers in Town & when they heard we were not going away till 9 p.m. the 2ed & 3rd mates the purser & the 2ed engineer with another gentleman with him & all the stewards came up to the station at 6 & stayed with us till they saw the train move off.
Friday 19th June lovely morning & beautiful scenery, but the country very poor looking Passed some nice lakes & rivers, the train stops at every station along the line. One place we passed the woods were on fire on both sides & we were nearly smothered with smoke. It was a fine sight.
Saturday 20th June we found ourselves on the North Shore of Lake Superior. It is a beautiful place. We saw the River White where Duncan & Hector were working Arrived at Port Arthur which is a very nice place indeed. We saw lots of little farms there
Sunday 21st very wet morning accompanied with a thunder storm, but cleared up before we got to Winnipeg. Arrived there at 10.30 a.m. & had to wait there until 2.40 p.m. Had to change cars there. It is a very nice town. Went to the Waverlay [Waverley] Hotel & had a good dinner & started on our journey again. Entered a very nice piece of country with very nice farms.
Monday morning we found ourselves rolling over the prairie, there are lots of lovely flowers growing in the prairie & when the train stops at a station we go out & gather some. At nearly every station after we passed Brandon there were lots of Red Indians there selling bufflow'[buffalo] horns, which they polish up nicely & cost 1 dollar a pair. What large herds of cattle & horses were roaming over the prairie. Some nice looking farm steadings in some places & in other places there is nothing to be seen but the lonely huts of red Indians. At Medicine Hat we saw a bear & 2 cubs.
Tuesday 23rd June reached the Rockies which looked splendid with there [their] summits covered with snow. It is a fine sight & it would frighten you to look below sometimes it is a deep chasm beneath & you would almost think the train was going to topple over. Sometimes the train is going along a precipice. Mount Stephen looked grand it is almost one mass of rock with its top covered with snow. At Glacier House we saw a large glacier on the mountain side, it is a nice place & has 2 or 3 fine fountains at it. after we passed G.H. we crossed the largest I mean highest wooden bridge in the world it goes from one peek [peak] to another & is 260 ft above the level of the sea. The train stopped at it to allow passengers out to look over it. What a lot of turns & curves & bridges & snow sheds the train has to go over. The trees are much larger after the Columbia River is crossed. The Columbia R is very nice river, much nicer than the Kicking Horse the train ran along the Kicking H. for a long time going over the Rockies. We all liked the Rockies. After we crossed the C. River we ran along the Banks of the Fraser river which is famed for its Salmon & is a rather rough looking place. Arrived at the Mission at noon where we changed cars & took another route down to Sehome, we got there at 1 p.m. Got the steamer there for Seattle at 1.30. And I can assure you we were right glad to get on to the steamer. it is so much nicer than the train. But we were still glader [gladder] to see Duncan on the wharf at Seattle waiting & looking for us. He took us to the St Charles Hotel where we stayed there all night & started for Gilman next morning.
Arrived there at 1 p.m. & got here at 6 p.m. where H. & J. & Pat gave us a hearty welcome. None of us the worse of our journey, & not a bit glad when it was over.
---
WINTER MEETINGS AND SOCIETY WALKS. The Society's committee met on 9 September 2021 for the first time since 20 February 2020. Members agreed that the drawing up of a full programme of winter meetings was, once again, inadvisable. A talk has been arranged for 20 October in the Ardshiel Hotel, and, all being well, additional talks will follow, but initially engaging only local speakers. Our last two AGMs did not take place, owing to pandemic 'Iockdowns', but the legally required reports were submitted as normal to the Scottish Charity Regulator. It is expected that the March 2022 AGM will take place as an open meeting. Society walks have resumed, and Elizabeth Marrison may be contacted in connection with these at her e-mail address on p 1.
COMMITTEE CONCERNS. As observed in the past, the Society committee would benefit by the addition of a few new members to ensure its future vitality. Are there any volunteers out there?
CARRADALE DIALECT. My booklet Carradale Dialect has now been published, thus completing the trilogy: South Kintyre Dialect appeared in 2016 and Tarbert Dialect in 2018. It consists of 68 pages and is priced at £3. Copies are on sale in Campbeltown and in Carradale and can also be ordered from me, at the address on page 1; please add £2 for postage and packaging.
---
Old Carradale
lain Wright, Stenlake Publishing Ltd., 2020, 56 pp., £ 11.95.
The author, who has visited Carradale since 1952 and now has a holiday chalet in the village, has assembled and captioned a stimulating collection of photographs and postcards, some familiar and others freshly sourced. The illustrated subjects include industries - chiefly fishing, of course - people, places, and buildings - both grand and modest - and the book is worth having for the pictures alone, which evoke the life and character of a community which has since suffered economic and social decline.
Sepia Time & Blue Space
Archie MacAlister, Grace Note Publications C.I.P., Ochtertyre, 2021. 173 pp .. £12.99.
This book's Kintyre connection is not apparent in the title, but the author's name provides the clue. Archie MacAlister's father, Peter, a seaman, was born into an old Tarbert fishing family which descended from the MacAlister lairds of Tarbert. He married Chrissie MacLeod from Skye, and Archie was born in Glasgow in 1935. The early chapters include his memories and impressions of Tarbert when the village was still a closely-interrelated community, reliant on herring-fishing and grounded in traditional values; but, as the memoir proceeds, its geographical and cultural range expands, beginning with a visit to Poland in 1957, on a travelling scholarship awarded while he was a student at Edinburgh School of Architecture. He subsequently earned his living as an architect, but his interests and activities extend far beyond his chosen profession, to embrace, e.g., art, literature, archaeology, history and politics. The book has plenty of illustrations, reproduced to a high standard and ranging from old family photographs to the author's own paintings and sketches. Archie MacAlister may not write another book - this one is his first - but he has left an engaging record of a life lived to the full and largely on his own terms.
On the Production Methods of Pot Still Whisky: Campbeltown, Scotland, May 1920
Masataka Taketsuru, humming earth, Edinburgh, 2021, 76pp., £18.95.
This sturdy hardback has, as its subject, a report on the methodology of whisky distilling at Hazelburn Distillery, written by Masataka Taketsuru, who was twenty-five years old when he came to Campbeltown in 1920 with his Scottish wife, Rita Cowan, at the end of a research sojourn in Scotland. After his return to Japan, he would establish his own distilling company, Nikka Whisky, whose products have since earned acclaim. The report was translated by Dr Ruth Anne Herd, whose mother, Moira, will be remembered by older Campbeltonians. Her technical editor, who also wrote the foreward, was Professor Alan G. Wolstenholme, and he, too, has a local connection: his grandfather, Peter Margach Innes, was manager of Hazelburn during Taketsuru's visit and mentored him in his studies; and his mother was born at Hazelburn. The book, which is illustrated with Taketsuru's diagrams and a few black-and-white photographs, is fundamentally a technical document and, therefore, emphatically not a recreational read, but it will unquestionably interest practitioners and students of the distilling art and should also appeal to some locals who are enthusiastic about Campbeltown malt whiskies and their history.
---
Copyright belongs to the authors unless otherwise stated.
The Kintyre Antiquarian & Natural History Society was founded in 1921 and exists to promote the history, archaeology and natural history of the peninsula.
It organises monthly lectures in Campbeltown - from October to April, annually - and has published its journal, 'The Kintyre Magazine', twice a year since 1977, in addition to a range of books on diverse subjects relating to Kintyre.
CLICK HERE for Correspondence and Subscription Information.
The Society website is at http://www.kintyreantiquarians.uk
---

362