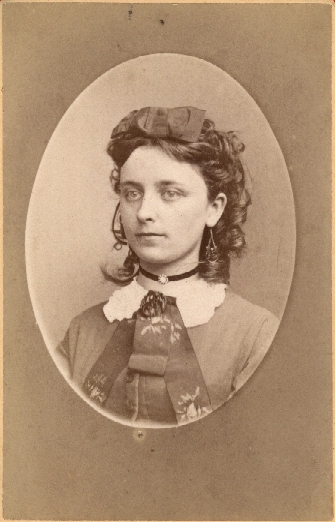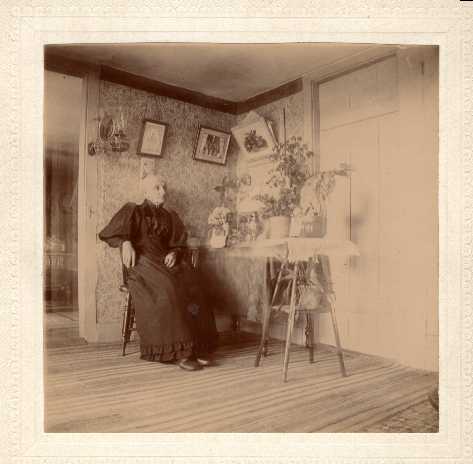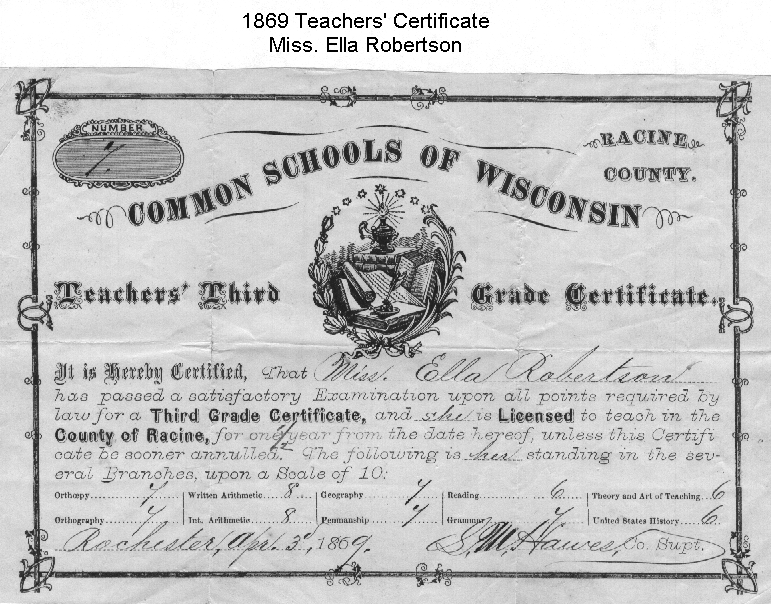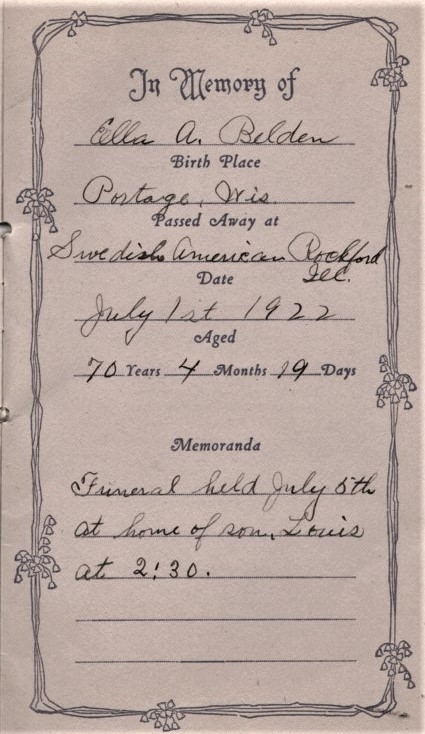 Ella Adelia Robertson, daughter of Andrew J. Robertson and Mary L. Taylor, was born in Wisconsin (Portage?),1 12 March 1852, and died 1 July 1922 at Swedish-American Hospital, Rockford, Ill. Burial was in the Roscoe Cemetery.

She was living with her parents at Pardeeville, Columbia Co. in 1860.2 In 1865 she moved with them to Rochester, Wis. and attended The Academy. She received a teaching certificate 3 April 1869.

She was married on 3 July 18733 to Allen H. Belden, son of Philo and Mary F. Belden, Racine County pioneer settlers. They had one child, Louis A. born on 5 November 1874.

She was divorced in September 1884.4 She was living in Rochester with her father at the time of his death, August of 1906.
Rochester Ripples--Thursday evening, Ella Belden was surprised by a party of lady friends who came to wish her many happy returns of the day.5
According to the Waterford Post, her son Louis visited her there in September of 1906, and she visited her sister Mrs. Munn Slaight in Palmyra, Wisconsin in December of 1909.6
She lived in Roscoe with her son Louis before moving to the Winnebago, IL, County Farm in 1918.
As quoted from the newspaper, "Mrs. Ella R. Belden of Roscoe died last Saturday night at 7:30 in St. Anthony Hospital following an extended illness. She was born in Portage, Wis. in 1852. In 1873 she married Allen H. Belden at Rochester, Wis. where they made their home for many years. After the death of her husband four years ago, she went to Roscoe to make her home with her only son, Louis A. Belden." (Note: The records show her ex-husband died six years earlier and that she lived with his father for a time after she obtained a divorce in September of 1884. When 1905 census was taken, she lived in Burlington, WI with her father, A J Robertson.) "In addition to her son, she is survived by three brothers, Fred P. Robertson of Harmon, NE., William T. Robertson, Fremont, NE., Charles H. Robertson, Blair, NE, and one sister, Kate Slaight, East Troy, Wis." 7 (Grave Marker)
---
Source, Memorial service booklet..
Source (12).
Source (10), Vol. 12, Pg. 632.
Source (6), 28 Sept. 1884, Pg. 6.
Source (11), 20 March 1902.
Source (11), 30 Dec. 1909.
Source (9), 3 July 1922.