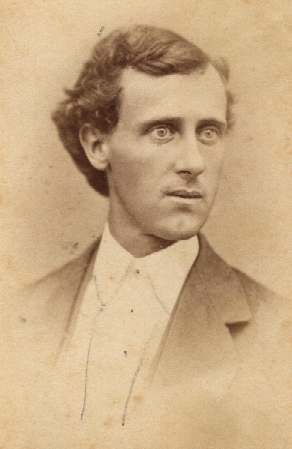 View News items
The following is quoted. "Allen H. Belden, son of Philo and Mary F. Belden, was born about 1851. When he died 8 March 1916, his age was given as 65. He is buried beside his parents, in the Rochester Cemetery, Rochester, Wisconsin. The funeral was held in the village of Waterford, Saturday, 11 March 1916. The Reverend H. L. Sawyer Officiated.

"Allen married 9 July 1873 to Ella A. Robertson, daughter of Andrew J. and Mary L. Robertson. The witnesses to the marriage were Lucy N. Cooke and Philo Belden." They had one child, Louis Andrew, born November 5, 1874 in Rochester, Wis. In the 1880 Census, her age was given as 29 and Allen's as 30. They were living with his parents Philo and Mary Belden. A son, Louis is shown, age 5. The marriage ended in divorce, (22 September 1884).

There is a marriage recorded for Allen H Belden and Kittie E Diamond in Milwaukee dated 23 October 1884. His parents listed as Philo Belden and Mary F Belden, hers as Hugh Diamond and Katevia Kingsley. I have not yet seen the marriage certificate to document this, nor have I found more information about her.

"While the obituary stated Allen lived in Rochester most all his life, we believe he lived in Milwaukee and Racine at various intervals. He was the constable for Rochester in 1876. Between 1883 and 1886, he was living in Milwaukee. In 1883 he resided at 633 National Avenue and was foreman of the Label Department of Plankington and Armour. He was shown as a roofer-carpenter for the years 1884 and 1885, living first at Lake House and in 1885 at 366 Reed, Milwaukee."

"According to his obituary, 'March 13, 1916, Rochester... The funeral of Allen Belden, Uncle of Judge (Ellsworth B.) Belden, of this city, was held in the Village of Waterford Saturday, Rev. H. L. Sawyer officiated. Burial was in the Village Cemetery beside his parents, the late Judge and Mrs. Philo Belden, pioneers of Rochester. He had lived in that town most all of his life and had been in poor health for some time.' March 17, 1916, 'Rochester... The remains of Allen Belden, who died early Wednesday morning, were brought here for burial Thursday. The funeral services were held at the grave Sunday afternoon, Rev. H. L. Sawyer officiating. Deceased was the youngest son of the late Judge and Mrs. Philo Belden and is survived by one brother, A. O. Belden, of Burlington.' (Actually, both his first and second wives plus his son Louis, and wife Clara and six grand children plus great grand children, were all living.)... And in the same issue... 'The village trustees will sell the personal property of Allen Belden at auction in the Academy Building this Saturday afternoon at one o'clock.' One has to wonder why the village officials were in charge of the auction.

"Allen H. Belden was remarried to Mrs. Etta Burns, daughter of Simeon and Ellen (Cocroft) Noble. The ceremony was performed by a Baptist Minister 11 July 1893 in Racine. The certificate shows that Allen was living in Racine and was considered a contractor. Apparently there were no children by this union, although when Etta died, her obituary mentioned two children by Mr. Burns, namely Mrs. John Wemmert and Hugh Burns.

"Etta died Friday, 16 June 1933, at her home, 836 Main St., Racine. She was 82 years, 8 months, 25 days. She is buried in grave 1, Lot 28, Block 11, Mound Cemetery, Racine. The burial, number 21011, took place on the 19th. of June."

The following are from the Waterford Post newspaper items; the 22 August 1878 issue, 'Mr. Allen Belden has just completed a fine half mile track on his father's place, and is prepared to break and handle young stock for all in need of his services. He is a careful pains-taking young man, and understands his business. All interested will please take note of this.' From 29 August 1878 issue, 'Henry Fell has purchased a new J. I. Case Eclipse threshing machine... with Allen Belden and Christ Pagle as assistants, is doing excellent work for his patrons...', the 9 April 1906 issue contained the following, 'Mr. A. Belden of Rochester has built a boat for Mr. A. Noble.'

The following residences of his are from Racine City Directories for the years shown:
1880 1146 Racine Street
1890 710 Grand Avenue
1894 710 Grand Avenue
1895 917 Villa Street
1897 944 Washington Avenue
The Census for 1900 shows him living alone in Rochester. The Racine City Directories for 1899 through 1929 show Etta Belden living at various residences in Racine. She was at 904 College Avenue starting in 1914, and was shown as the widow of Allen H. Belden starting in 1918. They may have separated after six or seven years of marriage.