Louis Andrew Belden was the only child of Allen H. Belden and Ella A. Robertson. He was born 5 November 1874, at Rochester, Racine Co., Wisconsin. He died 20 August 1938 in Roscoe, Ill.
Because of his parents' divorce, his early years were spent with his mother, and grandfather Philo Belden. Later while living with an uncle (Fred Robertson) in Blair, Nebraska, he enlisted in the Army during the Spanish-American War. Corporal, Company H, Second Nebraska Infantry. This is recorded on a military grave marker in the Roscoe Cemetery. There are photographs taken of him in uniform with Clara L. Goff at the Walworth Co. Fair, Elkhorn, Wisconsin.
He was a Corporal, Co. H, 2nd Nebraska Infantry stationed at Camp George H Thomas, Walker County, Georgia during the Spanish American War. According to papers on file at the Veterans Administration, he enrolled in the Nebraska volunteer unit on 10 May 1898 and his regiment was mustered out at Ft. Omaha on 24 October of the same year. In April of 1929 he bagan receiving a veterans pension of $30.00 par month and May of 1933 he started receiving a $15.00 per month veterans pension "on account of being 55 years of age and 50% disabled" due to a knee injury caused by protracted kneeling while unloading lumber from a railroad car at his job in the Roscoe lumber yard of J. H. Patterson Co. Starting March 1, 1929 his pension amount was $30.00 per month.
He was married on 10 February 1900 to Clara Lovisa Goff at her parent's home in Burlington, Racine Co., Wisconsin. The marriage was officiated by Rev. William Kilburn and witnessed by their grandparents A. J. Robertson and C. W. Ball. "Matrimonial--Last Saturday evening at 6:00 o'clock at the home of the brides parents, Mr. and Mrs. W. J. Goff, in Perkins Park, occurred the marriage of their oldest daughter, Miss Clara L. Goff, to Louis A. Belden, of Rochester. The ceremony was performed by Rev. W. Kilbourne", (of Plymouth Congregational Church), "and witnessed by only the immediate relatives and friends of the contracting parties. After the ceremony a wedding supper was served. The wedding presents were quite fine and very much admired. Mr. and Mrs. Belden will make their home on a farm that has been rented by the groom one mile west of Spring Prairie Corners."
The June 6, 1900 census for Walworth County, Wisconsin, shows the couple living in Lafayette Township, Walworth County, in a rented house and he is a "farm worker".
[View 1900 census document.]This pdf file will download where you can view it with appropriate software.
They lived in Honey Creek, Wis. in 1902 when their first child, Evelyn was born. "Honey Creek--Louis Belden has moved his wife, his baby, and himself into the Dame house. Mr. B. will be employed with Mr. B. Rose the coming season."
They soon moved to Rockford, Ill., where he worked at Emerson Manufacturing in 1905, (this firm was purchased by J. I. Case Co. in 1928).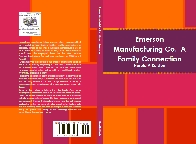 Emerson Mfg. Book
They then moved to Roscoe and lived on several farms. The Glenny farm in 1907, the Manley farm in 1908, the Roth farm in 1910.
The 1910 Census has them living in Manchester, Boone County
In Roscoe village, they lived across from the grade school; on Elevator Road west of the railroad tracks in 1922; and south west of Leland Park about 1927. The house on Elevator Road was known to the family as the 'Brant House'.

"It is quite large and stands flush with both streets, evidently intended to be a hotel. The idea prevailed back in the 1840's that the village of Roscoe would be located about this point; and the idea grew stronger when the Northwestern railroad came through and located its station a block east. And then, there was Coffin's big brick yard just beyond the tracks. When the village failed to arrive, Selden S. Hardy proceeded to make of it a home for his family. After the removal of Mr. Hardy, Mrs. James Wilcox and her son Ernest came here to live for a time. Later Dan Graham the carpenter, moved in. Following Mr. Graham were other families, including Mr. Brant, who for years looked after the railroad tracks. After Mr. Brants removal the building was occupied by L. Belden, manager of the Patterson Lumber yard."

It was while working at the feed mill and lumber yard in Roscoe that his death was caused by an explosion due to a metal object in some grain being ground for feed. Burial was in the Roscoe Cemetery.

The following is quoted from the Beloit newspaper: "ROSCOE MAN IS INJURED WHEN MILL EXPLODES. Louis Belden, about 64, Roscoe, was critically injured this morning when a feed mill at which he was working at the J. H. Patterson company, Roscoe, exploded, and parts of the machine struck him.

"An examination at the hospital disclosed a possible skull fracture, severe lacerations to his head and his hands, and possible internal injuries.

"The accident occurred about 10:30 a.m. Belden was attending the machine while the hopper was being loaded with grain. A piece of steel apparently went with the grain into the mill and when it came in contact with the knives the machine was thrown out of balance and 'exploded'.

"Workmen took Belden to the hospital here in a company truck. Physicians treated his injuries and said an X-ray examination will be made later. Belden did not lose consciousness, and at the hospital he was able to remark about some of the details of the accident. He had been employed at the mill as yard master and mill attendant approximately 25 years."

Also from the Beloit newspaper: "FUNERAL TOMORROW FOR ROSCOE MAN KILLED BY MILL. Funeral services for Louis A. Belden, 63, Yard master and Miller at the J. H. Patterson grist mill here, who was fatally injured Saturday morning when a feed mill exploded, will be conducted in the Methodist church. The Rev. Carl Leppert, pastor, will officiate, and burial will be in Roscoe cemetery.

"Louis Belden was born at Rochester, Racine county, Nov. 5, 1864, the son of Allen and Ella Robertson Belden. He married Clara L. Goff Feb. 10, 1900, at Burlington. They lived at Spring Prairie, Rochester and Rockford, and 30 years ago came to Roscoe. For the past 27 years he was employed at the Roscoe elevator.

"Mr. Belden was active in the Roscoe Methodist Church, holding positions in the congregation, and was for a number of years clerk of the Modern Woodmen of America." He was a member of Roscoe Masons.

They had six children:

+1) Evelyn Emma Blanche born 15 February 1902 in Honey Creek, Wisconsin, who married Kenneth M. Ralston. She died at her Roscoe home 8 October 1985.

2) Alice Adelia born 17 September 1904, who married Earl Busker. She died 5 October 2000 at Wesley Willows, Rockford, Illinois.

3) Robert Louis born 10 August 1907 on Glenny Farm in Roscoe, Illinois, who married Ina McMaster. He died 24 March 1995 in Rockford, Illinois.

4) Florence Lucille born 4 September 1908 on Manley Farm in Roscoe, Illinois, who married Theodore Reimer. She died 20 March 1996 while vacationing in Hawaii.

5) Clara Belle born 11 February 1910 on Roth Farm in Roscoe, Illinois, who married John L. Kelley. She died in Roscoe 28 January 1984.

6) Helen Estelle born 30 March 1911, who married Donald Black and later, married Burdette C. O. Johnson. She died at Rockford, Illinois, 1 January 1993.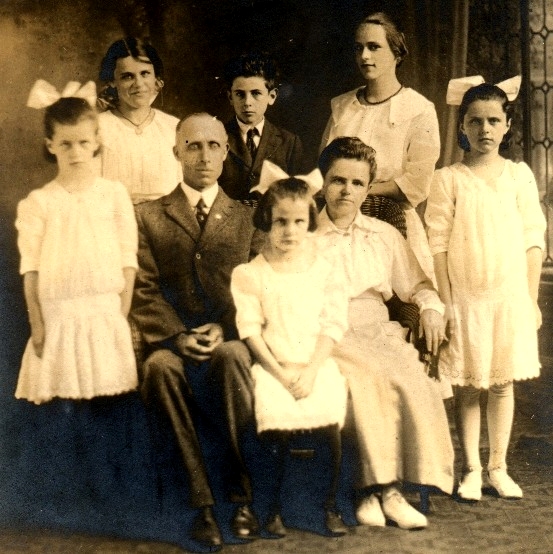 ---