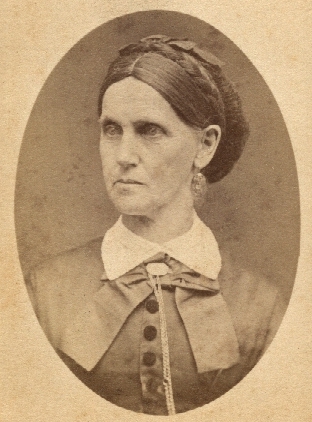 Mary Frances
Belden
Mary Frances Belden second daughter of Henry Belden and Fanny (Frances) Bennett was born 23 September 1818 in Monroe Twp., Ashtabula Co., Ohio. She married Philo Belden in La Porte, Indiana 6 June 1839 where her family had moved from her birthplace. She died 27 September 1909 in Honey Creek, Walworth Co., Wisconsin and is buried in Rochester Cemetery, Racine Co., WI.
They had four children:
1) Henry Ward, born 9 November 1840, died 30 May 1915, he married Emily F. Brown
2)Edward J., born 17 July 1842, died 10 January in California, he married Nellie.
3) Albert O. born 16 March 1847, died about April 1918, he married Jennette Ormistrom
+4) Allen H., born in July of 1849, he first married Ella A. Robertson 3 July 1873 at Rochester, Wisconsin, was divorced, and married second Etta Burns 11 July 1893 at Racine.
In the Racine County Atlas for 1887, the map of Rochester shows P. Belden on 60 acres at the south edge of the village on the east side of the Fox River.
---