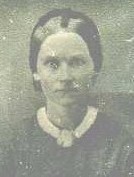 Betsy Ann Bradshaw was the first of seven children born to William Charles Bradshaw and Nancy R. Singleton.1

Born 17 March 1824 in Ireland she married 26 June 18422 to Charles W. Ball in Chittenden, Co., Vermont. She died 12 January 1897 in Burlington, Wisconsin.

"Mrs. Chas. W. Ball died at her home in this city last Wednesday 8:45 P.M. at the age of 72 years and 10 months... Funeral will be held in the Baptist Church Saturday at 2 P. M., Rev. K. N. Morrill officiating.(Grave Marker)

"Betsy Ann Bradshaw was a native of Ireland, where she was born March 17, 1824. She came to America with her parents at an early age. She was married to Mr. Ball in 1842 in Colchester, Vt. They came to Burlington, Wis. in 1846....and continued to reside here except for a short residence in Rochester. She leaves three children; Chas. F. Ball, and Mrs. W. J. Goff of this city and, George W. Ball of Prospect, Wis."3,4

They had four children:
Charles F., born 26 August 1844 in Colchester, Vt., who was a scout for Bill Cody and who married Flora A. Campbell and remarried Saphronia __.5 He died 16 March 1907.
Nancy Jane, born 30 June 1850 in Colchester, Vt. and died 13 May 1851, Rochester, Wisconsin.
George W., born 31 May 1852 in Burlington, Wisconsin.
Emma Jane, born 5 January 1854 in Burlington, Wisconsin, who married William James Goff. 13 November 1872 and died 9 June 1948, Beloit, Wisconsin.
---
Sources:
Source (37), 23 February 1878.
Marriage Certificate recorded 11 February 1857.
Source (18), 20 January 1897.
Source (33), 16 January 1897.
Source (23).