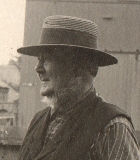 Click Here to View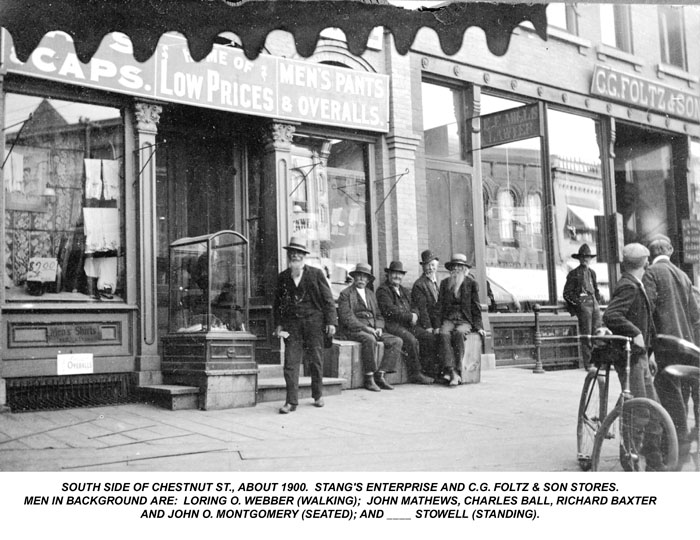 Click Here to View
Charles W. Ball was born in England 27 May 1822, he married Betsy Ann Bradshaw in Chittenden Co., Vermont 26 June 1843.1 (View Certificate)
They had four children:
1) Charles F., born 29 August 1844 in Colchester, Vt., who was a scout for Bill Cody and who married Flora A. Campbell 7 October 1869 and remarried Saphronia A __. He died 9 January 1929.7
2) Nancy Jane, born 30 June 1850 in Colchester, Vt. and died 13 May 1851, Rochester, Wisconsin.
3) George W., born 31 May 1852 in Burlington, Wisconsin. Served in 9th Independent Battery, Wisconsin Light Artillery and 5th Independent Battery, Wisconsin Light Artillery. Married 24 August 1876 to Mary E Chambers, Walworth Co., Remarried Henrietta Wood 13 Dec 1881, Burlington, Wis
+4) Emma Jane, born 5 January 1854 in Burlington, Wisconsin, married William James Goff 13 November 1872 and died 19 June 1948, Beloit, Wisconsin.
He died 6 October 1904 in Burlington, Wisconsin.

"With the passing away quietly and peacefully of Charles W. Ball in this city at the home of his son Charles F. Ball at 8 o'clock last Friday morning another of the old residents of this vicinity has gone to his final resting place. The cause of his death was old age. The death marks the passing away of another of the few remaining settlers of Southern Wisconsin.

"The deceased was a native of London, England and the date of birth was May 27, 1822. When eleven years old he came to Canada all alone, ('He came to Canada with his parents when he was eleven years old and later the family went to Vermont.')2 , and later to Vermont. He was married in Vermont 1843 and with his wife, he came to Burlington in 1846, which city has been his home for 58 years. For nearly a quarter century he was engaged in freighting and teaming business between here and Racine and Milwaukee. Part of the time was before there was a railroad.

"Two sons and one daughter survive him as follows; Chas. F. Ball of Burlington, Geo. W. Ball of Milwaukee, and Mrs. W. J. Goff of Rockford, Ill. All were in attendance at the funeral held at the home of Chas. F. Ball, Saturday at Two P. M. Rev. E. Symons, conducting the service." 3(Grave Marker)

Racine Co. Death Registrations show that he was retired at the time of his death on 6 October 1904, both his father and mother were shown as having been born in England.4 Burial was 7 October in the Town Cemetery, Lot 44, Block 4. His wife Betsy A. had preceded him in death.

His Declaration of Intention to become a citizen, filed 20 May 1852 in Racine Co., shows that he was born in England and that he emigrated at the port of Burlington, Vermont in July 1840. He renounced Queen Victoria. It is signed Charles William Ball.5

The Racine County Federal census shows him living in Burlington, Wisconsin in 1860, 1870, 1880 and 1900.

The Town of Burlington Tax Rolls for 1874 and 1883 show he had 10 acres on the S. W. side of the village and 2 lots on the north-east corner of the intersection of West Street and Jefferson Street.6

1864 Burlington Assessment Roll includes C.C. Ball. (can be viewed by clicking here.)

Burlington Standard Democrat, November 19, 1892

"C. W. Ball has sold his farm in the town of Lyons to Jos. Heiligenthal, of this town for $4,000. Mr. heiligenthal will take possession early in the spring"
---
Marriage Certificate recorded 11 February 1857.
Source (33), 8 Oct. 1904.
Source (18), 12 Oct. 1904.
Source (10).
Source (22).
Source (44).
Source, (23) .