Kenneth McAffee Ralston, born 21 November 1895 in Chicago, Illinois, was the second son of Peter William and Hannah J. McAffee Ralston. He attended Chicago schools and at about age 19 went to work on his Grandmother's farm on McDonald Road near Roscoe . While in school he attended Schurz High School and the Chicago Art Institute. As a child he sold newspapers on street corners, probably on Montrose Avenue. It had street car stops with people going to or returning from work. The family lived nearby at 4328 Lowell Avenue.
On 15 June 1922 he married Evelyn Belden at the home of her parents on Elevator Road in Roscoe, Illinois. They lived their entire married life on the Ralston farm on McDonald Road near Roscoe.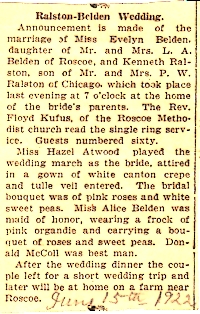 Although Kenneth had not completed high school, he was a very progressive farmer and a leader in community and church affairs. He constantly read of the latest agricultural practices in farm journals and put them into practice. He was among the first in the county to adopt the testing of butterfat content and weight of milk produced in order to determine which cows were the most productive. As soon as it was available, he adopted the use of artificial insemination as a method for improving the young stock added to the herd. He converted the horse stall area of the barn to provide for about 30 milking cows. He made a practice of purchasing young beef cattle from Western cattle growers and fed them corn, hay and cottonseed cake protein supplement in order to fatten for market. Before livestock trucks became commonly available he herded the cattle to the railroad siding in Roscoe for shipment to the stockyards in Chicago. He accompanied them by riding in the caboose of the freight train for the overnight trip. They would be sold by the commission men working for the Chicago Livestock Producers Association, of which he became a Board Member in later years. He also purchased Western lambs for fattening and shipping to the Chicago stockyard. They were purchased in the fall and pastured on the fields where they could make use of grain that was missed in the harvesting operations. He raised hogs for market. They would be kept in the same feed lot as the cattle in order to make use of the grain that passed through without being fully digested. He vaccinated and castrated the young pigs with the help of a hired man and his sons. He had several hired men over the years prior to when the sons were able to provide substantial help. One of the last was his brother Bill. When Bill married and started farming on his own, one of his wedding gifts was a work horse from Kenneth.
He was a stickler for keeping records and using figures. He kept very complete records of every expenditure whether for farm business or home. As an early participant in the Farm Bureau Farm Management service, he kept detailed farm business records for over 25 years. His wife, Evelyn, did the same for the home management. It was common for him to record in his little pocket diary the cost of meals at a restaurant, whether paid by him or others. He had a desire to have an accounting of every cent spent. This practice of recording economic data greatly assisted in his understanding of the profit and loss of the enterprise and the parts of the farm operation that were not profitable indicating the need for changes or modification.
He had a strong sense of punctuality. This meant preparing ahead of time to be ready so that last minute flurry of activities was unnecessary. For example shine shoes the night before so that they were all ready for Sunday school rather than waiting until the last minute. This sense of punctuality resulted in a need for schedules. A schedule was significant and in the later years became of greater importance so that he was prepared for an event since it took a little longer to get ready.
One of his great interests over the years was baseball, not just watching, but playing. He was a lifelong fan of the Chicago White Sox baseball team, not withstanding their scandal in 1919. This is of interest since he was born and grew up on the near-north side of Chicago, not far from the Cubs park. There were many years when an automobile trek from Roscoe was made to see one or more baseball games in Chicago. It would often be for a double header on Sunday. That way you got the most for your money. It was quite a sacrifice since it meant getting back late for evening chores and milking the cows. He played baseball for a local sand-lot team as catcher for recreation, probably on weekends. He followed closely the athletic pursuits of all his children, and when possible, his grandchildren and great grandchildren. He participated with them and the nieces and nephews on the home front lawn on many a Sunday afternoon during family gatherings, right up until the last decade. He mostly pitched, encouraging the batters and chastising the fielders for poor plays. He played basketball as a school board member (1936-1943) during their challenge by the faculty as an opener to the high school season.
He was an active member in many organizations; the Winnebago County Farm Bureau (Charter Member and Director), Winnebago County Farm Service Company, Pecatonica-Durand Soil Conservation District (Director). He was among the first to adopt contour strip farming of crops and to build water control terraces on his farm in order to control soil erosion. He used soil building practices such as spreading limestone to control acidity, spreading potash, phosphate, and ammonia nitrate to increase available plant food in the soil. He rotated his crops, planting oats, alfalfa, alfalfa, and corn in a four year cycle to maintain humus and fertility levels. He was appointed to the State Soil Conservation Board by the Governor of Illinois. In 1949 he received a national soil conservation award in Des Moines, Iowa. He served the ASCS as County Committeeman, was a director of the Midwest Dairyman's Association, was active in Winnebago County Extension Service, served as elected member and President of the Harlem Consolidated School District board, a Trustee of the Harlem-Roscoe Fire Protection District, and Life Member of the Lovejoy School Parents Teachers Association.
He served as trustee of the Argyle Scottish Cemetery. He was a member of the Roscoe Grange and a member of the Harlem Historical Society. He was a member and Elder of the Willow Creek Presbyterian Church and active on many committee functions. He was a member of The Northwest Gun Club and a winner of the annual shoot more than once. In his retirement years, he was a member of the Roscoe Young at Heart Club.
Following his years of active farming, he was elected to the position of Township Assessor, Harlem Township and held it for fourteen years. He died 9 September 1991 after a short illness, at the Alpine Fireside Health Center, Rockford.
Kenneth and Evelyn had seven Children.
Elizabeth Ann 1923-1923
Russell Belden 1924-2011
Laurence Eugene
Harold Alan
David Cornell 1930=2020
Mary Jane
Duane Kenneth