Peter Ralston Pocket Watch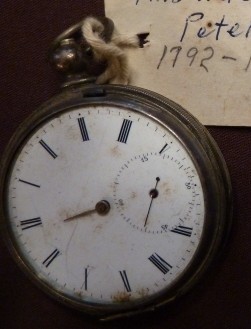 Click to View Larger Size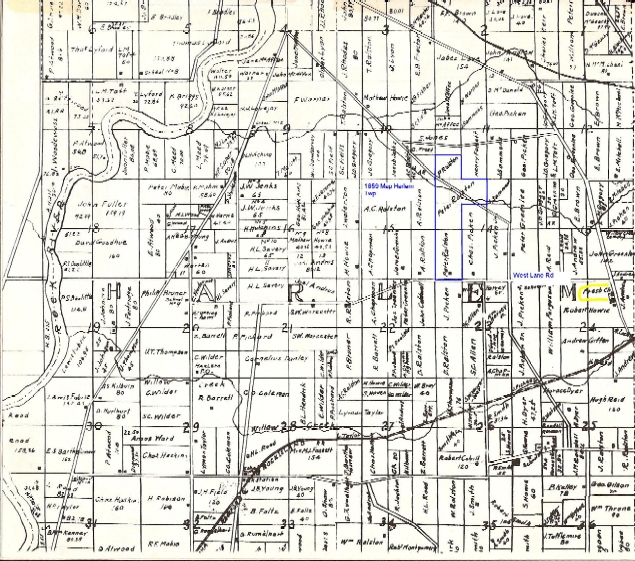 Map with Peter Ralston farm on West Lane Road
(click on image for full size)
Located at modern I94 highway exit.
Peter Ralston, also called Patrick, first child of Thomas Ralston and Margaret Picken,1 was born in Scotland at Brecklate, (View Map), Southend Parish, June 1791.2 1791 Parish Record. On 21 January 1820 he married, in Southend, Jannet Brown of Machrimore born 1802 in Scotland, daughter of Charles Brown and Elizabeth Ralston. 1820 Parish Record.
Peter and Janet traveled with six of their children from Campbeltown, Scotland in 1840 to New York on the ship "British Barque Tay" and went to live with her brother, Alexander Brown in Cincinnati, Ohio, and then to Illinois in 1843.3,4
View letters to Peter from Scotland and Ireland.
He was a charter member and elder in the Willow Cheek Presbyterian Church, Argyle, Winnebago Co., Illinois, organized in 1844.
Peter, the father, died 8 April 1879 in Illinois.
His son, Thomas died a month later, 19 May 1879.
Family documents include a Letters of Administration designating his grandson, Peter W. Ralston as the estate administrator June 6th 1879, shortly after celebrating his 21 birthday on March 24th. Note: P Wm was also joint estate administrator of his father Thomas's estate following death on May 19 1879.
His wife Janet Brown died, in Illinois in 1845.
Picture of their gravestone in Scotish Cemetery, Illinois.
They had eleven children5 :
1) Elizabeth, born 20 Dec. 1820, Homeston, Southend, Scotland. 1820 Parish Record. She married William Fleming, 11 June 1840 in Campbeltown (1840 Parish Record.) and remained in Scotland in 1840. Both died in N Ireland. Cemetery Memorial


They had seven children;
John 1842-1885
Janet 1844-1919
Elizabeth 1847-1916 1847 Parish Record
Jane/Jean 1849-1926 1849 Parish Record
Florence abt. 1853-1914
Margaret abt. 1856-1911
Mary abt. 1863-1890




THE KINTYRE ANTIQUARIAN and NATURAL HISTORY SOCIETY MAGAZINE
Issue Number 54 Autumn 2003.
When Jannet Brown and Peter Ralston emigrated, they left a daughter, Mrs. Elizabeth Fleming, at Campbeltown. Elizabeth and her husband wrote from Campbeltown, on 30 July, 1850, that 'a great many able young men left Kintyre this summer'. They sent 'respects to all our Brothers and sisters and to all ants (sic) & uncles and all inquiring friends'. The implication is that they not only knew a good number of Kintyre people in the USA, but also that there were extended families and generations of their relatives in the USA. The Fleming's also mentioned relatives and friends, including the 'Granlees (sic) family', who were expected in the USA, and 'John Ralston and Duggale Kerrale', destined for Canada. (The last name is the colloquial form of Dugald McKerral.) One group who had emigrated 'for America this summer will be across the Atlantik (sic) by this time'.



2) Child died as infant.
3) Margaret, born 26 April 1824, Homeston, Campbeltown, Scotland. 1824 Parish Record. She married John Picken, June 18496 in Illinois, died in Ill.
4) Helen, born 24 Feb. 1826, Homeston, Campbeltown, Scotland died as infant. 1826 Parish Record
5) Thomas, born 30 Aug. 1827 Homeston, Campbeltown, Scotland, 1827 Parish Record, married Jean Ralston, 1 Apr. 1857, died 19 May 1879 with burial in the Argyle, Ill. cemetery. Peter Ralston Farm Harlem Township, Illinois
6) Charles, christened 27 Dec. 1829, (1829 Parish Record.)Homeston, Campbeltown, Scotland, married, Ella Jackson, Tennessee native and cousin of Stonewall Jackson in 1869, died 1889, Lawrence, Douglas, Kansas, burial in Oak Hill Cemetery.
7) Helen, born 24 July 1832, Campbeltown, Scotland, married David Andrew.
8) Janet, born 17 Sept. 1834, Campbeltown, Scotland, (1834 Parish Record.) married Archie McEachran.
9) Peter, born 23 May 1837, (1837 Parish Record.)Homeston, Campbeltown, Scotland, bachelor, died 1916 in Lawrence, Douglas Co., Kansas, burial in Oak Hill Cemetery.
10) William, born about 1842 in Ohio, died about 1853, buried Argyle cemetery, lot 392.
11) Jane, born 8 Nov. 1845, infant died 20 Nov. 1845, buried Argyle cemetery, lot 392.