P W Ralston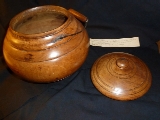 Click to View Larger Size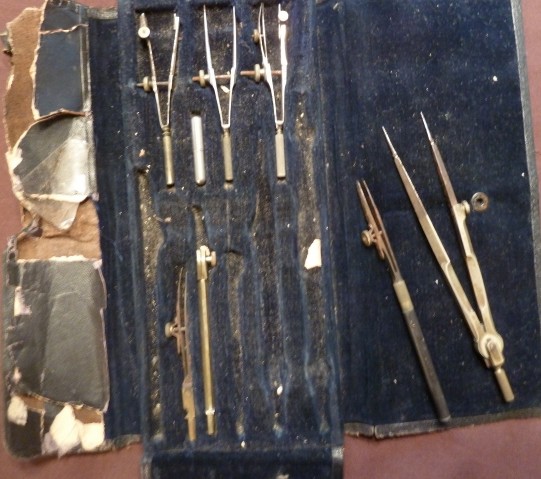 Click to View Larger Size

Family group about 1909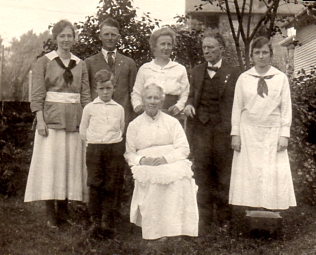 1918 Family group in Chicago
First child of Thomas Ralston and Jean Ralston, born 24 March 1858 on the family farm in Harlem Twp., Winnebago Co., Ill.
Attended local schools, probably in Harlem.¹ Had good attendance record and seldom missed a day at school. He was handy with carpenter tools and had a wooden pot that he used when going to Roscoe for sugar (Now in possession of Great Grandson; Robert W Ralston). Was allergic to horse hair but farmed until brother John was old enough to take over the farm. (Farm ownership history.)
Joined Northwest Gun Club, Argyle, soon after it was formed in 1877.²
On 17 June 1890, at age 32 he graduated from Beloit College Academy in the field of English.³ The graduation exercises included talks by eight class members, a debate by two others and music by a duet and the Class Banjo Club. An academy bulletin described the Business, or English course of study as "meets the wants of those not looking forward to a College course, but wishing those studies helpful to an entrance upon business life or teaching." According to the academy grade ledgers, he attended during Winter, Spring and Fall terms of 1887, Winter and Spring terms of 1888, Fall term of 1889, and Winter and Spring terms of 1890. The ledger shows his grades in: Grammar, Arithmetic, Physiology, Business Arithmetic, Elementary Rhetoric, Botany, Algebra, Physical Geography, Zoology, Chemistry, German, Biology, Roman History, English Classics, and Physics, etc.. (some are too illegible to read), with Declamations, Essays and Bible Study throughout the courses. The complete curriculum was three years, Junior, Middle, and Senior. Expenses are listed as "Tuition, Fall Term, 15 weeks...$10.00, Winter and Spring Terms...$8.00. Rent of rooms (furnished with stoves) in College Buildings, is from $10 to $20 per year. Board and room in private families is from $3.75 to $5.00 per week."4
He married Hannah J. McAffee, daughter of James McAffee and Margaret Cross, on 6 November 1890 in her parents Roscoe home, on the farm originally settled by Robert J. Cross in 1835. The house is still standing on Hononegah Road.
They soon moved to Chicago where he was engaged in engineering work for various firms. One was the Chicago and Northwestern Railroad. His work was not steady and sometimes took him out of town.5 He helped layout several streets in the city and was working on a railroad project in Upper Michigan in late 1918.6 The railroad, from St. Ignace to Sault Ste. Marie however, was not built on that site.7 Chicago home was near Lincoln Park for a short time and then in Avondale but later had a house built in Irving Park by his brother-in-law Earnest Worcester (husband of Julia McAffee), about 1897-8. It was in a new area at 4328 Lowell Avenue. Earnest was paid $2 a day plus $1 a day for an assistant.
'Willie' had belonged to Willow Creek Presbyterian Church in Argyle. He later joined Irving Park Methodist church. Perhaps because there was no Presbyterian Church in the area.8 He was on the Church Board and active in the Men's Bible Class. He was a poll worker during election times. He enjoyed gardening, hoeing, weeding and raising vegetables.9
They had five children:
1) Thomas James, born 29 August 1892 at McAffee/Cross Farm, Roscoe, Ill. He server in France during WW1. He married Mabelle Greenlee 22 December 1921. He died 1 February 1989, Argyle. They had three children.
+2) Kenneth McAffee, born 21 November 1895, Chicago, married Evelyn Belden 15 June 1922, died 9 Sept. 1991, Roscoe. They had seven children.
3) Evelyn Margaret, born 17 October 1899, Chicago.
4) Dorothy Jean, born 18 February 1901, Chicago, died 31 March 1920, Chicago, buried Argyle Cemetery.
5) William John Charles, born 14 June 1910, Chicago, married Margaret Jeanette Greenlee 19 February 1938, died 24 November 1990, Rockford. They had three children.
Their father, Peter Wm. Ralston died at his Chicago home 5 January 1949. Burial was at Argyle Cemetery. "Peter W. Ralston. Caledonia- Peter W. Ralston, 90, died yesterday afternoon at his home in Chicago. He had been in good health until shortly before he died. Peter Ralston was born in Harlem township March 24, 1858, the son of Thomas and Jane Ralston, pioneer settlers in the Argyle area. He married Hannah McAffee of Roscoe Nov. 6, 1890, and they lived in Chicago ever since. He is survived by his wife; a daughter, Evelyn, at home; three sons, Thomas, Kenneth and William, all of Argyle; 12 grandchildren, and a sister, Mrs. Elizabeth McKay, Redwood Falls, Minn. A daughter, Dorothy, preceded him in death. Funeral services will be held in Chicago and also at Argyle, at 2:30 p.m. Friday in the chapel at the Scottish cemetery, where he will be buried." (from a newspaper clipping).
View letters to Peter from Belfast, Ireland: 1881, 1882.
Membership Cards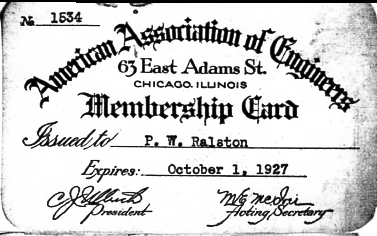 American Society of Engineers - 1927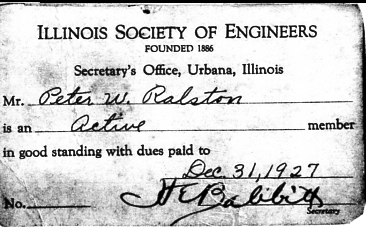 Illinois Society of Engineers - 1927
Business Card
P W Ralston employment information,
In letters sent to Kenneth Ralston between June and October, 1918, he describes some of the work he was doing for the railroad while based at Antigo, Wisconsin. On June 16, he was at Antigo staying at the Hoffman House Hotel and had been to Rhinelander and New London the previous week and was going to Oshkosh the following day. July 17 he was at Monico lining curves and would go 70 miles north the following day. On Aug. 20, he was 20 miles N. E. of Antigo. On September 25, he had been 28 mi. south of Antigo at Eldora doing a survey for logging purposes. On the way up from Chicago that week, there was a freight wreck north of Split Rock so the train backed up to Clintonville and then up another line to Shawno and up to Eland Jct. to return to the main line. While at Shawno he saw a large crowd listening to a speaker and nearby there was a train with 3 French 77's, a German trench mortar and a wrecked Fokker plane. He had gone to Wausau in the afternoon and would go to Appleton the next day to lay out a new roundhouse. On October 9 he was near Marshfield and would go to New London the following day.
Book- 1916-1918 Letters to Kenneth McAffee.
---
City Directory Information: Year and Residence
1902 Isabel Ralston, Harlem, Roscoe


1905 Elizabeth Ralston, Harlem, Roscoe


1905 John Ralston, Harlem, Roscoe


1915 Peter W Ralston, civ engr, 4328 Lowell Ave, Chicago, IL


1915 Kenneth Ralston, clk, 4328 Lowell Ave., Chicago, IL


1917 Peter W Ralston, civ engr, 4328 Lowell Ave, Chicago, IL


Source: Evelyn M. Ralston, 4 December 1990.
Source: Wallace G. Ralston, 27 November 1990.
Source: Connie Ralston Kassal, 7 February 1991, Copy of Graduation Exercises invitation.
Source: Archives, Beloit College, Beloit, Wisconsin.
Source: Evelyn M. Ralston, 4 December 1990.
Source (25) page 123.
Source: Wallace G. Ralston, 27 November 1990.
Source: Wallace G. Ralston, 27 November 1990.
Source: Evelyn M. Ralston, 4 December 1990.