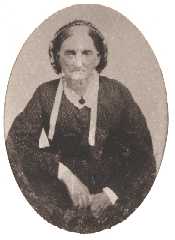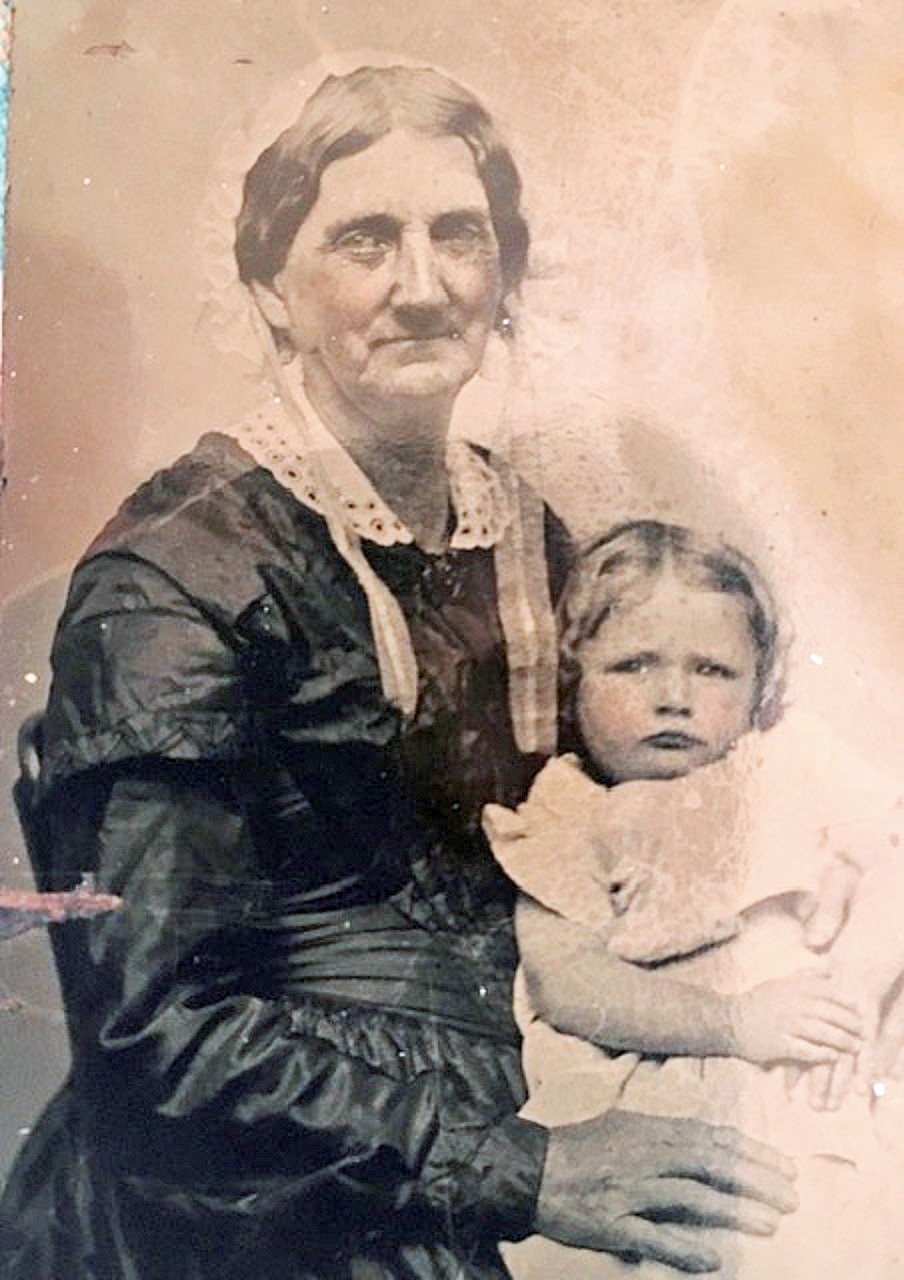 Jane McCarty and Hannah McAffee
Jane MCCARTY (William-4, Benjamin-3, Silas-2, John-1), daughter of William McCarty and Mary Lloyd, was born on 6 April 1800 in Muncy, Lycoming, PA. She died on 9 March 1878 in Waverly, IA. and was buried in Roscoe, Winnebago Co., IL.

She was married to Alexander MCAFFEE (son of James MCAFFEE and Martha MCMICHAEL) on 17 November 1825.

"Alexander and Jane McCarty were among the early pioneers to the far West. In October 1838 they with their family of five children, migrated to Roscoe, Illinois, by wagon and horseback, stopping for a time with friends in Michigan, with whom they left their women-folk, while they themselves pushed on, and finally located claims on the banks of Rock River, about one mile from the village of Roscoe, in northern Illinois. Mr. McAffee paid $400 for his claim of 400 acres.
Here they erected a double log-house, and returned for the women and children.
Chicago, ninety miles distant, was their only market, and their produce was hauled there, and goods for their use brought back, for many years, by wagon. Here they reared their family of nine children. Both Alexander McAffee and his brother John, who accompanied him, were prominent in the community and occupied positions of trust.
Jane McCarty died April 9, 1878."(6) Grave memorial stone

Alexander MCAFFEE was born on 2 November 1798 in Northumberland Co., PA. He died on 24 March 1852 in Roscoe, Winnebago Co., IL. He was buried in Roscoe, Winnebago Co., IL. He left Pennsylvania Oct 1838 with brother John and arrived in Roscoe, Ill, 31 Jan 1839.
---
Jane MCCARTY and Alexander MCAFFEE had the following children:
James M. MCAFFEE (born on 18 August 1827).
William D MCAFFEE was born on 10 July 1829 in Penn.. He died on 7 October 1862 in Roscoe, Winnebago Co., IL. He was buried in Roscoe, Winnebago Co., IL.
Amanda MCAFFEE (born on 21 February 1831).
Benjamin Franklin MCAFFEE was born on 6 December 1832 in Towanda, Bradford, Pa.. He died on 22 November 1834.
Charlotte Temple MCAFFEE was born on 29 January 1836 in Towanda, Bradford, Pa.. She died on 17 February 1839 in Roscoe, Winnebago Co., IL.
Mary Ann MCAFFEE (born on 16 January 1838).
Martha Jane MCAFFEE (born on 8 June 1840).
Harriet MCAFFEE (born on 16 June 1842).
Edwin MCAFFEE (born on 8 June 1845).
The September 1870 Roscoe census shows Jane McCarty McAffee, age 70, living with the family of her son James.
Sources:
Dates on grave stone "Died March 24, 1852, age 53 year, 4 month, 22 days"
1850 Census, Roscoe, Ill
Photo taken in Roscoe Cemetery.
Composition Book Page 16, 17, 28.
"Now and Then", Vol. VI, July 1939, Number Seven. Published by Muncy historical Society and Museum of History... "
The descendants of James Carrell and Sarah Dungan, his wife Hatboro, Pa.: 1928, 732 pgs.; Page 203-4