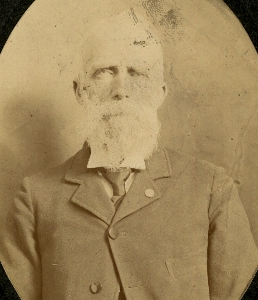 James McAffee was the son of Alexander McAffee and Jane McCarty. Born in Bradford, Co. Penn., 18 August 1827, he died at Roscoe, Ill., 30 March 19011 on the former Cross farm (Sec. 29 & 32) on the road from Roscoe to Rockton.
He came with his parents to Roscoe in 1839. They had a brick home south of Roscoe at the west side of the intersection of McDonald Road and North Second street.2 Following his father's death, he carried on at the McAffee farm and, married Almeda McCausland (date unknown). She was from Ridott, Ill., a native of Canada, and the daughter of William McCausland. She died in 1856, leaving one daughter, Meda.
On March 22, 1866, he remarried to Margaret L. Cross.4,5 She was born 21 April 1839 in Roscoe, Ill., Daughter of Robert J. Cross and Hannah Benedict.
They had three children;
+1) Hannah Jane 1867-1950, who married to Peter Wm. Ralston 1858-1949, a civil engineer in Chicago.
2) Julia E., 1868-1928, who married Earnest Worcester, a Chicago architect.
3) James C., 1872-1942, a civil Engineer at the Chicago Columbia Exposition.
He, and his brother Edwin, was in the Civil War. He enlisted August of 1862 and received a medical discharge 7 January 1863. The discharge certificate reads: "James McAffee, a Sergeant of Captain Elias Cosper's Company, (E) of the 74th. Illinois Regiment of the United States Volunteers Infantry was enlisted by Capt. J. B. Kew of the....... Regiment of.... at Harlem, Winnebago Co., Illinois, on the 11th. day of August 1862, to serve 3 years; he was born in the U. S. of America, is thirty five years of age, five feet nine inches high, light complexion, blue eyes, Brown hair, and by occupation when enlisted a Farmer. During the last two months said soldier has been unfit for duty 60 days. (Surgeon's diagnosis is written here but, difficult to read). Discharged this seventh day of January 1863, at Bowling Green, Ky. M.D.Manson, Br'g. Gen'l, Commanding the Post. (Words in italics are hand written on blank spaces in document.)3
The following is from The 'Rockford Daily Register-Gazette' "Mr. McAffee still lives but is gradually fading".6 "War Veteran Mustered Out...Roscoe, Ill., Mar. 30...James McAffee, who has been lingering between life and death for some days past, breathed his last this morning. He served in the Civil War as a Private in Co. E, 74th. Illinois Volunteers and was a member of Nevius Post G.A.R. He is survived by his wife, one son and three daughters. Funeral services will be held Monday afternoon at 1:30 from the house and 2:00 from the Methodist Church." 7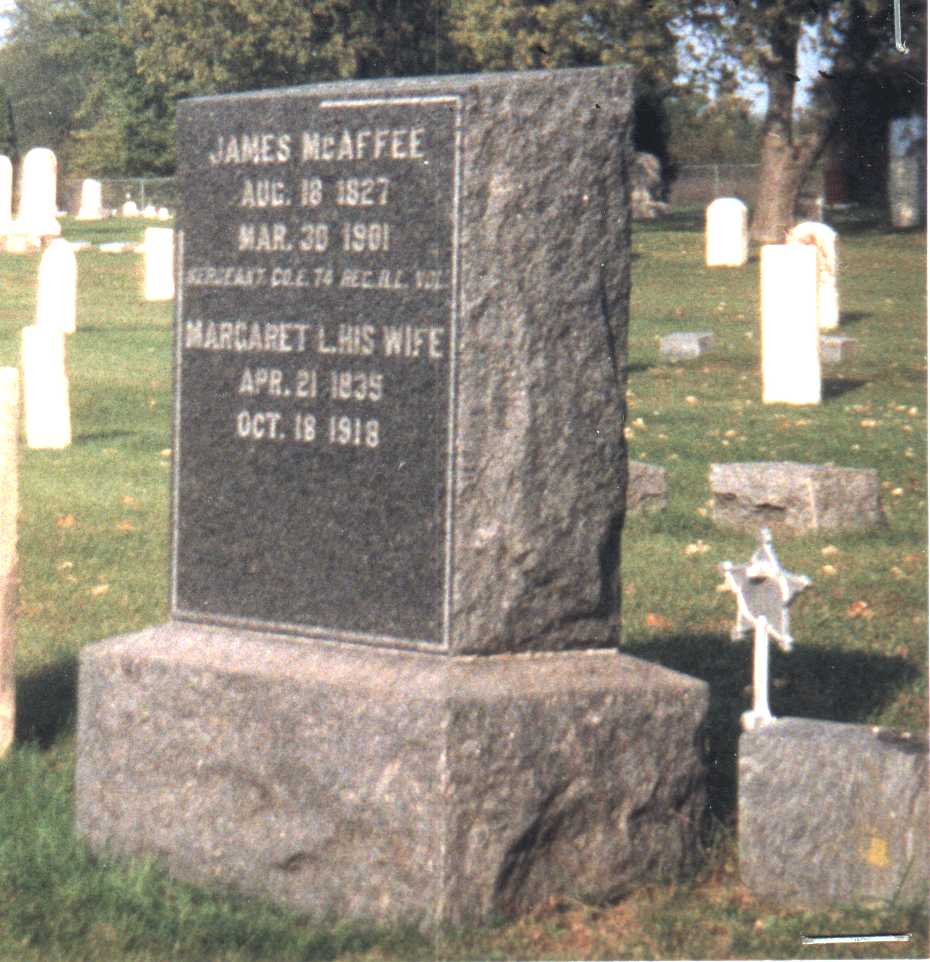 Grave Marker for James
and wife Margaret.
The following is from 'Portrait and Biographical Record of Winnebago and Boone Counties, Illinois' Chicago, Ill., 1892, Biographical Publishing Co.8
"James McAffee was originally from the Keystone State, born in Bradford County in August, 1827, and his father Alexander McAffee, was also a native of that State but was born in Northumberland County in 1798. The elder Mr. McAffee married Miss Jane McCarty, of Lycoming County Pa., born at Muncy in 1800, and one of thirteen children. The result of this union was nine children, four sons and five daughters, two of whom died in early childhood. Of the seven that grew to adult years, only four now survive, and they are Amanda, now Mrs. Henry A. Fahnestock, at Waverly, Iowa; Mary A., widow of Melvin J. Wood, resides in Roscoe, Ill.; Edwin, a farmer of Audubon County, Iowa, and our subject, who is the eldest of the family. The parents of these children came West from Pennsylvania in October, 1838, made the journey with teams, and landed in Roscoe on the 31st. of January, 1839. While on the way to this State, they were in Michigan, near South Bend, Ind., for a short time, and the father and his brother John came on to Roscoe Township, where they bought a claim of four hundred acres one-half mile from the (then) village of Roscoe. They paid $440 for this tract, and, although fifteen acres had been cultivated, there was no house on it. They immediately erected a double log house and then returned for the family. Here the father passed the remainder of his days, dying of an abscess in March, 1852, when not quite fifty four years of age. His wife remained a widow and survived him twenty-six years, keeping the family together until about 1870, when she went to live with her daughter. About this time the old place was sold for $4,500. Mrs. McAffee died in March, 1878, when about seventy-eight years of age, her death occurring in Iowa, where she was visiting her daughter.
"James McAffee, subject of this sketch, and his brother Edwin were volunteers in the Civil War. The former enlisted in the Seventy-fourth Illinois Infantry as a Sergeant, August, 1862, and was discharged for disability in January of the following year. He and his brothers and sisters were all fairly educated, and our subject, being a man of observation and study, has not allowed his ideas to rust out, but is well informed on all subjects and is thoroughly apace with the times. After the death of his father, he carried on the farm and was married to Miss Almeda McCausland, of Ridott, Ill., but a native of Canada. Her father was William McCausland. Mrs. Almeda McAffee passed away in 1856, leaving one daughter, Meda, who is a resident of Iowa at the present time. Mr. McAffee's second marriage was to Miss Margaret L. Cross, a native of Roscoe, born in that city (or rather town at the time) in 1839. Her father, Robert J. Cross, was a native of Newburgh, N. Y., but moved to near Detroit, Mich., in 1825 and thence to Coldwater in 1830. Five years later, he came to Roscoe, Ill., where he became a successful agriculturist. He was quite a prominent man in the county and held many positions of trust and honor. He was the first County Commissioner appointed in 1836 and was the first County Treasurer appointed by the County Commissioners, serving in that capacity for three years. In 1846, he was elected by the Whigs of Winnebago County to represent them in the General Assembly and in 1846 and 1847 he was a colleague of Judge Church to revise the State Constitution. He was a profound thinker, a deep reasoner, and one of the ablest men the county has ever had. He died in February, 1873, when sixty-nine years of age, and was at that time a member of the General Assembly from Winnebago and Boone Counties. His wife and four children still survive him. One son, John, is in Kansas; Margaret L. became the wife of our subject; William Henry is a Congregational minister of California, and Lewis is a farmer of Iowa. The mother of these children was born July 21, 1812, and, although nearly eighty years of age, is as bright mentally as ever, but her physical condition is not of the best.
"Mr. and Mrs. McAffee have been farmers in this section nearly all their lives and settled on the present farm, consisting of one hundred and thirty-five acres, which formerly constituted the home place of Mr. Cross. Their union has been blessed by the birth of three children, two daughters and one son: Hannah J., now Mrs. P. W. Ralston, residing in Chicago, her husband being a civil engineer; Julia E., now Mrs. Ernest I. Worcester, of Chicago, her husband an architect, and James C., a civil engineer working on the Columbian Exposition grounds, Chicago. Mr. McAffee is virtually a retired farmer, although living on the farm, which he has rented out for a number of years. He was born and reared a Democrat, but since 1860 has affiliated with the Republican party, although he is free to vote for the best man always."
There is an interesting story told about James during the early days of Roscoe. It seems that one of the first buildings used for a school and church had planks instead of stairs. "It is said of James McAffee that on one occasion he rode a borrowed horse up the planks in the church, and it took all the available men in town to get the horse down."9
---
Source (5), Mar 28, 1901.
Source (35), Page 2.
Source Pension File in National Archives, Washington, D.C.
Source (3), Page 1114.
Source (1), Photo of Mrs. James McAffee. Page 21.
Source (8), Fri., Mar. 29, 1901.
Source (8), Sat., Mar. 30, 1901.
Source (3), Page 1114.
Source (8) or (9), article on early Roscoe Methodist Church history, about 1927.
Source (59), Page 359.