Charles F Ball
CHARLES F. BALL, Racine Wis., was born at Colchester, Vt., Aug. 29, 1844 and is the son of Charles W. and Betsy (Bradshaw) Ball, who were the parents of Charles, George W. and Emma J., now Mrs. W. J. Goff. The father was a farmer and followed that business for a long period of years. In 1846 he emigrated with his family to the West and located in Racine county, subsequently removing to Burlington, where he established himself as freight and express agent in which he remained until he retired from active life. The parents are still living in Burlington, Wis.
Mr. Ball obtained his education in the public schools. When the first call for troops was made in 1861 he was determined to "follow the flag" and connected himself with the 9th Wisconsin Battery, Light Artillery. He was too young to be regularly enlisted but he was so full of patriotism that his mother consented, on the strength of his promise not to enlist and on the guarantee of the officers to send him home if he became discontented, that he should ·accompany the command. His is probably one of the most isolated cases in the history of the war, in which a man followed the fortunes of a regiment throughout, without enlisting or being mustered. He went from the rendezvous at Camp Utley under the charge of Captain Cyrus H. Johnson, to St. Louis and left Benton Barracks for Fort Leavenworth where the battery received equipments and he accompanied the command on the long march to Denver, Colorado, taking the old Platte route. They operated sometime in that vicinity, protecting the United States mails and endeavoring to keep the Indians within bounds. When Captain Johnson was relieved Mr. Ball was at liberty to return home but he elected to remain with the battery and, soon after was detailed to assist in the quartermaster's department and afterwards he took charge of a quartermaster's corral of horses. While discharging those duties he was asked to become a scout, to which he consented providing he could have a certain horse to which he had become attached and he remained in that service two years. On all of his expeditions he went from Fort Lyon to Fort Larned, a distance of 280 miles on special service with dispatches, and made the trip in three days with Indians all about him. For a time he had a companion named Joe, a half-breed, whom he retained until he was satisfied of his treachery. On one occasion, in his reckless love of adventure he rode into the heart of an Indian camp. The redskins mounted their ponies and only the fact that his horse was thoroughbred and swift as the wind, saved him from destruction. Once, upon his way to Wynkoop, Joe stole out at midnight from their camp, rolling himself along the ground Indian fashion and giving two war whoops as a signal for the Indians in the vicinity. Mr. Ball rose, took his gun and drew a bead on Joe, who shouted "No shoot; me good Indian." But, the Indians were upon them and Mr. Ball only escaped by swift riding as before. When he returned to Fort Lyon Joe was discharged. Once a report carne to the fort that the Indians were skirmishing near Sand Creek and Mr. Ball went to verify it, to find himself in the midst of a band of Cheyenne Indians. He started in an opposite direction to find himself surrounded by another band, when he started his horse at full speed, emptied his gun at random among them and killed two. He rode into Fort Lyon with his pursuers only a mile behind him. He received an arrow wound and his horse was hit several times. The injury to his foot gave him a deal of trouble and was finally healed by a remedy given him by an old Indian. Once he had a fight with an Indian near Sand Creek, both having bowie knives. Each held the knife hand of the other and matters were growing desperate, when a comrade struck the Indian on the head with the butt of his rifle and both rolled down the embankment. The Indian was dead and Mr. Ball uninjured, beyond a few scratches. Once he was sent with dispatches to Haines Ranch-75 miles-starting in the night and on the next night he stopped, staked his horse and was falling asleep, when his horse snorted "danger." He jumped up, caught his blanket and, mounting, rode into the timber for safety. Soon after he discovered a fire which he knew must be a burning ranch. He rode towards it as soon as it would do and just before reaching there he found the body of a white man-scalped. He proceeded, to find near the smoldering ruins the bodies of three murdered women-the wife and daughters of the man. Mr. Ball rode back to the fort and an expedition was fitted out which reached there the following morning to find the bodies unmolested. On looking for tracks, Mr. Ball found those of a barefooted boy whom he followed and soon came upon a lad of 15 years who was flying from him in terror. He took him on his horse and rode back. The boy stated that he and his father were out after dark, to corral their cattle, when they were assaulted by Indians. He hid in the tail grass and saw his father murdered and scalped. Afterwards he stole to the house to find his mother and sisters dead and the ranch on fire. He started for the Haines Ranch and was overtaken by Mr. Ball. Afterwards Mr. Ball went to Wyandotte and thence to Fort Leavenworth, where a thief tried to cut his pockets. He knocked the fellow down and delivered him to the officers. While at Leavenworth he was sent with important dispatches to Lawrence and soon after went into the ranks under the general order -to place every man capable of bearing arms in a position to aid in the general good. An assault was made on a barn in which a body of Price's troops were entrenched and for a time it seemed as if they could not be dislodged, but artillery was brought into operation and the inmates were' captured. A spent ball hit Mr. Ball in the leg which he afterwards cut out with his jackknife. He went to Lawrence and thence to Leavenworth and remained there three months, returning to Wisconsin in the fall of 1865. He went to Racine and entered the employ of Fish Bros., and afterwards that of J. I. Case. In the fall of 1877 he was elected Constable and later, was appointed Deputy Sheriff under George Brenner and was his successor until 1888, when he was made Sheriff of-Racine county by election on the Republican ticket. Prior to this he was Marshal of Burlington and also was Superintendent of the western portion of Racine county. Since his last election he has resided at Racine.
He was married Oct. 7, 1869, to Flora, daughter of James and Mary Campbell of Burlington. Their children are Mabel Howard, Arthur, Herbert and Edward.
Mr. Ball's portrait is presented on page 532.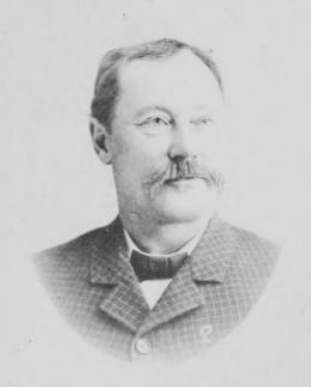 Source- Soldiers' and Citizens' Album of Biographical Record, Chicago, Ill 1890. Grand Army Publishing Co.

To visit some of my index pages, choose from this drop down list, and click GO:

343