"James McAffee, the son of James McAffee and Jane Durham, was born in Pennsylvania 6 July 1771 and died 22 March 1860. He married first Catherine Blakely 6 July 1792 and second Martha McMichael, daughter of Alexander McMichael and Martha Johnson."
James and Catherine had one child:
1) "Catherine, born 12 April 1793 and married September 1814 to Andrew Irvine. She died 5 May 1864."1
The children of James and Martha were:
1) "Jane Durham, born 25 April 1797, died 24 February 1873, married John Schoemaker, children; Alfred, Mercy Ann, Joe, Edd, Will. All three died in California at end of mature life."
2) "Alexander born 2 November 1798 and married Jane McCarty of Muncy, Pennsylvania on 17 November 1825. She was born 6 April 1800, a Quaker. He died 24 March 1852, Roscoe, Illinois and she 9 March 1878, Waverly, Iowa."
3) "Martha born 14 April 1800 in Northumberland Co., PA and married in 1817 to Silas McCarty, brother of Jane above. She died 28 August 1865 at Ulster, PA. He was of Quaker religion, she was Presbyterian."
4 "William a widower, married Miss Bowman, two children, Dr. William McAffee, 1832-1906, Rockford, and Dr. Ed McAffee, Clinton, Iowa."
5) "John, born 12 May 1810, married Adeline Alden, at Byron, Illinois, 12 May 1845. He died 1 May 1881, Roscoe, Ill., she born 25 February 1816, in Bradford County, PA, died 19 June 1891, Roscoe. 4 children, Margaret Adeline, John Alden, George, Vesta Jane."
Vesta Jane Mcaffee was born 23 January 1858 and died 11 February 1921 in Roscoe, Illinois. She was a member of the Daughters of the Amerian Revolution.
This is information found about her membership-
DAR 1917 vol. 131 pg 40
Miss Vesta J McAffee, Member #130123, born Roscoe, Ill.
James McAffee (1745-1814) served as private, Northumberland County, Pennsylvania. He was born in County Antrim, Ireland. Died in Milton, PA.
Ancestor #:A074347
Also see member #115536 Jennie Louise McCarty.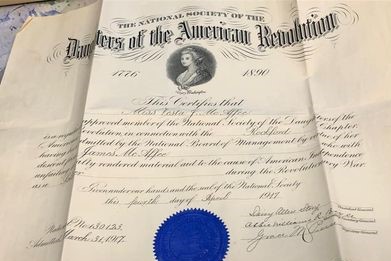 DAR Member certificate of Vesta Jane McAffee
Source (36), page 16, and from an undated typed manuscript.
---