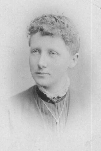 Daughter of James McAffee and Margaret Louise Cross, born 10 March 1867 at their home in Roscoe. She attended and graduated from Roscoe Union High School. (A picture of her sister Julia's high school class is on page 22 of "The Picture Story of Roscoe".)1 Harlan V. Holt was her principal and her teacher in Roscoe, 1885 - 1886.2 (He later became a Methodist preacher and had a church in Avondale, Chicago. This was why they moved there after first living near Lincoln Park following marriage.)3 She took special training to become a teacher. She was a teacher at Bell School near Rockford, and two others, one east of Roscoe. According to tradition, boys at the school east of Roscoe brought guns to school for target practice during recess on at least one occasion, supposedly it was the Lovesee boys.4 The Lovsee family was among pioneer Roscoe settlers.5
She married Peter Wm. Ralston, son of Thomas Ralston and Jean Ralston, on 6 November 1890. The ceremony was at her parents home on the property originally settled by Robert J. Cross.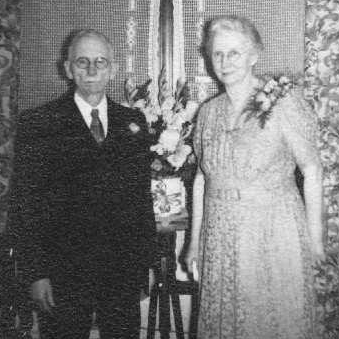 Peter Wm. and Hannah McAffee Ralston
at 50th anniversary.
She was said to have been expecting to live on a farm but was soon living in Chicago where her husband became employed in civil engineering work. She returned to Roscoe to have her first child Thomas, in August 1892. They lived near Lincoln Park for a short time, and then Avondale, before building the home in Irving Park at 4328 Lowell Avenue, about 1897-8.
Hannah died at her Chicago home 23 January 1950. Burial was in Argyle Cemetery. She told about entertaining relatives who visited Chicago for the World's Columbian Exposition in 1893. She belonged to Irving Park Methodist Church, was interested in church activities, and was President of the Women's Foreign Missionary Society for many years. She was a member of Irving Park Women's Club.
"Hannah McAffee Ralston, died yesterday at the Belmont hospital in Chicago. She was the widow of the late Peter W. Ralston. "Mrs. Ralston was born March 10, 1867, in Roscoe the daughter of James and Margaret McAffee. She was the granddaughter of Robert J. Cross, the first settler of Roscoe township. She married Peter W. Ralston, Nov. 6, 1890, in Roscoe and the couple then moved to Chicago, where they have lived since then.
"Surviving are a daughter, Evelyn, at home: three sons, Thomas, Kenneth and William, all of Argyle, 12 grandchildren and three great-grandchildren. Besides her husband, a daughter preceded her in death.
"Funeral services will be held Wednesday at 2:30 p.m. in the chapel of the Scottish cemetery at Argyle." (taken from a newspaper clipping).
They had five children:
1) Thomas James, b. 29 Aug. 1892 at McAffee/Cross Farm, Roscoe, Ill. Died 1 February 1989 at Argyle.
+2) Kenneth McAffee, b. 21 Nov. 1895, Chicago. Died 9 September 1991 at Roscoe.
3) Evelyn Margaret, b. 17 Oct. 1899, Chicago.
4) Dorothy Jean, b. 18 Feb. 1901, Chicago, Died 31 March, Chicago, buried Argyle Cemetery.
5) William John Charles, b. 14 June 1910, Chicago. Died 24 November 1990 at Rockford.
---
Source (35), page 22
Source : Page 74," Roscoe Union High School Record" by Vesta McAffee.
Source : Evelyn M. Ralston, 4 December 1990
Source : Wallace G. Ralston, 27 November 1990
Source (35), page 4.
Source : Evelyn M. Ralston, 4 December 1990