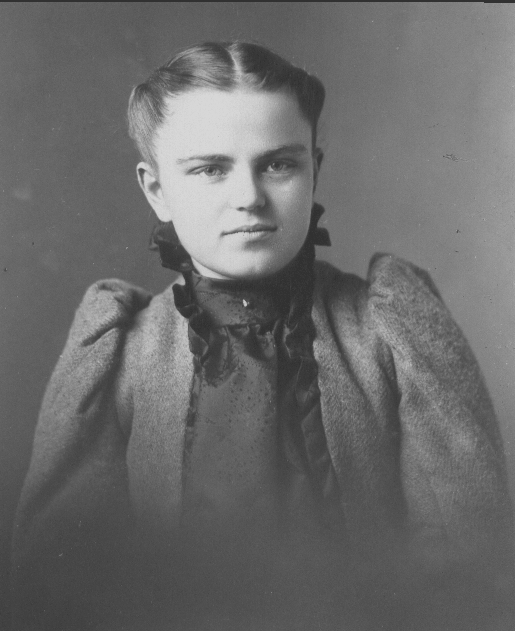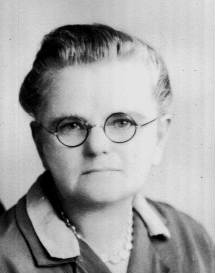 Click Picture to view.

Clara Lovisa Goff was the daughter of William J. Goff and Emma J. Ball Goff, born 12 Nov. 1874 in Burlington, Wis., married Louis A. Belden at her parents Burlington home 10 February 1900 and died at her daughter Evelyn Ralston's home near Roscoe 25 May 1954.

The following is from Beloit, Wis. Daily News: "Roscoe -- Mrs. Clara L. Belden, 79, Roscoe, Ill., died in her home here yesterday. She had been a Roscoe resident since 1905.

"The former Clara Goff was born Nov. 12, 1874, in Burlington, Wis., a daughter of James and Emma Goff. Her marriage to Louis A. Belden took place Feb. 10, 1900, in Burlington, Wis. She was a member of the Roscoe Methodist church, was superintendent of its Sunday School for a number of years, and was always active in church affairs.

"Surviving are a son, Robert L. Belden, Rockford; five daughters, Mrs. Theodore Reimer, Beloit; Mrs. Kenneth Ralston, Mrs. Earl Busker and Mrs. John Kelley, all in Roscoe, Mrs. Burdette Johnson, Rockford; 18 grandchildren and five great grandchildren; and a brother, Will Goff, Indianapolis. Mr. Belden died in August 1938."

"Funeral Services will be held at 1:30 P.M. Saturday at the Roscoe Methodist Church, the Rev. Arthur Blaisdell officiating. Burial will be in Roscoe cemetery. The family will meet friends between 7 and 8 Friday night at the mortuary."1

She attended an academy and was a teacher.2 She was married on 10 February 1900 to Louis A. Belden at her parent's home in Burlington, Racine Co., Wisconsin. The marriage was officiated by Rev. William Kilbourne and witnessed by their grandparents A. J. Robertson and C. W. Ball.3

"Matrimonial- Last Saturday evening at 6:00 o'clock at the home of the brides parents, Mr. and Mrs. W. J. Goff, in Perkins Park, occurred the marriage of their oldest daughter, Miss Clara L. Goff, to Louis A. Belden, of Rochester. The ceremony was performed by Rev. W. Kilbourne", (of Congregational Church), "and witnessed by only the immediate relatives and friends of the contracting parties. After the ceremony a wedding supper was served. The wedding presents were quite fine and very much admired. Mr. and Mrs. Belden will make their home on a farm that has been rented by the groom one mile west of Spring Prairie Corners."4

They lived in Honey Creek, Wis. in 1902 when their first child, Evelyn, was born, but apparently soon moved to Rockford, Ill., and then to Roscoe, Ill. "Honey Creek--Louis Belden has moved his wife, his baby, and himself into the Dame house. Mr. B. will be employed with Mr. B. Rose the coming season."5

They lived near Roscoe on several farms; the Glenny farm in 1907, the Manley farm in 1908, and the Roth farm in 1910. In Roscoe village; they lived across from the grade school; on Elevator Road west of the railroad tracks; and south west of Leland Park, about 1927.6

She was chairman and director of two town hall plays presented during the 100th anniversary of the founding of Roscoe, 14 September 1935.7 "The first play Grandmother's Patchwork Pageant, was followed by a rollicking comedy, Dumb as a Doorknob."
---
Source (9), Wednesday, May 26, 1954.
Source, Alice Belden Busker, 30 November 1990.
Source (46), Vol. 14, page 22, #25.
Source (34), Wed 14 Feb. 1900, two places.
Source (11), Thursday 20 February 1902.
Source, Florence Belden Reimer, 27 November 1990.
Source (9), 14 September 1935